June 2018
June 23rd to July 7th
As we will be away there will be no tours or blog but we will be leaving Lucy, the house and self-catering cottages in our friends Pete and Jenny Latham's capable hands. If you wish for any information about future tours or the self-catering accommodation do not hesitate to give them a call on 01688 400415 and they will be happy to help. In the meantime some photos taken on a recent tour or in our garden in the last few days.

June 22nd
The last tour for a fortnight as we are off looking for Polar Bears, amongst other creatures, on an Ice breaker ship in the far north. Today the tour was hard work as the wildlife was taking a day off with no Golden Eagles or Otters seen, which goes to show that it is wildlife and as such is not always putting in an appearance as we are not a zoo. White-tailed Eagles were seen well as were Red Deer but once again it was the Hen Harrier that stole the show, what a shame that this iconic bird is being so persecuted in Britain, it is no supprise that it is only flurishing in areas where there are no grouse moors, there traditional habitat. The fact that the owners of these moorlands and their game keepers cannot explain why this is the case is remarkable, saying it has nothing to do with them and now they are killing Mountain Hares in there hundreds, the traditional food of Golden Eagles, they will certainly be wanting rid of them next and all in the name of shooting Gouse.

June 21st
A wonderful day for rapters today with White-tail Eagles seen sitting, flying, 4 in the sky together at one time, and chick in the nest with an adult. Golden Eagles were also seen flying and sitting and the day ended with this fabulous female Hen Harrier flying right over our heads, a special moment for one of my guests who really wanted to see Hen Harrier. It may not have been as exciting as Arthurs 20 minutes yesterday but the sightings were spread out through out the day which was nice. Eider Ducks with duckings, a Goosander on the river and Stonechat on a wire were amongst other enjoyable sighting for the day.

June 20th
Today we saw all Mulls Specialities and more but it was the 20 minutes at our Hen Harrier stop which will stay with me for a long time. As we arrived a guest saw I big bird flying, so we all got out of the bus very quickly as it was a White-tailed Sea Eagle, the one in the photo below. It was being mobbed by a female Hen Harrier and this carried on for about 5 minutes before a Raven joined the fun and the Eagle flew off leaving us with a very triumphant Hen harrier rising on the thermols and calling, probably to her chicks. It was then that a Golden Eagle flew through, this one was a juvenile with its white tail and white under wing bars, it was being mobbed by a Buzzard giving us great size comparrison, they hung around for another fiove minutes before going up high in the clouds. I have been doing this job for 17 years and this was one of the most spectacular sightings I have ever had. God bless Mull and the birds that fly over her.

June 19th
The rain stayed away till the end of today's tour and the wildlife appreciated this as much as we did and performed admirably. There was a White-tailed Sea Eagle in a tree by the nest and we could just make out the chicks replete after an early breakfast. We saw at least 3 more White-tailed Sea Eagles flying during the day. Redshank and Common Sandpiper were seen before we had a fantastic sighting of a Hen Harrier which flew past us as we were looking for none existent Adders. Whitethroat was seen after singing its little head off competing with the more melodious Willow Warblers. We had a spectacular view of a Kestrel from a high vantage point which flew below us mobbing a hapless Buzzard. Buzzards were everywhere but I was grateful to the one mobbing the Golden Eagle and giving my guests very good size comparison proving that all the Buzzards we had seen, and there were lots of them, were indeed not Golden Eagles, we only saw one of them. We saw 2 Red Throated Divers and I did get a distant photo to prove we had seen them, don't look for the second one it's not in the photo. We had a fabulous Otter sighting which we watched as we drank afternoon tea. We finished the day at the high waterfall in Aros Park and I took some Photos of a Bracket Fungi, the waterfall itself and a baby fledged Dipper.

June 18th
Very windy and showery today and another difficult day for finding the wildlife but in the end we managed to see all Mull's special species including a close female Hen Harrier at the end of the day and we found our first Red Deer calf of the year hiding in the bracken. The Buzzard chicks on the nest contine to delight our guests, they are grownig well now and the largest chick is showing adult plumage including the distinctive 'chain of office' as we call the white band around it's front, mum & dad are continually flying to and fro with food for the growing chicks and only stay long enought on the nest to drop the food before flying off to fetch more. For all mulls small birds and mammals its a case of watch out watch out there's a Buzzard about.
June 17th
Another fantastic tour for all Mulls special species, Hen Harrier prey passing at one of the early stops and this was after the White-tailed Sea Eagle had been seen near the nest. We missed out again on Adder but there were 2 Toads there instead, check out the photo below. On our way back to the bus two White-tailed Sea Eagles flew over our heads and getting up yet another Hen Harrier, it was a great sighting. Also at this stop were 3 Lesser Redpoll and a Reed Bunting. Lapwing, Buzzards, Red Deer and Eider Duck with ducklings followed, then a lovely view of House Martins flying around and landing on mud , photo below. Fallow Deer, Common Seal and Grey Seal and 2 fantastic Golden Eagles were to come next and this was after 4 Great Northern Divers in Salen Bay. A very good Otter and a brief Snipe and of course the Buzzard chicks on their nest and then lunch. Gannet, Kittiwakes and a Blck Guilliemot were the highlights of the afternoon, then it started to rain so an early end to a fantastic tour, thanks to all my guests who once again made the day special.

June 16th
A very wet morning and Pam cleaned the self-catering cottages and was pleased to get all the washing dry on the Aga. In the afternoon as the weather had improved she went sea swimming which I must admit she loves doing so she was really happy. I had a day off watching the cricket and football on the television so I was really happy as well.
June 15th
A similar day to yesterday although there was less rain and the high winds were a strong breeze. mammals were all seen well today that is all except Otter which we missed as we were looking for and finding a Snipe which was a first for some of my guests. Another highlight today was a Cuckoo which gave very good views sitting on telephone wires and then flying right past us, another first for some guests. We saw both types of Eagle but the Hen Harrier at the end of the day stole the show today with an excellent flying display. On my way home I took this photo of a Little Grebe on the Mishnish Lochs, not a great picture but I think you can just about make out what it is.

June 14th
Today started very wet with almost gale force winds and four of our guests failed to show up, now it is a free country and that is their perogative but to not turn up without informing us is just rude not just because we had catered for them, we also waited 20 minutes for them which is not fair on the guests who did turn up. We take our bookings on trust and will continue to do so as it is only a few people who have no manners. Just in case you are wondering what sort of tour we had today, Red Deer, both types of Seal and 2 seperate Otters were seen whilst it was still raining as was a probable Black Tern, on Loch Na Keal a very rare bird for Mull and probably only there because of the gales. After the rain stopped although it was still very windy A white-tailed Sea Eagle flew right over the top of the bus giving guests great views and a fabulous Golden Eagle flew very close below us so we could really see all the flecks of colour on its back and wings and 3 Hen Harriers to end a very special day. The guests who turned up were really up for a great day and we and the wildlife gave them one. The Woodpeckers are now bringing their young to feed in the garden.

June 13th
Today we hosted our Marie Curie fund rasing event at our home and £1000 was raised for them on the day. Our house was full of people chattering, friends, holiday makers and 3 representatives from Marie Curie including a lady all the way from London HQ. Our thanks to all who came along and supported us and special thanks to all who baked delicious cakes and or donated prizes for the tombola and to Cheryl, Janet and Moria for all their hard work and not forgetting Sarah, our lovely Marie Curie nurse (left in picture).

June 12th
Just occasionally you get an almost perfect tour and today was my day. It started with Wheatear at our first stop and 3 Hen Harriers at our last and in between well you had to see it yo believe it. Short Eared Owl at a stop I have not seen Short Eared Owl in before, we also had Lapwing and Whinchat here. My guests of course wanted Otter but at coffee we saw Herons, flying Red Breasted Mergansers, Common and Grey Seal and a long distance White-tailed Sea Eagle. We had already seen Red Deer but an amazing spot by one of my guests and we got Fallow Deer as Well. We went and found a much closer White-tailed Sea Eagle and a Sedge Warbler and as I was scanning for the Slavonian Grebe which we did not see I picked up a distant Otter which we watched getting closer and closer for over half an hour until it hauled itself out onto a nearby seaweed rock, I could do no wrong today. At lunch the Buzzard chicks performed brilliantly prompting a guest to say it was like Springwatch for real. We also had a great view of a Meadow Pipit , Ravens, and a spectacular interaction between a Kestrel and Peregrine Falcon. In the afternoon it was Golden Eagle that stole the show but not before a Cuckoo and Stonechat had been seen well. the day ended with the Three Hen Harriers and a brief view of a flying Whitethroat, not a bad little outing. However there is no such thing as a perfect day the Adder was a no show. On a brighter note we have a Spotted Flycatcher in our garden a first for Ardrioch.
June 11th
Pam did the tour today and had what she called an Eagle fest with White-tailed Sea Eagles and Golden Eagles seen well, this was a good job as her guests particularly wanted to see Eagles and particularly Sea Eagles, (see what I did there). David a regular in our self-catering has been getting twitchy as he had not seen the local Spotted Flycatcher but today he did on our garden fence for over an hour catching insects to take back to the nesting female, to put it mildly he was right chuffed. I bought a new toy for Lucy to run and fetch and Pam said all she did was chew it. I beg to differ check out the photos below. That's my girl erm dog, nice one Lucy, any chance of brownie points Pam.

June 10th
A tour again today and this time it was Golden Eagles and Otters to the fore with 3 of each species seen really well with one of the Golden Eagles being exceptional, it flew in being mobbed by a Buzzard and then landed in full view giving our guests great views of its golden head and gold flecked plumage. White-tailed Eagles were seen but most of my guests missed the flying one in spite of its great size. Other notable sightings today were a Slavonian Grebe in full breeding plumage and the Glaucous Gull again in Tobermory Harbour.
June 9th
I could not go birding today, for at home I had to stay,
we have a coffee morning on Wednesday, so I was cleaning windows.
The cause is the Marie Curie Nurse, guests will come with pounds in purse,
so I really should not curse, when I'm cleaning windows.
With windows cleaned our guests will see, to the Loch over the trees,
and our garden birds and bees, after I've cleaned windows.
Pam, well she has had to bake, she has made her lemon drizzle cake,
for our guests to partake, while me, I'm cleaning windows.
June 8th
Prey passing Hen Harrier, Adder, White-tailed Sea Eagle and chicks, Lesser Redpoll and Siskins with 2 Red Throated Divers at coffee break. Cuckoos, Skylarks, Kestrel, Buzzards and Stonechat and all before lunch. Red Deer, Fallow Deer, Common and Grey Seals, Wheatear, Linnet and more White-tailed Sea Eagles. To end the day a Glaucous Gull in Tobermory Harbour. What more could you want on a day out on Mull, Golden Eagle and Otter, that's what. We missed the Golden Eagle because we were watching the Fallow Deer, we missed the Otter because we were trying to locate the Golden Eagle, dissapointing, yes, but it is this that makes wildlife watching so facinating, it is wildlife and you can't get what you want all the time or it would become boring. A prey passing Hen Harrier some birders go through their lives witout seeing. Guests are delighted to see a Cuckoo and Lesser Redpoll and as for a Glaucous Gull on Mull in June, that's just rediculous. You will have other chances to see Otter and Golden Eagle but probably not a prey passing Hen Harrier or a Glaucous Gull in June.

June 7th
A great start to the day with both male & female Hen Harriers hunting and feeding chicks on the ground, this was followed by Adder and White-tail Eagle chicks in the nest. (so far this sounds just like Arthurs day yesterday) Again, like Arthur, we had 2 Golden Eagles flying but this time they were distant, after looking at a few small birds, Skylark, Meadow Pipit & Whinchat we turned and there were 2 very close Golden Eagles behind us being harrased by 2 Hooded Crows, they stayed close for 10 or 15 minutes giving us great views. More Eagles were seen in the afternoon along with Red Deer and Seals but unfortunatly the Otter remained absent today.
June 6th
Today was just amazing, we pulled up at our first stop and saw a White-tailed Sea Eagle on her nest with her chicks, then on to a Hen Harrier spot and there she was hunting before landing where we could all see her well through the scope. Next stop Adder and there it was a little dozy so early in the day so it stopped around for photo's. After coffee break 4 Red Throated divers and a Great Northern Diver, these were shortly followed by Whinchat and a Cuckoo both giving great views. Next the sighting of the day with 2 Golden Eagles flying down a valley givind us superb views of their golden heads and gold flecked upper wings it was my best Goldie sighting of the year. On we went for lunch and the Buzzard chicks were showing well on the nest and also here my Linnet family turned up as usual, check photo below. In the afternoon we saw Red Deer and Common Seals and more White-tailed Sea Eagles both sitting and flying. The highlight of the afternoon for my guests was the Otter that we watched fishing for half an hour, in fact we took the oportunity to have afternoon tea and cake. By now my guests were thrilled but tired so like Zebedee I said 'time for bed'.

June 5th
It was a day with low cloud and sea mist but what a great day we had with Mull's special species with a fantastic sighting of a female Hen Harrier to start the day, it was seen hunting and then landed where all my guests got to see this iconic bird in all its glory on an island where it is free from the disgracefull persecution it suffers in most of the UK. We had 5 Otter sightings today although I suspect there were only 3 Otters, one seen three times although I might be wrong. White-tailed Eagles sitting and flying with no feeding boat in sight, also chicks on a nest. We also had Buzzard chicks on a nest a lot of Buzzards. We had to wait till the end of the day for Golden Eagles because of the mist but like buses two came along together. Red and Fallow Deer were seen as were Common and Grey Seals and quite a few other birds including my Linnets, so all in all a good day was had by all.
June 4th
I stayed home today strimming although I did take a photograph of the lovely Lesser Redpoll on one of our Niger Seed feeders by the flowering Rowen. Pam taking over writing and we had an Eagle day today with either Golden or White-tail being seen at almost every stop, once at the same time. One of my guests was desperate for an Otter which can really put the preasure on us guides, luckily I eventually found one where we don't normally see them but it was quite a distant view. Lots of lovely small birds seen again today as they are all busy feeding their young in the nests.

June 3rd
The promised rain did not appear but I have to say the wildlife today did not dissapoint, we went looking for Hen Harrier and it duly appeared with a Kestrel and Buzzard. Whinchat and adder were seen at the next stop followed by a White-tailed Sea Eagle and Red Deer. We stopped to look for a dipper and saw a Grey Wagtail, followed by 3 male Eider Ducks and a Shag. On we went and saw both types of Seal, fallow Deer and an Otter. At lunch we had the Buzzard chicks on the nest with a parent and my cup runneth over with 4, yes four Linnets. At afternoon tea a White-tailed Eagle flew past us and the Golden Eagle got up to see it off giving great interaction between these two iconic birds. 56 birds seen today including the Reed Bunting in the photo, there were also Eight mammals seen as we saw Porpoise to end a super day on the magical Isle of Mull.

June 2nd
Lawn mowing and other chores today including washing the mini-bus, this was a red letter day for the bus as I can't remember when I last gave it a bath, for guests who have been out with us this year I have discovered the van is still blue. The frog in the photo below popped out as I was mowing the lawn, it was such a bright coloured one I had to get it to pose for me, the Swallow is one of the pair nesting in our shed. Pam continues to swim in the sea but at least the water has warmed up a little and apparently is quite refreshing after the seriously hot weather we are having at the moment, according to the weather forecast we might get our own thunderstorms tomorrow, I hope it is after the tour.

June 1st
Another hot humid day in which we saw plenty of Eagles both White-tailed and Golden, but no Otters, Pam had them all yesterday. We saw lots of Red Deer mostly under trees in the shade or wallowing in mud trying to keep cool. We saw both types of Seal and quite a few late Great Northern Divers, some in breeding plumage, they had better get a move on if they want to breed this year. A lot of other birds were seen including the Wheatear and Curlew in the photos below, yes they are mine you can tell as they are a little fuzzy, Chris Packham would not be impressed. My favorite bird of the day was of course the Linnet at lunchtime, it really is a bonny bird, as are Whinchats.

June 2017
June 30th
It was a day that Golden Eagles took centre stage with the one in the photo below being the iceing on the cake, it had to be my best Golden Eagle sighting of the year and in my top 10 sightings ever. The day started with a Golden Eagle being mobbed by 2 Hen Harriers and then a Buzzard joined in, there were two other good Goldie sighting before the show stopper towards the end of the day. I could tell you about the rest of the day but that would be an injustice to the fantastic bird that is the Golden Eagle.

June 29th
Although it was very windy today the rain managed to stay off until 3pm when the heavens opened and we came back to Ardrioch for afternoon tea. We saw a Golden Eagle bringing in prey to the nest but it did not hang around for long although it gave us great views before going behind the hill and out of the wind. White-tailed Sea Eagles, Kestrel and lots of Buzzards were seen well and we saw a very good Otter. Small birds seen included Whinchat, Stonechat, Bullfinch, Wheatear, Whitethroat and my favorites Linnets. On the wader front we saw 2 Greenshank at different locations today.
June 28th
As we had some appointments to go to today we did not have a tour but on our travels we saw this Red Breasted Merganser with new ducklings. The photo shows how quickly they learn to follow Mums lead, unfortunately they only scored seven out of ten for their synchrnised swimming routine as one of the chicks was a little bit like corporal Jones of dad's army fame and a little behind the rest. There is always one that lets you down.

June 27th
No tour today as I was catching up on gardening as it did not rain after lunch, so I thought I would tell readers the tale of the White-tailed sea Eagles at Killiechronan this year. It was all going swimmingly, the eggs had hatched and their new family was doing well, all was well in their world. One day the male went out hunting and was accosted by a young White-tailed Eagle and as is their inclination a fight ensued. It was a good scrap by all accounts from someone who witnessed it but as in all fights there are winners and losers and in this one the younger bird prevailed and killed the resident male. This had dire consequences for the female and her chicks, as a single parent she could not feed and protect the young chicks so they died. (Small space for cries of horror). As you can imagine the female bird was quite distraught at this turn of events, not only had she lost her lifetime partner but also her new family. However there is a happy ending to this tragic tale, within days the female had got over her trauma and taken up with the new virile victor. (longer pause for your obvious cries of heartless hussy). The picture below shows the hussy in a tree above the bird killer, now we know who wears the trousers in this new relationship or could it be a case of sleeping with the enemy. Who needs soap operas we have it here on Mull in the real wildlife world.

June 26th
It almost felt like summer today, 15 degrees celcius and no wind, it was quite balmy. The birds certainly enjoyed it with over 50 species seen well and we also saw 6 mammals. We are seeing more and more Common Seal with calves now always an Ah moment when ladies see baby anything but you know they are enjoying themselves. Other ah moments today, the fast growing Buzzard and White-tailed Sea Eagle chicks which showed particularly well again today. Little birds in abundance with Stonechat, Bullfinch, Redpoll and Whitethroat being the standouts. Otter seen very well today as were 4 Fallow Deer and Red Deer stags but it was Golden Eagles that proved the bird of the day as lots of them came out to enjoy a bit of warmth.

June 25th
What makes a great day out, keen guests who want to see wildlife that does not have to be in the palm of your hand, who enjoy a laugh and have oodles of patience, today was a great day out. One of my guests requested Hen Harrier and we saw one a male, it was not too close but it gave us a good view for about a minute, I got a handshake for that sighting. Two of my guests both ladies and good wildlife watchers had never seen Otters in the wild, we saw 2 a mother and cub and they were a long way off but perfectly visible in the scopes and they gave us a great show for over 20 minutes. I got hugs and kisses for that sighting and not a single moan that they could have been closer. We saw White-tailed Eagles, Kestrel, Bullfinch and Spotted Flycatcher Lesser Redpoll and many other little birds and on the Mammal front a Common Seal suckling its mother and my first Red Deer calves of the year. It was the Golden Eagle that proved illusive due to the continued autumnal mid-summer weather we are induring, heavy showers and high winds and cold, we had to wait 50 minutes at our last Eagle stop to see a Golden Eagle which we did, not close but all my guests saw it for about 5 minutes and were absolutely delighted, today was what wildlife watching is all about, it was a priviledge to take you all out. Todays photo is of a juvenile Cormorant which was close enough to photograph.

June 24th
It was a very sad day at Ardrioch today, our friends Sue and Jerry went home and a young Woodpecker flew into the office window and died instantly. This was a very sad occurance as we have watched this bird becoming more independent over the last few days and it was a joy to see it regularly coming to the feeders. On a happier note there were heavy showers at regular intervals today, they lasted long enough and often enough to prevent me from being able to mow the lawns, yeah. We have Swallows nesting in our big shed and I managed to get some photo's.

June 23rd
A very windy and mixed day of weather which started well with a lovely Yellowhammer in our garden. Pam did the tour and saw all of the Mull main species including a female Hen Harrier seen as she was waiting for roadworks to clear, first problems with Knock Bridge now roadworks which should have been completed last week, oh joy. I took our friends out to try and find Short Eared Owl and much to their delight and my relief we did see a pair, the sighting was very good but they could have stuck around for a little bit longer as it was perishing cold looking for them. We had a good meal with our Cheshire friends and Jaqui and Mike from Enjoy Mull at the Glen Forsa Hotel this evening, it was a lovely evening full of laughter.

June 22nd
Hi ho hi ho its back to work I go and after the deluge of yesterday the wildlife was really playing ball, at one of my stops we had 2 White-tailed Sea Eagles sitting around, just chilling before taking off as if they were going somewhere, flew 100 yards, turned back and landed to resume chilling, I don't know what that was all about. At the same time A Golden Eagle flew in and landed in full view and hadn,t left the spot when we did, maybe it was a day just for chilling. It wasn,t for us for while we were watching all this Eagle inaction an Otter came out and started fishing, it caught a lot of fish in a relatively short time before it disappeared. " Where has it gone"? someone said, probably chilling I thought.
June 21st
Thunder bolts and lightening very very frightening, not really but it rhymes, it also poured with rain at times, why am I not complaining about the weather you may be asking, well its because we were in Glengorm tearooms with friends who are staying with us. Whilst it was all happening outside we were inside enjoying great Crab sandwiches, well three of us were Pam doesn't eat Crab, watching the weather with smug expressions on our faces thinking it was a good day not to be doing a tour.
June 8th to June 20th
June the eighth will go down as a day when everything went wrong, well actually 3 things went wrong, first I had a flat tyre on the mini-bus and discovered I needed 4 new tyres, big bill. The motherboard went on the computer hence no blog, so we needed a new computer,big bill. Then the iron broke down as Pam was ironing, new iron required, little bill. This explains why there has been no blog postings for a fortnight so I will give you a brief catch up. It RAINED, yes for the first 10 days we had rain in all its guises, torrential, just heavy, light, drizzle, low cloud and mist, showers, suffice to say the dam runneth over. A lot of fledglings in our garden died of being waterlogged which was tragic, some friends left early as they were sure if they didn't the Arc would be full. On the wildlife front the midges love this weather and little birds are being seen again as their first broods have fledged. We are seeing more Otters and Golden Eagles now with 2 Otters and 4 Golden Eagles seen well on todays tour. Last but by no means least, Knock Bridge opened again on Friday the 16th on time and they have done a great job on it. The photos are of an adult and baby Great Spotted Woodpeckers on one of our feeders and lovely Whinchat, a bird seen a lot on the tours this year.

June 7th
Today was a Golden Eagle fest with 7 birds seen and all really good sightings, 2 of my guests were really pleased as this was the one bird they had yet to see on Mull this holiday. The Buzzard chicks being fed by its parents was another highlight and we saw White-tailed Sea Eagles but not in anything like the numbers of the Goldies and I can't say that often. Very good close views of both types of Seal today giving my guests very good comparisons betwen the two species. No Otter today, Pam saw them all yesterday, will I ever hear the last of it?

June 6th
It is always a good day when you get an Otter at your first stop and it's an even better day when you get another at the second stop. The weather was cold, wet and windy all day, and so sitting and flying White-tail Eagle at our coffee stop was also good to see. No Golden Eagles as was expected at lunch time, still in the rain, but some lovely small birds including Linnet, Wheatear, Swallow, House and Sand Martins. Later we were suprised by a flying Golden Eagle and even more suprised when we found another 2 Otters. My guests were pleased to have afternoon tea and cakes in our warm kitchen whilst watching our garden birds. At last it stopped raining and on the way home we had male and female Hen Harrier to finish off the day.
June 5th
A great tour today even if at one stop it was warm and Midgy and at the next cold and windy, it was like the Hokey Kokey, put your best coat on take your best coat off, me I just stayed in my shirt and short sleeved jacket and nearly froze to death, numpty that I am. Over 50 species of birds were seen with a total of 6 White-tailed Sea Eagles and 2 Golden Eagles, 2 Hen Harriers and several Buzzards. We had diving Gannets, a lovely Kittiwake, Wheatear, Stonechat, Whinchat and Tree Pipit. On the Mammal front, both types of Seal, Red Deer and Rabbits. In our garden at a comfort break Coal Tits, Great Spotted Woodpecker, Yellowhammer and Siskins were the highlights prompting one guest to say we could stay here all day. One guest wanted Orchids so we got her some seeing Dipper and Grey Wagtail at the same spot and at the end of a lovely day I took this photo of a beautiful male Red Breasted Merganser. Now I am off for a hot bath and hot toddy to ward off pneumonia.

June 4th
Today I had to re-gig the tour as it was the Isle of Mull Bike Ride with between 300 and 400 cyclists taking part. Meeting 10 or a dozen on normal tours can be fraught but 300+ not on your nelly ( apologies to anyone called Nelly who reads this blog ). So today was as much about cyclist avoidance as wildlife watching. In the event we saw 2 very good Hen Harriers, 2 White-tailed Sea Eagles, a Golden Eagle, Red Deer, Common Seals, Eider Duck with ducklings see photo, Grey Wagtail, Whinchat, Lesser Redpoll, Whitethroat, Willow Warbler, Skylark, Buzzard with chicks amongst a total of 50 bird species seen during a fruitfull day. We only had to overtake about 10 bikes and one of them three times and on each occasion the rider was off the bike. Is this why they are called push bikes?

June 3rd
No tour today as we work changing over in the 2 self-catering cottages and keeping the garden tidy for the self-catering guests and the birds. Although both of us were very busy we decided to count the birds we could see from within the house and garden during the day. In total we saw 22 species of birds including White-tailed Sea Eagle and Buzzard flying over with Great Spotted Woodpecker, Siskins, Chaffinches, and Blackbirds all with young now coming into the garden with their parents. Unusual garden sighting 2 Grey Herons flew over, looked around and then flew back again. We also have lots of Rabbits and for younger readers lots of little Bunnies.
June 2nd
Mulls main species performed in spectacular fashion today with a wonderful sighting of a female Hen Harrier hunting and then perched. It can't start better than that I thought, oh yes it could, as 2 Golden Eagles and a Buzzard came out to play giving us a special display. On to my White-tailed Eagle nest and sure enough both adult birds were there, the tour was only an hour in and Mulls main bird species had all been seen. A comfort stop at Ardrioch and a Great Spotted Woodpecker was on the feeders along with Siskins and Lesser Redpoll. At coffee time we saw Gannets, Guilliemots
Kittiwakes and Shags and an inquisitive Grey Seal. Red Deer and Buzzards nest with 2 chicks, a male Hen Harrier and a great Kestrel sighting after lunch but the Otter which one of my guests desperately wanted to see remained absent. Two more White-tailed sea Eagles giving us a flying display were the next major sighting but it was at afternoon tea stop that we spotted an Otter and it gave my guests half an hour of great pleasure as we were the only people around to see it. Needless to say afternoon tea was very late today.
June 1st
Thanks Donald, you are a star not believing the climate is changing, here we are on the first of June and it is cold, wet and windy, at the same time last week heatstoke, what's going on, nothing in Donalds world. Todays tour was difficult as it rained for most of the day, just look at the moody dark picture taken during the best part of the day. To brighten readers up we saw White-tailed Eagle, very brief Golden Eagle, Otter, Seals by the had all been seenscore behaving in a funny manner and Red Deer. The sighting of the day however was brilliant Short Eared Owl, It flew and hunted right past us within 50 yards it was spectacular and we had it off and on for over 10 minutes, it was certainly worth getting cold and wet for.


June 2016
June 30th
Not the best day for weather as it started off wet became dry for a time but feeling cold in the wind and then rained for most of the afternoon. Common Seals with pup were seen at the start of the day and then a Golden Eagle sitting on a rock using a small tree as an unberella spotted by Eagle eyed Pam out with us today. Shelducks with all their ducklings still intact and a Skylark seen well and as we were looking for an Otter we spotted some Grey Seals. We saw a total of 4 White-taile Sea Eagles mostly in trees but one flying being mobbed by Gulls. A guest had requested a Yellowhammer and as we were looking at one through the telescope a Hen Harrier flew through although not all our guests saw it. Just before lunch we picked up an Otter fishing which we watched for a cosiderable time, at the same spot were Lapwing, Snipe, Redshank, Cormorant, Stonechat, Buzzards, Kestrel, Linnets another Golden Eagle seen briefly and a full breeding plumage Black-headed Gull a bird we don't often see in the Summer so I took this picture. The weather turned somewhat in the afternoon and apart from some Red Deer there was little to see, so we went back to our house to warm up and have afternoon tea.

June 29th
We are a bit stuck at the moment as the car has gone by car ambulance (breakdown truck) to Fort William, heart trouble (electrical fault) at least it is still under warranty, only 10 months old. I had to take the van to go and see the nurse to give more blood so no tour again today but I did pick up some more stuff for Pam's plank painting, got to keep her busy? She was guiding on a bus tour today, someone in this firm has to work to keep the Wolf from the door. Just in case any of you get the wrong impression we don't have any Wolves on Mull!!!
June 28th
A very wet day and no tour, hoorah, I was supposed to do some work in the garden but due to the heavy rain I could not get out, at least that's what I told Pam. As I was in the house contemplating life Pam was in the shed painting planks, I will leave that to your immagination.
June 27th
A lovely day out and the weather behaved, just, and at our first stop we saw a White-tailed Eagle chick and both parent birds one sitting and one flying in with a Buzzard flying round for good measure. Shortly after we had left the White-tailed Sea Eagles we were watching as 2 Golden Eagles flew over a ridge on which were Red Deer stags, not a bad start to a day if I say so myself. We were to see more Eagles in the day and an Otter which appeared by two Hooded Crows which actually gave the Otter away. A family of Linnets were my highlight of the day, it is great to know my favorite bird has successfully bred on Mull again this year.
June 26th
Mull is back to normal weatherwise after the seven week drought and today was a rush to get Eagles before the rain came. We were lucky to find a Golden Eagle sitting as if it was waiting for the rain to fall, not the most upbeat Eagle I have seen but my guests were delighted. We then saw the pair of Shelduck and amazingly they still have 12 fast growing ducklings, how they have escaped the clutches of Otters and Eagles I don't know but long may they continue. White-tailed Eagle flying over our heads being mobbed by Ravens and an Otter were seen at our next stop with Common Gulls, Curlew, Lapwing, Snipe and Herons all seen well. At lunch we saw Black Guilliemots, Great Northern Diver and one Buzzard chick and then down came the rain and mist and it became almost impossible to see anything although we tried and were in good spirits after the morning. Afternoon tea in our kitchen looking at the birds on our feeders and then back to Tobermory. I nearly forgot my first new Red Deer calf of the year and a Common Seal pup suckling its mother, another good Mull day out.




June 25th
Today I did my second count on my BTO breeding bird square, the weather was perfect for seeing birds dull but with good light and little breeze. The highlights for me were Willow Warblers, Siskins, Blue Tits with young, Wrens with young, Blackcap, and Lesser Redpoll. It is not easy to see birds in trees when they are in the foliage so you often have to rely on sound. Two unusual happening today, there were no birds of prey seen in the square and I managed to lose myself in the wooded area, basically I could not see the wood for the trees. My sympathetic wife wife was not at all surprised as I have got lost in a wood before.
June 24th
A good day today starting and ending with Otters, a mother and cub in both cases. Both Eagles were seen, plenty of Kestrels and Buzzards and a flying Cuckoo as well as Red Deer stags and one single hind, the hinds seem to be in hiding at the moment as they are having there calves which they are still keeping well hidden in spite of not having any mammal preditors on Mull. The Common Seal pups are starting to appear on small islands around the coast and they are taking to the water with their mothers. A lovely evening out with friends tonight at the Hebridean Lodge in Tobermory, we all enjoyed a very good meal and a lot of laughs.
June 23rd
Another successful day with all Mulls main species seen well particularly a female Hen Harrier and 2 Otters but for me this was a little bird day. We had very good views of Whitethroat and a family of Grey Wagtails a bird I have not seen this well for quite some time, Linnet my favorite bird were seen and we saw the pair of Stonechats on their usual territory. My bird of the day though was this Whinchat which gave us some stunning views, where have you been hiding all summer until today. The weather outlook is brighter, It rained a lot last night, our burn is filling up as I write.




June 22nd
The van was in at the local garage for a service which was dissapointing as it had been serviced by a dealership garage only 3 monthe ago, but warning lights were going off like a nineteen eighties disco - they are not anymore. I took Pam to the Bellachroy Inn in Dervaig for luch today and we were rewarded with another great meal, thanks to Anthony and Christine and the chefs for a lovely lunch break. A few word about Midges, they are little buggers, although my Midge machine is lessening them in great numbers, which is just as well as they are breeding like Rabbits this year.

June 21st
Today we started with the usual high hopes and we were soon rewarded with an Otter, this usually takes the pressure off but today in a very cool wind it was the start of an unusually frustrating day. We were seeing plenty of Seals but very little else except for 3 Red Deer stags which were only seen by three of us before they disappeared over the hill, we did see a few hinds later in the day but they were hardly mind blowing. It was almost lunch time and we had stopped to look at some Lapwings and then my moment of the day a brilliant fly past of a male Hen Harrier, if I had been Chris Packham I would have rubbed holes in my trousers, it was that good. A long afternoon looking for Golden Eagles without success but we saw Stonechats and Lesser Redpoll and a very nice female Kestrel. A desperate ploy for Eagles brought 3 White-tailed Sea Eagles mum, dad and fast growing chick, my guests were delighted even if the chick moved more than the adults which were more interested in preening than entertaining my guests. Another Springwatch cliffhanger as I stopped at a spot where I might see a Golden Eagle and surprise of surprises there was one, it was not exactly close but my guests were suitably impressed, me, I have never been so relieved to see an Eagle in my life. My guests were great and their patience was equall to that of a Grey Heron stalking prey and today they needed it.
June 20th
A cooler dry day and once again the Eagles performed and we had a spectacular sighting of a couple of Peregrine Falcons mobbing a Golden Eagle for several minutes before the Eagle had had enough and flew off. Today an Otter put in an appearance, did its thing and left stage right and did not come back for a curtain call. The buzzard chicks are growing fast and now are looking more like adults, yes they have lost the AHH factor. Lots of other bird sightings today with Lesser Redpoll and Siskins being guests highlight and we also had a flypast Cuckoo. On the grapevine lots of Hare a Red Grouse and Short Eared Owl found in A Golden Eagle nest when chick was ringed. I can not forget to mention we saw Red and Fallow Deer today and both Common and Grey Seal, we also counted 12 yes thats twelve Shelduck ducklings in one family group, they are growing well, are the Eagles just waiting for them to get bigger, only time will tell?
June 19th
Something unusual happened on north Mull this afternoon, It Rained, Yes it rained steadily for about 7 hours and everything has freshened up - hoorah. We knew the rain was forecast and as we had a Dervaig start we start looking for wildlife from the word go, we were soon watching White-tailed Sea Eagles and soon after that Common Sandpipers, Grey Herons, Common and Herring Gulls, Hooded Crows and Ravens flew over us. We then stopped and found Red Deer stags, Meadow Pipits and Curlew which we only heard but saw later. On we went and then a shout from the back ' bird on the ridge', I do like all my guests spotting, you miss less, this bird turned out to be a female Hen Harrier and at the same spot there was a Kestrel, all this and we had only been going for 50 minutes. A stop to look for and find Dipper then onto a comfort break where Mute Swan and House Martin were seen. Without stopping we went to a Golden Eagle site and almost immeadiately spotted an Otter which gave us great views whilst we had our coffee break as did the Common and Grey Seals. After washing the cups we turned our attention to the Golden Eagles and after only a few minutes they flew giving my guests a real treat, they truly are magnificent birds. In two hours we had seen everything my guests wanted to see and more. Were we finished - not a bit of it - we saw more Kestrels, a Peregrine Falcon mobbing a Buzzard, Black Guilliemot and the Buzzard chicks, not fogetting Lapwings. We then took lunch before the rain started in earnest and then we carried on and saw the nutty Yellowhammer which performed brilliantly, Shags, a flying Cormorant another White-tailed Sea Eagle, Gannets and more Red Deer and then home for afternoon tea and a rest. Nope, in the garden we saw Chaffinch, Goldfinch Greenfinch, Redpoll and Siskin. Day Over.




June 18th
A day off to do chores and maintenance but too tired to do any of them. It Still Hasn't Rained???
June 17th
Another good tour with great guests and they enjoyed everything we saw which included a White-tailed Sea Eagle flying over our heads and a very obliging Sedge Warbler at the same spot. Two Golden Eagles performed really well flying past before sitting on the hill so we could see them really well through the telescope. It again took all day but at the end of the day we found an Otter which one of my guests although desperate to see had not told me so as not to pressurise me. The smile on her face when she saw the Otter more than made my day.
June 16th
A day out birding with friends as Pam was out with the mini-bus taking out a group of American ladies who were on a walking holiday and who wanted a day off walking, they had a lovely day out as did I with our friends. We saw 51 species of birds the highlight being a great sighting of a female Hen Harrier, we also saw a Peregrine Falcon and 2 Otters, a newly fledged Dipper and a Spotted Flycatcher. The weather was damp although the much needed rain in the Dervaig area failed to materialise, mores the pity.
June 15th
Raindrops keep falling on my head, just not enough of them for our water supply which is still low. A harder day today although by the end of the day we had seen all of the Mull specialities even if the Hen Harrier was brief, very brief. I had given up on Otter when we found one at our very last stop, no honestly this was not a contrived Springwatch cliffhanger, it was so late in the day that I had to call Pam and tell her I would be late back, it was that late! My guests were delighted and as Shakespear might have written 'Alls Well That Ends Well'.
June 14th
Arthur obviously has not perfected his rain dance as we have another warm, dry day. We had Golden and White-tail Sea Eagles, Buzzards on nest, Kestrels, Yellowhammer and Otter and they continue to please and entertain our guests and today we had diligent Curlew and Snipe sitting above the areas where there young were hiding seeing off any predatory Hooded Crows and Buzzards. A lovely half hour was spent at the end of the day looking at the lovely wild flowers now coming into bloom with, one of my favourates, the Fragrant Orchid along with Northern Marsh, Butterfly, Heath and Common Spotted Orchids and other wildflowers including Heath & Ladies Bedstraw, Water Avens, Wild Strawberries, Sundews and Butterworts, and just appearing Bog Asphodel.
June 13th
It rained this afternoon at Calgary and the road to Croig was very wet but at Ardrioch where we need rain for our water supply it remained as dry as a bone, I am staying at home tomorrow to practice rain dancing whilst Pam does the tour. Today was again a Golden Eagle spectacle with some more fantastic views but they were run very close by 2 Peregrine Falcon sightings one when a Peregrine attacked a hapless Buzzard. Two good Otters, which made my guests day, as did the White-tailed Sea Eagles which were completely upstaged by some of the other wildlife we saw, they need to up their game.




June 12th
A lovely day out today and Hen Harrier and Golden Eagles stole the show with fantastic views of both species. The female Hen Harrier flew over our heads as we were watching the 3 buzzard chicks at lunch time and proceeded to hunt the hillside opposite, a real treat for our guests. Then we found a sitting Golden Eagle which all our guests saw before it took off and was joined by its partner and they gave us our own Golden Eagle flying display, a WOW moment. Other highlights Goosander and Shelduck with ducklings, very cute and a very good White-tailed Sea Eagle but I am afraid it was upstaged by the Harrier and Goldie performances.
June 11th
The promised rain did not materialise in the Dervaig area on Mull so we are still in drought conditions and some people are getting worried about their water supplies. We did get enough rain to dampen the dust and give the Midges even better conditions to thrive if that were possible. I emptied another 6 ouncies of Midges from our Midge machine and this followed the 8 ounces from last week. I took some pictures of regular visitors to our garden today with Rabbits and Rock Doves appearing to prosper.

June 10th
Another dry day although it was a little murchy but we waited out a Golden Eagle in the morning which was just as well as we would not have been able to in the afternoon as the HAA came back in. Really good Otter sightings again today and White-tailed Eagles at two spots with one pair together appearing to have a domestic as the continuously shouted at each other. Evocative Curlews calling over moorland as they flew was one highlight today as were the Gannets at the end of the day. Confirmed breeding of Goosander at Dervaig this morning with mum and ducklings seen well. Little birds of the day, Linnets, Lesser Redpoll and you guesed it the Yellowhammer although it was on good behaviour today. The photos below were taken yesterday which is why the is no fog in them.




June 9th
A day out with Pete and Jenny and their friends from Cheshire still celebrating their Ruby Wedding and as a perfect present at the end of a very successfull day we found some Porpoise, yey. We saw our first Shelduck ducklings of the year always a highlight for us and we counted 15 little humbug ducklings. White-tailed Eagles out in force today and another great Otter sighting which some of Petes friends were desperate to see. Golden Eagles, Red Deer and both types of Seal made for a really nice day out and with temperatures soaring again Pam's hot soup was really appreciated by all. Congratulations to Pete and Jenny for reaching this milestone, they are a lovely couple and great friends.

June 8th
With the mist covered mountains it was a baptism of fire for me to find wildlife this morning, ( one for Shiela and Blake in there) in the event below the mist line we found the Salen Boats a picture everyone but me seems to photograph so I decided to put that right. Before Coffee break we had seen Red Deer and Fallow Deer and through the fog a single Common Seal, a Shag and a Common Sandpiper. Thank goodness for an obliging Sedge Warbler that came out and sang on a bush giving great views and Sand Martins with their fog lamps on trying to find insects. Then just as we were leaving an Eagle eyed guest spotted a White-tailed Eagle flying in the mist and although it took some finding we did eventually see it sitting on a tree and as the mist lifted we all managed to see it well through the telescope. A very good Otter sighting, flying Golden Eagle and Buzzard chicks followed and a Stonechat, not to be out done put in an appearance. Willow Warbler, the nutty Yellowhammer and to end a great day out a Great Northern Diver in breeding plumage. My guests were all very pleased with our day out, me, well relief springs to mind. I took the photos of the Marsh Thistle and Green viened White Butterfly at a comfort stop which is pretty manic at the moment.




June 7th
Yep, it was too good to last and today we had rain, it was so hard it nearly wet the road, then the sun and Midges returned and life on Mull returned to what is now becoming normal, hot. I had a chortle today as the R.S.P.B. were ringing one of our White-tailed Sea Eagle chicks and were up in the nest when we arrived, " Nest Robbers " I shouted and was nearly knocked over by one of my guests who was quite indignant and annoyed that this behaviour might still be going on. She was relieved and saw the funny side when I explained what was actually happening, and we were able to get great views of the two indignant parent birds.

June 6th
Would you believe it 25 degrees and scorcio once more. It was more of the same today although we did see Otters and a Hen Harrier today as well as Mull's other main species. The nutty Yellowhammer was at it again and could win a prize on Britains got talent, I am not sure its a talent but it is very entertaing. The AHH moment on the tour at the moment are the Buzzard chicks which are growing steadily and now the largest one is standing on the side of the nest. We are still seeing at least one Great Northern Diver a day which pleases guests who have not seen them in breeding plumage.

June 5th
Scorcio again, It really isn't easy to find wildlife during the day when the weather is so hot although the Sea Pink or Thrift is particularly nice this year. Golden and White-tailed Sea Eagles again today and nice views of Fallow Deer before they lay down probably exhausted. Little birds were at a premium but we did get some cracking views of Whitethroat always a nice bird to see and an Eider Duck creche at Calgary.

June 4th
Saturday, a day off, not a bit of it, Pam had two houses to clean, which she is very good at but like most ladies does not enjoy much but hey ho needs must. I had to get the lawn mower out, this is a particularly brilliant lawn mower that keeps starting year on year without much servicing, its a pity it does need someone to push it , me. Then it was out with the old, the strimmer I mean, which also started but this could have been because I have a brand new one waiting in the wings and it does not become obsolete. once more it takes me to operate it, so there goes our day off.
June 3rd
Pam did the tour today as I had an emergency appointment with the dentist, not my favorite occupation but neccessary as I had a broken tooth. the news from the dentist is not good, roots, canals and caps were mentioned which all sound painfull to me. Pam had a good tour with lovely guests and saw 3 Otters, two of which were in a new area for us this summer and she asked me to mention Ava a nine year old girl who was delightfull and wanted to see everything and was not dissapointed.
June 2nd
A welcome breeze today and we saw the big three very well in the morning and for some time, so much so that we were over an hour late at our lunch stop. The Golden Eagles flew for several minutes before conveniently landing on a grass bank where we could see all their amazing colours through the telescope. The Otter we saw was just out for a morning meal, after which it spent time grooming and rolling aroud enjoying itself as only Otters can, completely oblivious to us as we had kept a safe distance away. We had White-tailed Eagles flying, sitting and one on a nest administering to its chick. The Buzzard chicks are progressing well and giving our guests a lot of pleasure as did the Buzzard being mobbed by crows as it carried an Adder towards another nest site. The views are spectacular at the moment, Mull in all its finery, even if most of Mulls small birds are keeping their heads down.

June 1st
Out with friends up here on Mull for their ruby wedding anniversary, it was still too darn hot.
June 2015
June 30th
Great news, the last day of June and my winter clothes have at last been put away in the wardrobe well they will be when Pam has washed them?? It was not a great day for the Mull main species today although we did have very good White-tailed Eagles, Red deer and a brief Hen Harrier. I however had a great day as we saw 3 birds rarely seen on a Discover Mull Tour, firstly a Jay, not common on Mull flew in front of the bus. We were driving up a hill and there on the road in front of us was a pair of Red Grouse with at least 8 young all big enough to fly out of the way with their parents, a fabulous sight on Mull. The best sighting however was the full breeding plumaged Black Throated Diver in Calgary Bay, it had me rubbing my thies a la Chris Packham, what a sighting.
June 29th
A much warmer day today with the rain staying off until just after 3 pm and by then we had seen 2 Otters, White-tailed Eagles, a very good Golden Eagle and all the other usual Mammals including Red Deer. The warmer weather brought out some of Mulls smaller birds with Swallows, Sand Martins, Sedge Warbler, Willow Warbler, Yellowhammer, Wheatears, Stonechat, Whinchat and the dust bathing Skylark in the photograph below. Once again the rain came down preventing us from seeing a Hen Harrier but to compensate we got two adders a male and female before we we gave into the rain and called it a day.

June 28th
We had a flying start to the day with both types of Deer seen including Red Deer calves, both types of Seal including Common Seal pups, an Otter in very rough water but very close and Rabbits which we count as they are not only wildlife but play an important part in the food chain. As we were watching the Red Deer a female Hen Harrier flew past and gave us great views for about 5 minutes. On we went and found some White-tailed Eagles, Buzzards and Kestrels and then the rain came down to put an end to most of the spotting, although the waterfall at Eas Force was a particular if wet highlight after last nights heavy rain.
June 27th
Changeover day and with the help of the family and their lovely friend Jaquie we finished early and were able to go to Tobermory for the afternoon with them. A nice walk in Aros Park with our son and youngest Grand Daughter for me and some shoe buying for Pam. We then all enjoyed a lovely Ice Cream from kyle's wonderfull ice cream parlour in blazing sunshine, yes that unusual orb in the sky did put in an appearance. In the evening we went to Am Birlinn for a meal and had a lovely time with good food and company and great service, thanks to all the staff and to our friend Catherine who kindly baby sat for us to enable to enjoy the evening. Nia is lovely as are all our Grand Children and it is special to spend time with them.

June 26th
A day out with visiting family and a trip to Staffa and Lunga. Thanks to Iain Morrison from Turus Mara for giving us a lovely day out and his information and banter is infectious. Here are some of the nesting sea birds taken on Lunga.

June 25th
The forecast was for no rain, it was wrong, no surprize there. We started the day with a very good female Hen Harrier and this was followed by a White-tailed Eagle flying into a nest and the chicks feeding. Red Deer soon after and Buzzards and Kestrels and two Cuckoos. Then the rain came down and we were reduced to seeing some waders and ducks and Geese with Goslings. We did however get more views of a separate White-tailed Eagle ans a pair of Shelduck with 6 humbug like ducklings which made my day.
June 24th
Male and female Hen Harrier and a family of White-tail Eagles in the first half hour of the tour was a good start to the day when bad weather had been forcast from lunch time onwards. A Golden Eagle and a cuckoo, heard but not seen, Red Deer and Seals were also seen before the rain started. It's a good job Otters don't mind rain as we found a hunting dog Otter later in the day. The bird of the day for me though was a tiny Goldcrest who was too busy filling his bill with insects in a close bush to notice a group of people watching him.
June 23rd
A dull day but NOT WINDY, so we had fabulous views of Otters today, one was an inexperienced cub. We knew this as it came into land carrying a large fish, up on land it dropped it and the fish escaped back into the water into the water, so the Otter went back in and caught the fish again, on land it dropped it into the water and had to go and catch it again. This went on for at least 4 times before the Otter lost the fish altogether, so todays score on the Doors, Otter nil Fish one. Super views of Whitethroat, Cuckoo and Heron today with White-tailed eagles, Golden Eagles and Red deer seen well. Exciting view of the day 2 sensational flying Kestrels mobbing a hapless Buzzard for several minutes, a real bird watching few minutes.
June 22nd
A day of more sunshine but still cool and windy and the wildlife playing hard to get. Patience was the name of the game although this Sedge Warbler in the picture was determined to be seen and heard as the sun came out. We had to wait nearly all day for Golden Eagles and then 4 came out and two in particular gave us great views. At the last stop we had a large group of Red Deer stags and a female Hen Harrier, these with the earlier seen White-tailed Eagle and brief Otter meant that all the Mull main species were seen during the day. Two other notable sightings today, a fiesty Kestrel really having a go at a Buzzard and a Cuckoo trying to get out of the wind but finding two Meadow Pipits a bit troublesome.

June 21st
The longest day, Summer soltice, and we got drizzle and breeze and temperatures soaring to 11 degrees but with coats and gloves on we set off undetered. White-tailed Eagles were as usual fairly easy to find and we saw at least 6 today, the Golden Eagle was not so easily found but when we did get one it was a really good one and my guests were truly made up. Kestrels mobbing Buzzards, Red Deer stags and hinds, Common Seal with Pups were all seen as well as they could be through the water on the binoculars but the real highlight of the day was the pair of Hen Harriers with the male carrying prey. 3 other good sightings on the day were Dipper, Stonechat and this nice Spotted flycatcher working diligently and like Flycatchers do returning to the same spot time and time again.

June 20th
Chageover day and chores to do, no birding today as I am trying to rest my eyes whilst I can. I was not sitting idleing my time away however, I wash and valeted the bus, sorted out our water supply, tidied up the drive, fed the birds and fetched a very nice lady from the bus stop in Tobermory who is staying for a week in our self-catering. Aaaah, I do like to have a day off occasionally to put my feet up? yes love I will help fold the sheets!!!!!
June 19th
Dolphins on the tour, Hoorah;

June 18th


Pam at the helm again today and despite wind and rain we had a good day. White-tail Eagle sitting in a tree then flying over head. 2 Otters, in the water, out of the water and generaly having a good old scrap. Short-eared Owl and Cuckoo when we were not expecting anything and a couple of first for this year, Common Seal with a new pup and a Red Deer calf skipping around enjoying the joys of spring even if it was still raining. We also had 2 Fallow Deer stags one of which was an albino. Back to our house for afternoon tea and a warm by the AGA, as we were leaving the house 2 White-tail Eagles flew over our heads followed by a female Hen Harrier.


June 17th
Same Old weather not a lot to report.
June 16th
Low cloud, windy and cold Spring has turned into summer on Mull. The wildlife was having a laugh today and decided to play the panel game just a minute. We had three Golden Eagles today and between them they flew for just a minute, admitedly they flew without hesitating, deviating or flying back on themselves in other words they did not repeat their flight. An Oteer appeared for just a minute it did not hesitate, deviate or repeat itself just disappeared. The Hen Harrier could not even stick around for just a minute, disappearing after 15 seconds but not before we had all seen it. The White-tailed Eagles, Buzzards and Kestrel were more obliging and performed to a much better standard, as did the Red and Fallow Deer and Common Seals. Other birds seen today included Cuckoo, Dippers, Linnets, Redpoll, Goosander and Shelduck with duckling, the last one of the brood still swimming. I took a photo today of a young Rabbit on the Machair at Calgary, it might only be a Rabbit but they play a significant role in the eco system that is Mull and thus should not be overlooked either by us or the birds of prey.

June 15th
After his day yesterday I though Arthur deserved a day off and so I (Pam) did the tour for him. The White-tailed and Golden Eagles preformed well today as did a mother and cub Otter although they did not come out of the water much. But, the stars of the day came in the afternoon when, whilst watching a cuckoo sitting on a telephone wire, a Short-eared Owl flew passed and sat not too far away on the hill side, whilst we watched it in the telescope a male Hen Harrier flew over the hill behind. The Short-eared Owl then flew back and sat to our left and whilst watching it again one of my guests spotted something in the distance which turned out to be a Golden Eagle being bombed by Ravens. 'The best 10 minutes bird watching I've ever had in my life' was how one of my guests described it.
June 14th
Although the weather was perfect for wildlife watching finding the big stuff can sometimes be hard and today was one of those days. I must thank my guests for their patience, particularly with Golden Eagle, one eventually appeared and gave us brilliant views but we had waited for over an hour as it was our last real chance of seeing one during the day. One good reason for being patient was that whilst waiting for the Eagle we spotted an Otter and she had a cub with her as well and we got a resonably close view of them on a fast disappearing island as the tide came in. White-tailed Eagles were seen well and we saw fallow Deer as well as Red Deer today and a distant view of a Hen Harrier but bird of the day were Kestrel seen everywhere.
June 13th
Change over day and we just rested up after the chores were done as we had been out to Am Birlinn, the restaurant up the road from us and like the Bellachroy Inn in the village well within walking distance. The food at both places is excellent and with the drink drive laws now more stringent in Scotland it is nice to be able to walk to either place on a pleasant evening.
June 12th
Another lovely day with White-Tailed Eagles being mobbed again the highlight, I did manage to get a couple of Photographs of the Eagles not of them being mobbed. Cuckoo again today and a nice view of the Dipper on a rock in a river but all in all a quieter day wildlife wise. My guests were again delightful and pleased with everything that they saw. A special mention to Dave Bowen who has kept me informed and amused during the last couple of weeks, we will miss you at the Golden Eagle site, you were close to becoming a tour highlight, see you next year all being well Mate.

June 11th
A beautiful day brought the Eagles out in force, with the Golden Eagles giving us fabulous views that on any normal day would have been the highlight of the day, however today it was the White-tailed Sea Eagles that took the prize. I don't know what they did but today they really seem to have got up the beaks of the Crows and Buzzards as everyone we saw and there were 5 altogether were being mobbed and this resulted in several 360 degree rolls by the Eagles. It was, Wow, birding as the gasps of delight and amazment from my guests was a joy to behold. On most days seeing Cuckoos is a great sighting but today they almost fell flat as the Eagles pulled another stunt. Dipper and Whitethroat were the runners up on the day and a very good spot by a guest of a really smart Stonechat. It is days like these when I feel truly blessed to be living here and doing this job, thanks to all todays guests for the pleasure of their company.

June 10th
It was my day off today and Pam did the tour leaving me to rest, it is an age thing now I am old enough to have my pension, she tucks me up and tells me to rest and then leaves me with a bunch of chores to do, I think Pam calls it multi-thinking. I did manage to get out into the garden and take some photographs of some of the birds but missed the White-tailed Sea Eagle which flew low over the house being mobbed by a very persistant Buzzard.

June 9th
The almost Spring like weather continued and the birds came out to play, as well as the usual White-tailed Eagles and Golden Eagles, we had Buzzards and Kestrels being mobbed by Hooded Crows and in one instance 2 Kestrels bombing a young Raven as it sat on the grass close to their nest. Two Cuckoos seen today with Twite, Lesser Redpoll, Whinchat and Stonechat in the same location. A request for Divers this morning and there were 2 Red Throated Divers in Calgary Bay. A very good Otter before afternoon tea and our day was complete, a proper day birding. A special mention to Pam for her catering, I think guests come as much for the red hot soup and cakes (they are not hot) as they do for the wildlife given the comments and praise for the food at the end of the tours.
June 8th
Wow no rain, and a little less windy, it was almost Spring like. All of the Mull specialities were seen really well today with the Eagles and eventually an Otter all strutting their stuff, well the Otter was more stuffing its face as it took 30 minutes to eat a large fish before returning to the water to look for some more, greedy or what? A fantastic view of a Kestrel fly past was another highlight of a great tour with lovely guests in such sunny weather my sunglasses had to come out of mothballs.
June 7th
Better weather but still cold and windy. the best part of the day was at the start a great view of a hunting Short Eared Owl with a Stonechat at the same spot. A White-tailed Eagle flew across our path and we had good sightings of two more later. Red Deer and Seals were seen and we had good sightings of Linnets today. Buzzards were everywhere and a really good kestrel, although Golden Eagle sightings were short and distant. It was not a good day for us on the water as we saw mainly white horses, a Black Guillemot in the calmer waters around Ulva Ferry probably the highlight. Singing Skylarks let us know it was supposed to be Summer even if the weather didn't.
June 6th

No tour today as it is Saturday and changeover day in the self-catering and I had to valet and clean the bus after another wet week. We had a surprize in the post today when a certificate of excellence from Trip Advisor came through the post for the second year running. Although we do not ask guests to post us on Trip Advisor it is nice that they do so unsolicited and great for us that so many seem to enjoy their time with us. We would like to take this opportunity to thank all our guests for your support with the tours and thanks to all of you who have written such lovely things about the tours on Trip Advisor we both really appreciate them.
June 5th
Back on tour duty and more rain, lots of it but at lunch time it cleared up enough for brilliant sunshine to appear.There I was scrabbling in the bus looking for my sun glasses which I knew I had put in the bus in April but had not had to use them sin appreciate your coce, thankfully I found them. All Mulls main species seen well today but the standouts were Golden Eagle and male Hen Harrier. Waterfalls and Spring Flowers are now on the list of Mull that guests want to see, Waterfalls because of all the rain and flowers because they are peeping through at last.

June 4th
Pam did the tour today and gave me a day off? and a list of things to do, typically the weather was the best o the week. I did manage to sneek across the road to the Loch and see a Spotted Flycatcher, Sedge Warbler and Blackcap, this with our garden birds including Siskins, Coal Tits and Lesser Redpoll made it a good day off? Pam came home and told me they had seen Otters, Golden Eagles, White-tailed Eagles, Seals, Red Deer and lots of other stuff - I thought thats what we do but you don't get wet, I didn't say it though.
June 3rd
Sunshine, but still only 11 degrees and the rain put in a guest appearance in the early afternoon as we were watching 2 Otters fishing in the sea. All my guests got back in the bus when the rain started and I was left out waiting for the Otters to come ashore to get them some better views. The Otters eventually came out on land and my guests got a lovely sighting of Otters skylined running over the rocks, I got wet. We saw 4 Golden Eagles today as the sun came out in the afternoon, it was good to see Golden eagles again as we have missed them for 3 days due to the rain. Spring flowers have started appearing, I think the have worked out if they don't show they will turn into bi-annuals so they are risking the weather. I took this photo of some lovely Sea Pinks clinging to a rock for grim death in fear of being blown away.

June 2nd
Although today started brighter it soon reverted to type with rain and winds. We had another good day with over 50 species of birds seen but it was mammals that stole the show today. We had both types of Seal, excellent Red Deer, Rabbits, and 3 Otters with 2 cubs making us all laugh with their antics and chasing each other over rocks. The highlight however was a Discover Mull first, A Polecat Ferret which was walking bold as brass up the side of the road. Just for once I managed to get the camera out to get the two photos below. My guests were really impressed to see this creature and I was delighted as I have only seen them in ditches and crossing the road at night before.

June 1st
Hoorah, Summer at last, Flaming June? Mull weather 9 degrees, gale force winds, driving rain, Hail.
The weather might have been awful but the wildlife and company were great and those who cancelled missed a fantastic if wet day out. The White-tailed Eagle was amazing, we saw one in an old nest site but the second one flew down in front of us after a Hooded Crow, it missed but it did enrage a nearby Raven which chased it on to a rock not far from where we were standing and then proceeded to mob the Eagle relentlessly, a WOW sighting. Two Otters followed running over rocks and play fighting each other and seen really well through the telescopes, the Red Deer sighting today was also fabulous, I usually just show guests where the Deer are and leave it at that but these were really close and gave us special view easy for guests to photograph even though it was raining. We had afternoon tea at our house and were treated to some lovely bird sightings, with Coal Tits, Siskins and these lovely Lesser Redpoll being the standouts. 49 species seen on an awful day weatherwise.


June 2014
June 30th
Weather like yesterday with the same result and we had very good spotters on board how I hate warm sunny days for wildlife watching. It was a good job the Eagle sightings were so good and my guests were really pleased with them but for me the Whinchat at the start of the day stole the show. Adder again proved a real hit as were the lovely wild flowers but it was the second day running without Otter which after a 98% hit rate on this years tours was a bit of a downer.
June 29th
A hot, sunny warm day great for views but lousy for wildlife as nothing flies and even the mammals don't do much in this kind of weather, it amuses me when I pick up guests on days like today and they say what a lovely day and I say I prefer cooler cloudy weather for wildlife watching. Today it was hard work even the Mull regular wildlife watcher were not seeing much after the very early morning. We did see both types of Eagle and Red Deer, Common Seals with Pups and some nice little birds but overall it was a difficult day except that the views were brilliant as were the flowers and grasses.
June 28th
More good weather but I had to help Pam with change overs in the self-catering but I did manage a few garden bird and Rabbit pictures also in the garden and rather cute. (Ha,ha......that made me laugh, he carried the hoover over and emptied the dustbins....Pam)

June 27th
Lovely Day, fantastic guests, wonderfull birds, great Mammals I had a marvellous time, nuff said.

June 26th
A warm sultry day after the rain of yesterday and I stayed home to mow the lawns and watch the birds in the garden including our Jay and Great Spotted Woodpecker, I nearly got a photo of the Jay but had the camera on the wrong setting. Pam had a hard day as hardly anything was flying but they did manage most of Mulls main species particularly the Hen Harriers and then she dropped this bombshell on me, a full breeding plumged Black Throated Diver in Calgary Bay only 4 miles from home and she did not phone me, maybe we will be speaking to each other again tomorrow, or maybe not.

June 25th
A very wet day all day with light rain, not the best for wildlife watching, none the less we did see a really nice whinchat at our first stop and then the Hen Harriers got up and gave us a great display. 2 Red Throated divers and a Black Guilliemot at another stop s all was not lost. We saw a very wet disgruntled looking White-tailed Eagle, a Great Northern Diver, 2 Kestrels and Common Seals with Pups and just about managed a couple of Red Deer. A golden Eagle Chick was seen by one guest before settlingdown out of the rain and we eventually found 2 Otters, so although it was not a brilliant day it was still interesting and proved that wildlife can still be seen in the rain.
June 24th
An Otterly fantastic day with a grand total of SEVEN Otters seen a mother and two cubs, then a single, another mother and cub and finally another single. The day had started well with a Great Skua and Gannets and a Grey Seal and of course the Sand Martins but it was from lunch time that the day became really special. We saw 2 Kestrels, several Buzzards, 4 Golden Eagles, 6 White-tailed Eagles, 2 Hen Harriers and some Red Deer stags as well as the formentioned Otters, with everything else we saw it was an extraordinary day.

June 23rd
A warm dull day more than brightened up by todays guests who gave me a great day out. Yes I did say gave me a great day out because I had such a good time it did not feel like work at all, just fun. Adder and a distant Hen Harrier at the start of the day although I did not convince all my guests that it was a Harrier, but it certainly, definitely, positively was. Both types of Eagle performed well today and we had my first Common Seal pup of the year. Towards the end of the day we saw 2 Otters on the last bit of Island visible as the tide came in, they performed well too when not asleep.

June 22nd
A dull warm day just right for wildlife watching and the Eagles, Buzzards and Kestrels not dissapointing. The day started with Curlews a bird one of my guests really wanted to see, with a bit of sea watching which brought us Gannets, Fulmar and Kittiwakes and with both White-tailed Eagles and Red Deer seen in the same area the day had got off to a flying start, particularly with the Eagles. Before and after coffee break we spent some time on wild flowers Orchids and Bog plants but when we reached our first comfort stop the Sand Martins again stole the show. An otter put in an appearance before lunch and a Golden Eagle at our lunch stop. In the afternoon the Eagles put on an amazing performance with the White-tails flying over our heads and a Golden Eagle flying in and landing on a tree with no leaves giving superb views through the scope, a wonderful end to a great day out. Just a thank you to Pam for the food guests are really impressed by the quality of the food she provides for the tour and this makes my job so much easier, Pam also does the booking of tours and seeing I am in the right place at the right time. I might be the face of the Discover Mull tours but Pam is like the Swan paddling like crazy to make sure everything is alright on the day. Pam also puts all the pictures on this Blog.

June 21st
The longest day and boy was it a long one even if the weather was pleasant. Lawn mowing not my most enjoyable occupation but as we have a young boy coming into the self-catering it had to be done. This evening we went Owl spotting and were fortunate to see our local Barn Owl sitting outside his box, two Short Eared Owls out hunting and also a male Hen Harrier, all good stuff I thought but that was before we got the flat tyre on the car, that was a bit of a buggar and so was the tyre, buggared and we had only had it on for a week not my best day of the year apart from the birds.
June 20th
A dull day but mainly dry and some sea birds today, not a lot but very good Gannets and Kittiwakes. Imust mention an often forgotten because they are so numerous and easy to see Wheatear, rather like the Oystercatchers even beginners tend to notice them and they are really beautiful birds, so today three cheers for the humble Wheatear. All the main stuff seen on Mull again on todays tour but for me the standouts were Lesser Redpoll, Whitethroat and Sedge Warbler and the Yellowhammer seen in the garden whilst I was doing the flasks.
June 19th
'Don't worry if we are not seeing the big stuff, let us worry about that' we tell our guests every day, and so I smiled to myself when a guest whispered to me at morning coffee 'how often do you see eagles?'. 5 minutes later as we rounded a bend in the road 'Golden Eagle right in front just above the road' I shouted eagerly, '2 cyclists on the road' the worried guest by my side shouted. A wonderful day with lots of Eagles, sitting, flying and feeding on the nest. Due to the tides more patience was needed for the otter but 3 with afternoon tea made everyones day complete. The Wildflowers are looking splendid at the moment with Heath Spotted, Northern Marsh, Fragrent and Butterfly Orchids all flowering in one spot that we visited along side many more species of flowers. By the way Mum and Dad now have a computer and I know they read my blog to see what we are up to so may we take this opportunity to wish them both a very happy 66th wedding aniversary today, congratulations to you both.
June 18th
A day of mist, cloud and some sunshine but much cooler which was much appreciated by the wildlife. We started with Hen Harriers but it was mainly the male we saw, this was followed by great views of a Cuckoo being harassed by Meadow Pipits and then Adders and a single Slow Worm, Adder picture below. the Sand Martins next and once again they proved a big hit with guests and then having dragged them away from the Martins we saw 2 Otters which we watched throughout coffee break and for some time after. We now had to make up time and as the mist was so slow in lifting this was not difficult, we did stop however to take photos of Beinn More with its peaks showing well above the mist, a spectacular sight. On our way to lunch we saw some Red Deer including a young stag and as soon as we got out of the bus at our lunch stop The Golden Eagle appeared as if by magic. 6 White-tailed Eagles, 2 more Golden Eagles and another Otter in the afternoon and let us not forget, as if we could the Sedge Warbler, another fabulous day wildlife watching on Mull with lovely guests, could life be better than this? I think not.

June 17th
Very warm but not unbearable as it was cloudier than yesterday. We started well today as both the male and female Hen Harriers were flying, taking prey to their young, no Slow Worms today but we saw an Adder and Toad instead, good stuff. Red and Fallow Deer were seen well as were both types of Eagle and the Sandmartins and Wheatears although the Otter we saw was very brief and only seen by myself and one guest. On our tours it is not only the wildlife that interest guests but everything and these Highland Cows standing in the estuary water to keep cool and looking like a scene from a Constable painting were lovely and created quite a distraction as we waited for a Golden Eagle to show up: it didn't. We had a couple of photographers out with us today so a stop to photo the boats a Salen was compulsory, regular visitors to Mull will know where I mean.

June 16th
Scorcio and sunny with light breeze so no midges but our lawn mower man came and mowed the lawn for the first time since May 4th and for midges it was like having your home knocked down and they have fled in droves not good for them but great for us and our guests. This is great growing weather if my whiskers are anything to go by it is a shame my hair doesn't seem to have noticed. Pam heard a Corncrake on her tour today and we now have Great Spotted Woodpecker chicks in the garden and a regular Jay and a Sparrowhawk flew through this morning.
June 15th
A tour today and the weather was fantastic with sunshine and a strong breeze which stopped it becoming too hot. We had wonderfull views of Sand Martins today feeding chicks not far from fledging, I took these photos of the birds, eat your heart out springwatch. White-tailed Eagles and a Golden Eagle in the air together today giving guests great views and thanks to a sharp eyed guest an Otter very close but quite difficult to see in rough water. Other good sightings today a brilliant Lesser Redpoll, 2 Grey Wagtails, close Gannets and lots of Buzzards and Kestrels.

June 14th
The day after the wet day before and our friends Jac and Mike are coming for the weekend and I think I might try to get Mike to help me finish the trench digging. Several hours later and me and Mike are digging a trench out of rock and concrete surrounded by midges but we soldiered on and managed to finish the job, thanks mate. In the morning I took the Photo above of our wild Rabbits and Rock Doves cleaning up underneath our largest bird seed feeder.
June 13th
A very wet driech day with low cloud and like the England football team we set out with low expectations. At our first stop the wildlife was much in evidence although we saw little of it just felt it, out came the Avon Skin So Soft or which ever midge repellent you could find and we were forced to leave. At stop number two we had better luck with Whinchat, Slow worms and my first Adder of the year seen. Redshank and Common Sandpipers were stop threes highlights and then on to coffee break where I could here a little chuntering about the weather and we would see nothing, Otters I said as 3 of them a mother with her two cubs appeared and gave us a fantastic half hour of Otter watching. Red Deer before lunch and then the rain stopped and so did we as I hurriedly prepared lunch in the dry and then the Golden Eagle flew giving very good views until the cloud came down and the rain returned. Onwards we travelled and we reached a White-tailed Eagle site and the mist lifted long enough for us to see the female in a tree over the nest site and a breeding plumaged Great Northern Diver, by which time my guests were overjoyed and not a little impressed. Fallow Deer were seen and some Seals before we had afternoon tea and then the Midges returned and so did we, returned home I mean to end a very successfull day. By the way the views would have been stunning if we could have seen them.

June 12th
A much better day than forecast as the rain did not start falling till after 4pm by which time we had seen all the Mullspecialities except Hen Harrier. The day got off to a good start with this Buzzard sitting in a tree top not far from its nest and then I saw my first confirmed Great Skua of the year and then 2 Otters, it is always good to get Otters early in the day as it takes the pressure off trying to see them all day. A Great Northern Diver and Kestrel for Meg for her Mull list were other highlights but brilliant White-tailed Eagles were the stars of the day.
June 11th
Pam driving the bus again today and what a beautiful day we had with delightful guests. A mother Otter with 2 cubs before morning coffee at a place were we used see them but they have not been there this year, our guests were so enthralled with them we stayed for an hour until eventually they curled up and went to sleep, (the otters not the guests). Cuckoo's are getting harder to see now so we were pleased to see one flying past a kestral a species they can be confused with, and a Curlew with chicks were spotted hiding in a boggy area. White-tail and Golden Eagles were seen well also Seals, Red-throated Diver, Red and Fallow Deer which were very close to the road.
June 10th
A good day for the Mull specialities with very good Golden Eagles at lunchtime following a distant one early doors. the same hapened with the white-tailed Eagles, a distant view in the morning but great sightings in the afternoon both flying and roosting. Red Deer which were requested and Fallow Deer were seen as was an Otter, not our best but for quite a long time fishing and both types of Seal seen well. Other birds of note Hen Harriers by 2 guests I had dropped off whilst I fetched guests from Tobermory, Linnet, Curlews, Lapwings , Common Sandpiper Stonchat and Plankton, whoops I mean Meadow Pipits. One other species which we struggled to see but certainly felt as we were watching the Otter, MIDGES.
June 9th
Another nice day and Arthur is back digging. Male Hen Harrier, Slow Worms and our first Adder of the year set us off to a good start to the day followed by an Otter in a spot where we don't normally see them, so nobody was too worried that we did not get any eagles until the afternoon although we did get a male Teal, unusual for this time of year. By 3 oclock we had seen everything that had been requested for the day and thanks to regular guests and blog readers Ita and Ann we did not miss a single buzzard.
June 8th
A beautiful sunny day with a strong breeze to keep the midges at bay. Very good Otters today check out the pictures below, the tide was almost in and only the rock and a bit of seaweed was showing on the surface and the Otter was on the rock eating a large fish, with the wind in our faces and a very quiet group we were able to watch the Otter without a hint of disturbance, the way it sh ould be done. A lovely view of the Shelduck ducklings enjoying the weather and having a great time was another good watch on another very good day of wildlife watching, you cannot beat Mull when conditions are like they were today, stunning views, no midges and great wildlife, my cup runneth over. By the way we did also see both types of Eagle, both types of Seal, Red Deer, a Black Throated Diver and over 50 species of wildlife in another wonderfull day on paradise island.

June 7th
A nice day till late afternoon when the heavens opened but still enough time for more trench digging. A garden bird report today which includes Rabbits, Hedgehog and Slow Worms. On the bird front over 20 species visited our garden this week including Bullfinch, Spotted Flycatcher, Siskins, Jay, Buzzard, Swallows, Great Spotted Woodpecker and Yellowhammers with White-tailed Eagles and Hen Harrier occasionally being seen flying over the wood behind the house, with the wild flowers in the wild garden this is like living in a wildlife oasis. I must thank our tour guests for their unsolicited support for our tours on Trip Advisor as today through the post we got a Certificate of Excellence from the organisation which was totally unexpected but it does please us that so many of our guests enjoy the tours as much as we do. So a big thank you to you all for your continued support, may we never take it for granted and continue to give you all a happy, pleasant tour.
June 6th
Another fabulous day with the weather feeling scorcio although it was only 19 degrees. Both male and female Hen Harrier were seen at our first stop and with Slow Worm, Stonechat, Whinchat and Whitethroat at our second stop so the day had got off to a flying start. Talking of flying that was what we saw with a Cuckoo being mobbed by a hapless Meadow Pipit and 2 Golden Eagles flying right over our heads, they were though very high up enjoying the thermals. White-tailed Eagles seen well as were at least 8 Buzzards, a cameo appearance of a Sedge Warbler, a Cormorant with Shags giving guests time to tell the difference and finally the shelduck family always a real treat not only for us but for the White-tailed Eagle chicks. We had fabulous views of 2 Otters which made my guests day and on our way home 2 Red deer appeared, the first we had seen all day.
June 5th
Arthur must have seen the weather forcast again and sent me out with low cloud and missly rain all day whilst he continued with his digging. Both eagles were seen well but only sitting, not flying but we were compensated by 2 Otters playing on an island for over half an hour, rolling over together, fighting and fishing. Other nice birds seen today we 4 Red-throated Divers and 4 Black-throated Divers, Dipper, Kestrel and Bullfinches. Not so nice birds were 2 Hooded Crows attaching a 3rd crow with such ferocity that we thought the 3rd crow was going to be killed, after being held upside down and being pecked for over 5 minutes the 3rd crow managed to escape and fly away.
June 4th
A really nice day and with enough breeze to keep the Midges at bay as I spent the day in the trenches, literally, digging trenches for Solar Panel cables. Many thanks to Meg and Stephen who unexpectedly gave up a day of their holiday to come and help me, on the plus side we got a lot done on the minus my knee has swelled up again. Pam did the tour today with 4 Americans on board it is starting to feel like we do United Nations tours, I hope Nigel Farage doesn't book on. I was very jealous when Pam came back with the news they had seen a Peregrine Falcon giving very good views and a Linnet, while the best I could offer was beautiful Siskins in our garden a little distraction from the digging.
June 3rd
A beautiful sunny warm day which was just as well as we had a pary of Indian people on the tour today so they were not cold until later in the day as the wind picked up. A lovely couple David and Bernice were out with us and David wanted birds but Bernice really wanted an Otter and to her delight and my relief we found one at the end of the day doing all the things that make Otters so cute and she was looking through the scope as it got up and walked off the island we first found it on, we found it again on a separate island giving even better views. Eagles seen well again today as were both types of Deer and Seal, so with lots of extra Photo stops for the Indian guests a good day was had by all. My thanks to David Yates who did the door and saw my other guests were well looked after, checking for birds as I was looking for Otter and being an all round good egg.
June 2nd
Arthur must have seen the weather forcast before sending me out today, low cloud and mist for most of the day, again another bunch of very patient guests saw little more than a single slow worm and a buzzard before lunch time. As I came around the corner to head down Loch na Keal the clouds lifted and so did my guests spirits as they had wonderful views of White-tailed Eagles followed by Fallow Deer and Golden Eagles. There patience was rewarded when a White-tail Eagle flew across the loch towards us and less than 50 yards away plucked a Shellduck ducking from the rocky seaweed being chases by 4 adult shellducks. Our Otter was a bit more elusive with only half my guests seeing it as it swam in a choppy sea. Other birds seen were cuckoo and Great-northern Diver and lots of wild flowers were found by a couple of very keen guest botanists.
June 1st
A dull but dry day and the wildlife proved hard work and everyone on the tour wanted to see an Otter, it might have taken all day but we eventually saw 2, a mother and a cub and although they were some distance away they stayed out fishing for a long time giving our guests god views through the telescopes and with both types of Eagle seen well our guests went home happy with 50 species being seen in the day. On a happy note I bumped into a man I had met 8 years ago on Mull who was recuperating after suffering a broken back in an accident, I am glad to say he has recovered and still loves Mull as the place where he regained his his health and equalibrium after his terrible experiences. He has just had a book published as he is now a writer and he told me he was going to write a book about his recovery time on Mull. It is going to be titled "10 Days on Mull," it is one to look out for in the future and good look to him and his delightful wife.
June - 2013
June 30th
A day of showers which became a day of dodging them and being in the right place to see wildlife when they stopped. We saw both Red Deer and Fallow Deer the latter due to a great spot by a guest, Common Seals with young and a brilliant view of Golden Eagle when it stopped raining for the first time and we managed to get morning refreshments in the dry. On we went through heavy rain and as we saw some blue sky rushed to a White-tailed Eagle site and low and behold as the clouds lifted we saw both adults but not where the gathering crowds were looking for them, local knowledge of the birds and weather conditions came into force but we did show them to a competitor who had missed them so his guests did not miss out. Returning the same way to show guests the views they had missed in the morning we spotted an Otter at a place we had searched earlier proving that wildlife watching is either patience or being in the right place at the right time. This was certainly proved when Pam spotted a male Hen Harrier as we made our way back home, the bird gave guests a tremendous end to a very good day out given the conditions and their expectations. Some of our guests were very interested in the geology of Mull and this is where our other strings to our tour come in very handy particularly on trying days like today.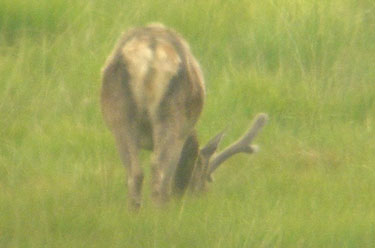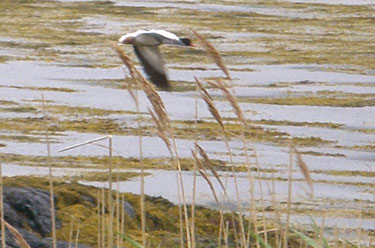 June 29th
A better day and a BTO breeding bird square for me to do, lots of species seen with the highlights being Goldcrest, Bullfinch and Spotted Flycatcher.
June 28th
A wet day for the most part and one guest in particular was loath to come out with us and thought seriously about cancelling but I persuaded her not to. The rain stopped for about an hour and a half at lunch time and we saw White-tailed Eagles flying very close, 2 Golden Eagles also close, a male Hen harrier, 2 Buzzards and 4 Kestrels within about 30 minutes, there were times when we did not know which way to turn. Speaking of Terns there were 2 Common Terns at Calgary along with 6 Common Scoters and the day finished with a very close Peregrine Falcon. Was the lady glad she had not cancelled, you bet she was. As for the other guests they came with an open mind and with a great sense of humour and were duly rewarded, my thanks to you all.




June 27th
Low cloud all day but mostly dry, we call these 'use your imagination tours' as we try to point out our beautiful views which seem to be having a day off, like Arthur, who spent the day relaxing whilst I (Pam) did the tour. We saw White-tail Eagle and a good Otter today but it was the small birds who stole the show with lots of Whinchat, Stonechat, Wheatears, Pied Wagtails, Willow Warblers and more all busy finding food for their young. The highlight for me was a pair of Snipe calling and flying in the mist.
June 26th
Another dull but dry day and more Eagles seen well as were Buzzards, Kestrels and a male Hen Harrier. Bottle Nose Dolphins were seen the 4th time on our tours this year and a Hare raced up the road in front of the van. No Otters seen today but they were hardly missed as we spent a lot of time watching Common Seals feeding new born pups, a really nice sighting for all the ladies on the tour. Great group of very happy, chatty people on the tour today which makes our job so much easier.
June 25th
Weather dull and warm with sight breeze, 3 separate Hen Harriers seen today with one a female giving us excellent views as did the White-tailed Eagle that flew directly over our heads. Otter was seen before lunch but we had to wait until late afternoon to see a pair of Golden eagles. Bird of the day was Kestrel with 10 birds seen including young. Small birds seen well were Tree Pipit, Stonechat, Whinchat and Whitethroat and the Common Gull was in the same spot as the Swallow had been in a picture on the 18th.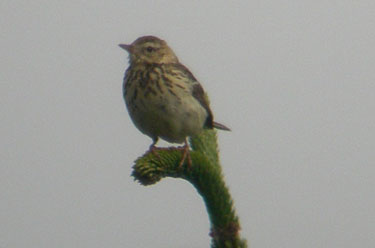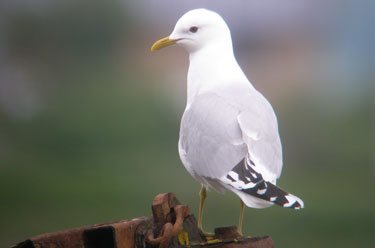 June 24th
Cool and cloudy with a breeze, much better conditions to be out and about than yesterday but the wildlife was not playing ball initially, probably trying to recover from yesterdays gales. The Golden Eagles with 2 chicks are giving me super views at the moment it is either they have to hunt all the time to feed a growing family or just showing off as they have 2 chicks and all the other Golden Eagle pairs have one or none. We had an Otter briefly before lunch but at the end of the day a very close one giving my guests a great sighting. As they were watching the Otter I managed to get a photo of this silhouetted Heron also fishing but using the patience technique not the dashing catching of the Otter both were successful. The other picture of the Curlew was seen whilst we were watching Red Deer Stags, in the wildlife watching game you never know what may show up.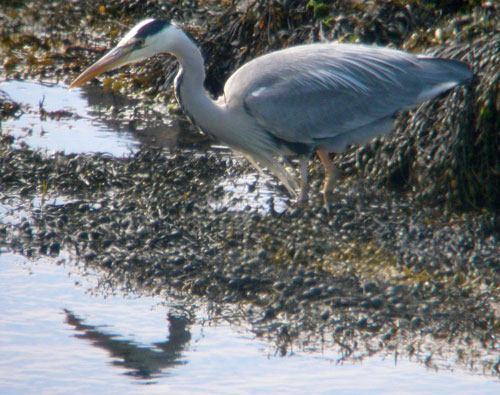 June 23rd
A windy and cool day and after a little bit of patience the Golden Eagle performed brilliantly for us. The White-tailed Eagle played hide and seek with us for some time but when found posed for us before flying off who knows where. An Otter next scared by a noisy guest and then a photographer, not in our group but with about as much field craft as a charging Rhino. We had a good sighting which could have been a lot better. The wind had now reached gale force so with little else to do we took in the views and did the history of the drove roads and clearances until at the end of another great day we found a male Hen Harrier hunting, alls well that ends well
June 22nd
No tour today as it was change over in the self-catering and as there were heavy showers all morning we just basked in the glory of all the wildlife we saw yesterday. I spent the morning watching Lions, the rugby ones, not real ones, fed the birds and checked out our water supply and getting very wet into the bargain.
June 21st
A day that started damp and dull but improved as the day went on, light winds. 6 Otters, 5 Golden Eagles, 4 White-tailed Eagles, 3 Buzzards, 2 Kestrels and Partridge in a Pear Tree, no there was no Partridge in a Pear Tree but our guests thought all their Christmas wishes had come true on todays wildlife tour and as for us we wish it could be Christmas every day.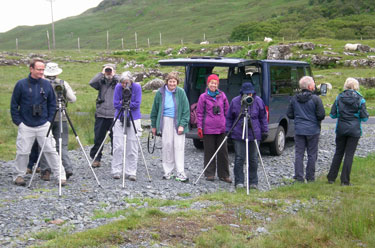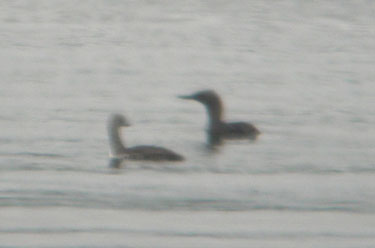 June 20th
A dull day with light drizzle all day, not a day to be out wildlife watching or so most of my guests would think, WRONG. We started at Dervaig and at our first stop we saw Goosander, Redshank and Common Sandpipers amongst other stuff, at our 2nd stop, Red Deer and 2 Hen Harriers a male and female giving brilliant views particularly the male. On to stop 3 and Lapwings and White-tailed Eagle and the only things bothered by the drizzle were my optics and glasses. After a comfort break we went for coffee and 2 Golden Eagles flew for several minutes really close even I was surprised by this sighting. We nearly had an Otter at the next stop but the dratted thing played hide and seek, but we had a good one before lunch, so even though it had drizzled continuously we had seen all the Mull specialities really well which we rarely do on bright sunny days which I keep banging on about. Also seen today were a very close Sand Martin, lovely Shellduck ducklings, beautiful yellow Flag Iris and Northern Marsh Orchids. Now I know we are a wildlife tour that takes you out to look for the wildlife but today one little bit of wildlife came to see us as this baby Pied Wagtail took shelter from the drizzle in the van as we ate our lunch, ain't he cute.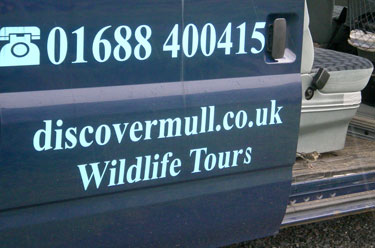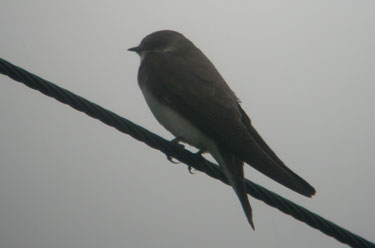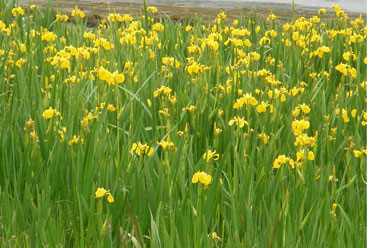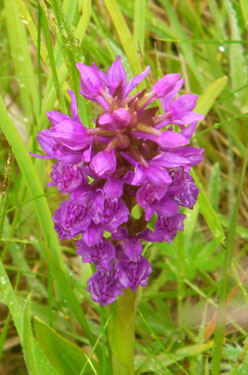 June 19th
Dull, breezy and cooler with low cloud and rain for a time. Congratulations to my Dad and Mum who celebrated 65 years of marriage today, quite an achievement in todays world, good on you both. The Mull specialities are still playing ball at the moment with 2 Otters again today , not the same ones as yesterday. A great sighting of a Swallow today on the picturesque boats near Salen, you could say it was a swallow on the Crows nest. White-tailed Eagles put on a show for us today and we have a pair of Great Spotted Woodpeckers regularly visiting our feeders in the garden. The other great sightings of the day a pair of Great Skuas, Kittiwakes and Shellducks with newly hatched ducklings, enough to make the most hard hearted male birder go ah.

June 18th
Dull but calm and cooler conditions brought out the wildlife, Golden Eagle being mobbed by a Raven, White-tailed Eagle being mobbed by a Buzzard, a very good Hen Harrier, 2 separate Otters, Fallow and Red Deer, Grey And Common Seals a lovely view of a Song Thrush, Common Sandpipers and a Willow Warbler. Whinchat and Cuckoo were seen well as were Kestrels and Lapwings and Redshank, Wheatears are everywhere and a Common Tern in Calgary Bay. Just another day of fun, frolics and a little wildlife watching on a Discover Mull Tour. Great guests and some great spotters on the tour today, more of the same tomorrow please.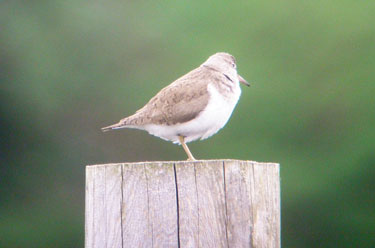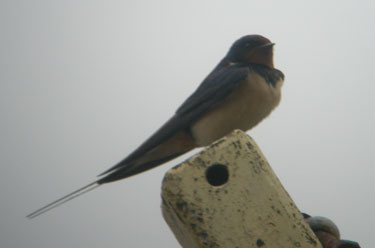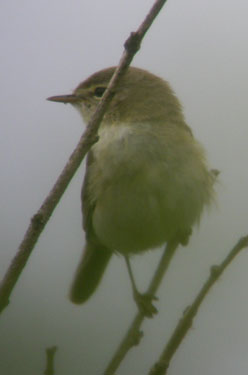 June 17th
Hot but not quite scorcio with light breeze and another good Eagle day but for me it was the Red Throated Divers, Linnets, Twite and Otters which were the highlights. A lot of Kestrels were seen today and 3 dancing Cuckoos provided great entertainment for our guests. I have got the midge magnet going and the box was half full of midges this evening, Pam will be well pleased.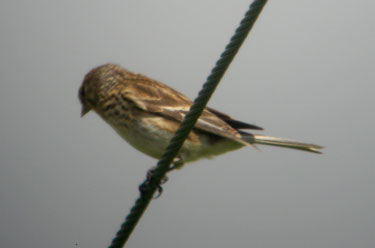 June 16th
Hot and dry again on Mull where the drying out water holes could soon become a problem. The question on most peoples lips at the moment is will factor 30 be strong enough. The ewes who just a few weeks ago were shivering in the cold wondering if the grass would ever grow are now pushing and shoving as they queue jump to be sheared. Pam did the tour today and saw everything, my word that girl is good, it is a good job she doesn't do tours or us boys would all be out of business.
Arthur forgot to mention in all his rambling - I took our group to see if there was an Adder under a tin sheet that Arthur had put down earlier in the year disappointingly there was nothing there, as we walked back to the mini-bus I spotted a Buzzard flying towards us, as it got closer we saw something long dangling from the Buzzards feet ....... it was our Adder being taken off (still wriggling) to feed the Buzzards chicks. Pam
June 15th
A lovely day again and we were not feeling to great after we had guests round last night to celebrate the finishing of our new bathrooms and copious amounts of beer and wine were consumed. Thanks to all involved in the bathroom project, Richie, Billy and Josh (the mole) the heating engineers Ian and Gary the electricians and Angus the builder who has been great. I must mention Pam who kept all these guys going , provided refreshment, sanded and painted doors, walls etc in fact she was everywhere. Congratulations to you all on a job well done, now I can come out of hiding.
June 14th
Another lovely day and splendid Otters for which I am extremely grateful as one of my guests was feeling unwell but made the effort to come out and was really hoping to see an Otter. A proud pair of Golden Eagles watching over their fast growing chick was another good sighting, also on the Golden Eagle front I have been reliably informed that one of the Golden Eagle pairs I watch has 2 well grown chicks this year. A beautiful Black Guillemot was seen quite close in and for once I managed to get a decent photograph.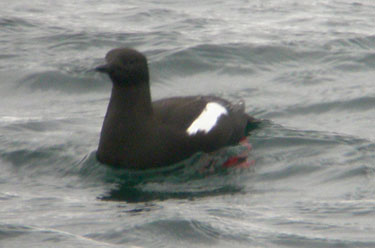 June 13th
A lovely if cool day and again all the Mull specialities were seen very well including 2 very good Otter sightings which my guests loved. At the end of the day just as we were about to give up a Hen Harrier got up and gave us a spectacular flying display for several minutes, what a cracking way to end a great day. The Golden Eagle sightings were excellent but although we saw good views of White-tailed Eagle none of them would fly. A Cuckoo flew past as we waited for the Hen Harrier and we had a great view of a Willow Warbler but as I had to wait for al my guests to see it through the scope it did not hang around long enough for me to get a photo.
June 12th
The rain continued through the night bringing with it lots of wildlife, Midges. Never the less we started out on todays tour full of optimism as the forecast predicted it to clear as the day went on and what happens after 36 hours of rain, everything gets up and flies and it did. We saw all Mulls big 5 including 2 Otters whilst it was still raining, Brilliant Golden Eagles, White-tailed Eagles, Red deer and a Hen Harrier finished off a great days wildlife watching and I got Linnet again, my cup runneth over.
June 11th
Drizzle all day and 10 degrees cooler and we set off in high spirits, jumpers, coats and gloves. At our 2nd stop we found two Red Deer Hinds with this years calves and one was the smallest I have ever seen about the size of a large hare if you cut its legs off a real Bambi sighting. Golden Eagle sitting and chilling, literally in the rain was seen at Coffee break followed by a White-tailed Eagle at our next stop. By now the mood of the guests had really brightened up even if the weather hadn't. Lunch provided a special view of a male hen Harrier which flew directly over our heads and then a flock of Linnets flew in and we also had a good view through the telescope of a Twite which was with them and the drizzle continued . less excitement in the afternoon proving my theory that the early starters catches more wildlife.
June 10th
A cooler breezier day much more pleasant to be out in and newly fledged little birds were out enjoying themselves as the pictures of a young Robin and Wheatear show. A Jay flew in front of us on our way into Tobermory this morning giving guests a great view of this scarcely seen bird on Mull. Brilliant sighting of an Otter with a cub which we were watching very quietly at relatively close quarters when 2 cars turned up parked and filled the passing place completely illegally and banging doors scared the mother Otter off to hide her cub, she reappeared on her own but this was disturbance of wildlife big style and forced us who had found the Otter to leave the Otter or face the wrath of the police who blame the wildlife tour operators if passing places are full and we are there. Now I know everyone wants to see Otter but this selfish behaviour and disturbance behaviour drives us tour operators to distraction as well as being wrong to our guests who have paid to come out with us. A Hen Harrier at the end of the day completed a tour in which all the main Mull species had been seen well.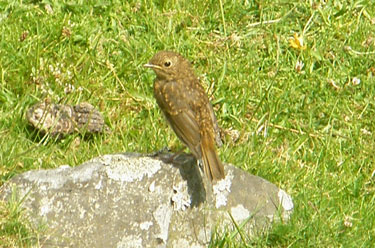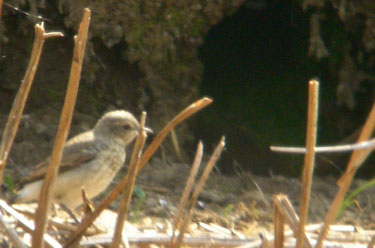 June 9th
SCORCIO it was too hot today but we still had a great tour with a fish carrying Mink being chased and harassed for over 100 yards by Oystercatchers and a very persistent Hooded Crow. A very close Otter soon followed which we had for about 25 minutes because my guests were brilliant and kept very quiet and still, voices carry a long way on Mull and Otters have great hearing but are short sighted, so congratulations to you all you deserved your great sighting. A lovely Whinchat, both Eagles and both Seals were other good sightings and as we were in no rush we were able to stop and spend a lot of time out of the van which was like a greenhouse at times, unusual for Mull.
June 8th
The weather remains warm and sunny and no tour today but our friends Mike and Jaquie have come to stay and as it was Mikes magic number birthday they came with me to do a waterways survey. What a time Mike had as we had very close views of Goldcrests, feeding Spotted Flycatcher and Ringed Plover amongst 29 species seen. The highlights however were mammals with a Bottle Nose Dolphin, 2 Porpoise and 2 Otters seen very well in a 15 minute period, he was really chuffed. We then went to look for a Redstart as I had not seen one yet this year and after some time we found a pair feeding young and this made Mikes day complete. The day ended with a great meal at the Bellachroy and Pam and Jaquie ate the Mull platter for 2 between them for which they have have mike and my admiration. Mike and I both had a very good rump steak which along with the best best beer on Mull completed a great birthday for Mike. Many thanks to Nick, Debbie and the staff at the Bellachroy for their continuing high standard of food and beer and atmosphere , it is no wonder they are nearly always full, cheers to you all.
June 7th
More breeze today which made it feel a little cooler and today we had a Golden Eagle fest with really good close views of 3 birds. the first was being mobbed by 2 Hooded Crows and thus giving us good size comparisons and the other 2 were together as they came over a low hill disturbing a startled Kestrel which soon disappeared. The 2 eagles then soared round each other giving us a fantastic display for several minutes, we don't get Golden Eagles that close very often.
June 6th
Scorcio again and the earlier starts are certainly proving a winner wildlife wise as again we had all Mull main species today, we also had Stonechat, Whinchat, Linnet, Willow Warbler, Whitethroat and Sedge Warbler. On the water we had Black Guillemots, Guillemots and Razorbills, Gannets, Common Terns, Red Breasted Mergansers, Shellducks and a lot of Shags. My highlights today were Linnet and Whinchat, which I love, a male Hen Harrier and a good Otter which as guests really want to see I am always delighted for them when we find one. I was just about to take a photo of the Whinchat when a Cuckoo came and sat on a wire and I had to move my scope as some guests had never seen a Cuckoo before and guests always come first, never have I been so disappointed to see a Cuckoo.
June 5th
A beautiful hot day spoilt at the start by more on the morning cancellations but I am pleased to say it was their loss. The 9-30am start proved a winner again as we had a great Otter sighting before too many people were around to scare it off. This was followed by a brief Golden Eagle and a flying White-tailed Eagle. We had more White-tailed Eagle sighting in the next 20 minutes and it was just 11am and trips starting from the ferry would only just have begun. Brilliant views of Golden Eagle after lunch and Kestrel mobbing 2 Hooded Crows provided great entertainment. We spent half an hour just chilling at the coast in the main heat of the day as we had seen all the main Mull species very well, the early bird and all that. As we sat and chatted by the coast a Gannet and several Manx Shearwaters flew past, 2 Grey Seals joined us for a few minutes, Shags enjoyed the sun on a Rock as did a single Common Tern. Guillemots dived for fish on a still sea and we were serenaded by a Skylark, a magical half Hour at a place I love. On the way back to Tobermory we had a Fabulous view of a Hen Harrier right over our heads probably the sighting of the day. As for those who cancelled, so sorry you missed it all.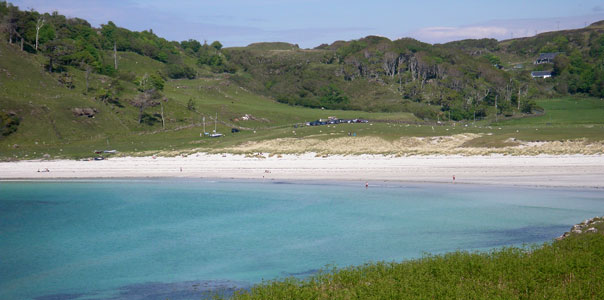 June 4th
Scorcio again and I am glad we had a 9-30am start as there was a lot to see early doors including both types of Eagle, both types of Seal, Common Terns, Great Northern Divers, Gannet and a Cuckoo being harassed by a pair of harassed Meadow Pipits, "I wonder what the female Cuckoo was up to whilst both Pipit parents were away from the nest?." In the afternoon the highlights were the heat, a pair of Red Throated Divers and a brilliant female Hen Harrier being mobbed by 2 Curlews.
June 3rd
Another great day for the Mull specialities including a female Hen Harrier at the end of the day The weather was great but a little hot and it was very quiet during the heat of the day so we are aiming to start our tours at 9-30am now instead of 10am to give us more chance to see stuff. The Eagles are showing well at the moment as the ones with chicks are out and about more and talking of chicks we are starting to see more of other species now which are very nice to see after the cold Spring. The trees are looking spectacular now with different species in separate greens depending on type . There was a localized HAA, coastal fog at Calgary and this gave a very different if a little spooky view of the islands.
June 2nd
A great day for wildlife watching not to sunny and calm and boy did the wildlife oblige. The day started with Redshank, Dunlin and a great Red Deer stag in the Dervaig reedbed. At our next stop a Golden Eagle came soaring over a hill and at the next a Robin, followed by a White-tailed Eagle at the 4th stop first sitting and the flying being mobbed by Common Gulls. In Salen Bay we saw several Eider Ducks and Mute Swans with a single cygnet. Grey and Common Seals were then seen as were Arctic Terns, Great Northern Diver and 2 brilliant Red Throated Divers. Shortly after we saw more great views of Golden and White-tailed Eagles and a Sedge Warbler. Lunchtime and exceptional views of Golden Eagle only eclipsed for me by my favorite birds Linnets. A lovely view of Red Breasted Merganser, Lapwing and Shellducks and with Swallows and Sand Martins fly all around us lunch was complete. The afternoon was quieter as always but Kestrel, Common Terns, Black Guillemots and Gannets kept us going until at the very end of a great day we saw an OTTER.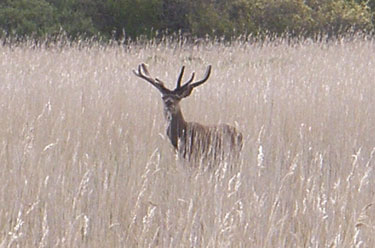 June 1st
Another cool day and very windy at times and a very tricky day wildlife wise but that is because it is wildlife and if you want to guarantee seeing stuff you should go to a Zoo or out to places where they feed the wildlife but that is not true wildlife watching. Birds and wildlife should be free and we on our tours try to stress this point, Exhilaration and disappointment are the two sides of true wildlife watching. Out with a friend at her Sauna tonight, thanks Mari for a lovely evening and sorry we forgot your birthday, no excuse.
---
June 2012
June 30th
Weather awful and I had a day off ZZZZZZZZZZZZZZZZ I feel better after a good days rest.
June 29th
A mainly dry day produced lots of raptors which pleased guests immensely a few little birds and Auks but all in all it was a slow day wildlife wise which can happen at this time of the year, it was definitely a day when it was the quality of wildlife seen and not the quantity. Talking of quantity as I write this blog I have counted over 90 Rock Doves sitting on the electric lines waiting for me to go out and feed the birds......Pigeon pie anybody.
June 28th
With another very wet day forecast Arthur was pleased to have his day off but as we often say 'they get it wrong'. In light rain we found a golden Eagle sitting we watched for a while and as I was packing up to leave a shout of 'it's flying' went up. It didn't fly far, just enough to shake the rain from it's wings but in the next few minutes it flew 3 times giving great views. Then we found the wet White-tail Eagle sitting in a tree, just as we were about to leave he decided to fly for us. It was now starting to clear up and the afternoon was dry. A very close male Hen Harrier followed hunting and narrowly missing a very relieved Meadow Pipit and 2 more White-tail Eagles, one flying right over us. A fishing Otter rounded the day of very nicely.
June 27th
Wet, Wet, Wet no not the pop group , the weather And although it was very wet we still managed a Soggy Golden Eagle, a flying White tailed Sea Eagle which soon landed and looked like the soggy Golden Eagle, a very soggy, sorry looking Yellowhammer, Red Deer, lots of Seals of both kinds and an Otter for over half an hour and it was still raining. Other notable sightings on a very wet day were Red Throated Divers, Guillemots, Shellducks, Eider Ducks and Red Breasted Mergansers, Pam's Homemade piping hot soup and Sandwiches for lunch much needed and appreciated on the day as were the cakes and biscuits at morning coffee and afternoon tea. I might have mentioned it rained for most of the day and yes these sightings are not made up we do still see stuff on really bad weather days, it just means I get much wetter....Atishooo?
June 26th
A bright start to a day that ended in pouring rain. A birding group today so guess what we saw a lot of birds including a Great Skua, Gannets, Kittiwakes, Guillemots, Black Guillemots, Shags, a Cormorant. Red Throated Divers, a Snipe, Ringed Plover, Redshank, Common Sandpiper, Curlews, Swans and Geese. Little birds seen were Wheatears, Whinchats, Whitethroat, Willow Warbler, Meadow and Rock Pipit and Skylarks. We saw both types of Eagle and a brilliant view of a female Hen Harrier and both types of Deer and Seals including baby Seals, lots of Buzzards and Kestrels and acrobatic Ravens. As you can tell we had a very good day largely due to the fact that we were open to everything Mull had to offer wildlife wise. I nearly forgot the Common Spotted and Heath Spotted Orchids, Fragrant, Northern Marsh and Butterfly Orchids we also saw and had some interesting Geology commentary from a knowledgeable guest, phew we packed a lot into a very good day.
June 25th
A dull start turning sunny and hot, sometimes when I take people out I get frustrated not with the guests but for the guests, although the conditions were perfect for seeing Otters we did not find one today. I know how much guests want to see Otter but they are the most unpredictable animal and sometimes no matter how much you try they just don't appear, I hope for better tomorrow. We did see a lot of wildlife including both types of Eagle seen well, Red and Fallow Deer, Common Seals with newborn pups. Red Throated Divers, lots of wildflowers including Orchids but no Pesky Otters.
June 24th
Overcast and breezy, dry and cool today and we had news of 7 Bottlenose Dolphins in Tobermory Harbour this morning heading west so I decided to start the tour at Cailaich Point on the off chance we might see the Dolphins, in the event we didn't but did see lots of Manx Shearwaters, Kittiwakes and some Gannets as well as Orchids a request from some guests. Another great Eagle and Otter day check out the Goldie photo below, although we had to wait till lunchtime before our first Eagle, as I always say Wildlife Watching can severely test your patience. and we also saw new Red Deer calves and Common Seal pups all in all a very good day was had by all. Just a mention about Pam whose soup and baking keeps getting rave reviews and she does most of the office work and now gives me a day off every week by taking out a tour. I might be the body work that guests see of this business but it Pam who is the engine that keeps it running.
June 23rd
It rained all day and for once I did not do any wildlife watching but caught up on a few chores and paid a couple of bills and did some maintenance on our water supply. Pam did the cleaning of the self-catering chalets and once again guests left with lovely comments, see s/c page, it is nice to know that we offer such a perfect base for guests to enjoy what this island is all about. We must also thank Dougie for his wonderful new shop in the village, Nick, Debbie and the staff at the Bellachroy for providing guests with such good food and beer if they wish to eat out. Guest wanting fine dining can enjoy Am Berlinn or Killoran just up the road and well within walking distance. Finally guests who are into art can visit Andy and Helen Mortly at Frachadil House or Calgary art gallery and tea room at Calgary Bay just 4 Miles from Ardrioch Farm.
June 22nd
After needed overnight rain a dull calm day ensued, perfect for wildlife watching and we saw over 50 bird species and 60 species altogether. In a year when Otters have been difficult to find we saw 6 in total today as well as 5 White-tailed Eagles and a Hen Harrier. Whinchats were seen feeding young, Sedge Warbler, Whitethroat and Willow Warblers were all seen well as were Red Throated Divers, Black Guillemot and Razorbills. We also saw an Adder and several species of wild flowers including Orchids. As I constantly say the more you look for the more you seem to see, if you just spend time searching for Eagles and Otters you might not find them on the day and miss everything else the magical Island of Mull has to offer.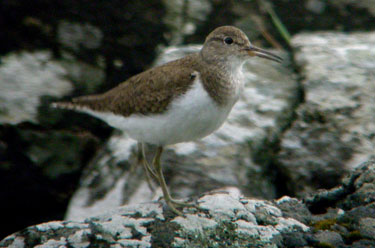 June 21st
Pam on the road again today and with a forecast of rain coming in for the afternoon we were pleased to get our Eagles in the morning. 3 unusual sighting today which pleased me as well as the guests: a Hedgehog marching down the side of the road, it went off into the ditch as we drove along side it and up the bank on the other side, it's surprising how fast they can move. At least 3 seals 'porpoising' out of the water, I don't know why they do this but I think it is the 'teenagers' just having fun and finally a Fallow Deer fawn, only the second I've ever seen as they are so small you can not see them for the vegetation at this time of the year.
June 20th
A hot sunny day and our guests were very happy saying what a good day for wildlife watching but as I keep saying dull mild days are far better. We did see all the big stuff Mull has to offer but at a distance, Golden Eagle 5000 feet up although it was right above our heads. A White-tailed Eagle sitting on an island in the middle of a Loch trying to keep cool in a none existent sea breeze. We found a distant Otter and guests saw it but not too clearly due to the extensive heat haze, it would have been a much better sighting had it been cooler. We did see good Red Deer but no stags and 2 Hen Harriers but again one was very distant up in the clouds. So wildlife watchers beware what you wish for if you want good sightings of wildlife you don't want it too hot or too sunny, even showers can be better for wildlife, although not wall to wall rain.
June 19th
A dullish day and great for wildlife with 3 Otters seen; a mother with cub and later a dog Otter fishing very close oblivious to our presence as guests were very quiet and the wind was into our faces so the Otter could not scent us. Golden Eagle, White-tail Eagle, Hen Harrier, Kestrels and Buzzards. Sparrowhawk, Red Deer Stags were all seen well and we had all sorts of other stuff on a great day. Waders seen included Curlew, Common Sandpiper, Oystercatcher and Redshank. Ducks seen were Eider, Mallard and Shellduck, we also had lots of Greylag Geese and Red Throated Divers. Sea birds included Kittiwakes, Shags, Guillemots and Razorbills and Gulls seen were Common, Herring, Great and Lesser Blacked Backed. Little birds were Yellowhammer, Stonechat, Whitethroat, Wheatear, Swallows, House Martins and Sand Martins, Pied Wagtail, House Sparrows, Chaffinches and a Redstart. Mammals, other than Red Deer and Otter, were Fallow Deer, Common and Grey Seals and Rabbits. I have forgotten some of the stuff we saw but you can tell we had a pretty good day.

June 18th
A sunny day and we had to work hard for everything we saw wildlife wise today but with perseverance we managed very good White-tailed Sea Eagle and another fantastic Hen harrier sighting not the same one as yesterday. It was a bit little and large today as we saw a White-tailed Eagle and a really nice Whitethroat, check out the pictures below. Late news we had some substantial rain last night so our water supply should have been somewhat replenished.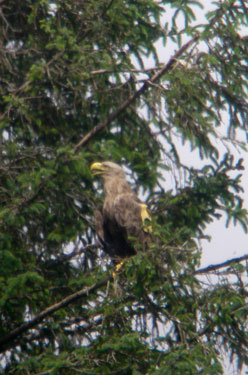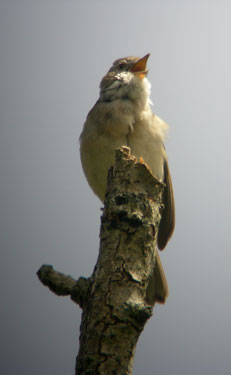 June 17th
After a dull start the day just got better with bright and sunny at the end of the tour. Today we had a van full of wildlife spotters and so we saw everything very well, Both types of Eagle both sitting and flying quite close, close enough for our guests to get some decent Photographs. Both types of Seal and Deer were also seen as was a good but distant Otter and we also had a good sighting of Bottle nose Dolphins. The day ended with a brilliant view of a hunting female Hen Harrier. Other good sightings on a fabulous day were Great Skua, Kittiwakes, Razorbills, Red Throated and Great Northern Divers, Whitethroat and Yellowhammer. All todays sightings were really good and as I always say the more people looking the more you see, or the less you miss, so a big thank you to all todays guests I had a brilliant day.
June 16th
the chance of needed rain seems to have passed us by as we had another cool dry day with the forecast saying it is set to improve....... HOW? I did our breeding bird square around Ardrioch which again proved that we have more bird species in the Dervaig area than anywhere else on Mull. In other words it was very productive and I enjoyed it immensely.
June 15th
Light drizzle and cool for a lot of the day but the rain not amounting to much. The highlight of the day came at the end of the day with an absolutely brilliant male Hen Harrier we watched it hunting for 20 minutes and the show included a prey pass to the female a sight few people ever get to witness in the wild.
June 14th
Cloudy but warm again just the right weather for wildlife watching. We had a Hare raising experience on the tour today although it was probably a Rabbit, two White-tailed Eagles flew in and one, the female was carrying prey being constantly mobbed by a Hooded Crow. The male bird flew round like a fighter plane giving the female as much protection as he could, it was indeed a good couple of minutes of Eagle watching. Great Hen Harrier and the three Otters again today but we also had good views of Grey Wagtail and Sedge Warbler and Linnet my day was complete. I nearly forgot the Adder we saw today so I must Adder it to todays sightings
June 13th
Overcast but warm, cooling off during the afternoon. Otter, Otter, Otter boy did we have Otter, 3 of them, a mother with 2 cubs giving us a fantastic half hour of playing, fishing and all together doing what Otters do best entertaining us what a way to start a day's wildlife watching. Both kinds of Eagles followed but a handsome male Linnet almost stole the show from the 2 Whitetail Eagles who were sitting high up in a tree. Later in the afternoon a call of 'Cuckoo's flying towards us' made us all turn, the 2 Cuckoo's flew over our heads and behind them against the hill side was a Golden Eagle, 2 Kestrels and 2 Buzzards all in the same binocular shot, it could only happen on Mull, what a day.
June 12th
A dull start to the day which ended in bright warm sunshine. We had an enormous Dog Otter today, it was so big we initially mistook it for a Common Seal but its passage through the water told a different story. Eagles as usual and a very nice obliging Sedge Warbler. On our way home from Tobermory with Dave a guest at our self catering we stopped to look for Little Grebe on the Mishnish Lochs and Dave spotted one on a nest in the reeds, nice one Dave.
June 11th
Cloudy but dry morning showers and low cloud in the afternoon. We were lucky to have some great views of Eagles before the rain but the highlights of a great day out were Dolphins in Loch Na Keal with very close views as they leapt completely out of the water, I was so pleased and surprised I forgot to get my camera out as we watched them. After lunch we had sightings of 2 separate Otters the second one was excellent bringing a very large fish out onto a small island and proceeding to eat it with some relish, no I don't mean thousand Island dressing I mean with gusto, check out the photo below.
June 10th
It rained today, yes it was real rain for 2 hours but not heavy but it freshened up the air thank goodness as it was becoming oppressive. A good day given the weather with Eagles and Otter both types of Deer and Seals seen well even if the Otter was a little distant. One of my guests needed Red Throated Diver and Yellowhammer for her Mull holiday list and I am very pleased to say we got both on todays tour.
June 9th
Another warm sunny day without rain and I went with Nick one of the Dervaig bird group to do a breeding bird square for The BTO, it is not a really productive square but we did see a brilliant male Hen Harrier. a Buzzard, Kestrel and a distant Peregrine Falcon mobbing a Golden Eagle. Red Deer were also seen and as soon as they heard us they were off, small birds seen were Whinchat, Wheatear, Meadow Pipits and lots of Skylarks. This afternoon I went with Pam and did some sea watching from land and had fabulous Gannets plunge diving and lots of Manx Shearwater lovely birds to see and although we did not manage to see any Basking Sharks we did see about 8 really close Harbour Porpoise and each of us saw a different Minke Whale in separate locations on a flat calm sea.
June 8th
The break in the weather happened last night when we had a very light shower, back to normal today sunny and very warm at times. It is very quiet wildlife wise at the moment now migration is over and the tours concentrate on Mulls premier species. Today we saw brilliant White-tailed and Golden Eagle, Hen harrier good but distant, lots of Buzzards, Kestrels, both types of Deer and Common Seals. Other notable sightings were Mute Swans still with 5 Cygnets and Greylag Geese with Goslings and also Canada Geese with Goslings not as common as Greylags on Mull but we get more each year. Back at Ardrioch some friends called on Pam and had tea and cake in the kitchen, their bird list for the hour included White-tailed Eagle, male and female Hen Harrier, Buzzard, Siskin, Chaffinch, Greenfinch, Blue Tit, Great Tit and Coal Tit, Rock Dove, Blackbird, Collard Dove, Robin and Goldfinch, it might be quieter on Mull but not from our garden. The pictures below are of a Golden Eagle wrestling with a large Hare or Rabbit in an attempt to take it to the nest but finding it too heavy to lift, it was taken on todays tour.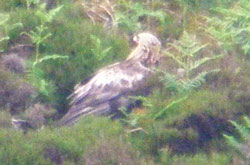 June 7th
It tried very hard to rain , we even had a few drops on the window of the van, it was raining on Coll, Canna, Rhum and Eigg but it remained dry on Mull. White-tailed Sea Eagles proved to be the bird of the day although we did see 5 Golden Eagles. We had lovely views of the Fallow Deer today and some really nice Highland cows, calves and a bull in wonderful scenic surroundings.
June 6th
Yet another dry day with Pam leading the tour. We had a great start with Porpoise seen feeding in the Sound followed by both kinds of Eagles. We found a distant Otter but were able to watch it for quite some time feeding and out of the water so everyone had a good view through the telescopes. Whilst we ate our lunch a White-tail Eagle flew right over our heads, only to be attacked by a Buzzard, the Eagle spun over in the sky to ward of it's attacker giving us spectacular views for about 10 minutes. A great day was ended with a pair of Red throated Divers doing their courtship display of running together over the water.
June 5th
On another dry day we again saw both White-tailed and Golden Eagle very well and also a Golden Eagle chick on its nest being fed by mum. Otter however was the sighting of the day as they are being particularly hard to see this year and all my guests in a full van saw it through the telescopes both in and out of the water eating fish, it took some finding though and a great deal of patience was needed. Linnet, Whitethroat and Great Skua were other notable sightings on the day.
June 4th
It tried hard to rain at one point but failed so another good day wildlife watching with very nice guests. As well as Eagles and other raptors we saw a lot of small birds today and 2 very nice Red Throated Divers to end the day. We spotted these Fallow Deer trying very hard to hide in the long grass. On returning home the Dervaig bird group Jubilee party was already underway and the beer handed to me as I walked through the door was most welcome. We all had a great time as you can see and the ladies made some wonderful 'Royal' food including these lovely cakes.
June 3rd
It looks like the great weather is going to break soon but we are making the most of the sunshine while it lasts. Today I had another Wow moment while a guest was shouting Short Eared Owl I was shouting Swifts over the hill on the left, in the event we saw both species really well. We had 2 Otters today which was nice as Otters are proving extremely hard this year. Eagles, Deer and Seals seen well as usual today but birds of the day after the Swifts were 2 newly fledged Kestrels and 3 young Curlew chicks. The Kestrels must have fledged on Saturday as they were still in their nest on Friday. Another great tour, great Day, isn't wildlife watching great, we are so lucky to be able to live in such a glorious place.
June 2nd
Another great day weather wise and a day for going little bird watching with friends. best birds seen today were a Bullfinch in the garden when I woke up, a pair of Stonechat and whinchat on a walk and fabulous views of male Kestrel and Cuckoos also on the walk. Good news for all guests coming to stay at ardrioch self-catering we still have plenty of water at the moment.
June 1st
The good weather has continued into June And on todays tour we had a real WOW moment that will live in our minds forever. We were watching 2 Cuckoos flying past the van which my guests particularly wanted to see, when as they flew away over a nearby hillock a huge Golden Eagle which must have been sitting just out of sight got up. I am not Joking when I say it filled my binoculars, we were all just awe-struck, this bird is massive and I am positive I will never have a closer sighting of a Golden Eagle unless I am actually in a nest. Nothing else to say about the day as this sighting eclipsed everything else seen on the day.

---

June 2011
June 30th
Weather the same as yesterday with a stronger breeze - Well now June is over and I can definitely say that no one on Mull has suffered from heat stroke, let us hope for a bit more sun and warmth in July. The good news on the wildlife front Despite the poor weather the White-tailed Eagles seem to have had a reasonable breeding season and the Golden Eagles have also done better than expected and Hen Harriers and Short Eared Owls are feeding young with voles thus enabling the smaller birds to recover from 2 harsh winters. If the birds at the top of the food chain are doing alright in spite of the poor breeding conditions weather wise the eco structure on Mull is in reasonably good health.
June 29th
Weather cloudy, cool at times - The only bird that Jan, one of my guests, saw today was a Chaffinch, and that was because it almost ran over her foot. When you have a guest who is parochially sighted you have to look at the tour in a different way, we smelt the Fragrant Orchid and the Bog Myrtle, we listened to Eas Force water fall, Skylarks and a beautiful Yellowhammer, and felt the soft flower head of the Cotton Grass. Sometimes we need to realize that what most of us take for granted is not available to all and we should be more thankful for what we have than crave too much what others have, be careful what we wish for.
June 28th
Weather a little better all round than yesterday - After being so good yesterday the wildlife today decided to play hard to see and apart from the White-tailed Eagles everything else had to be looked for and a great deal of patience was required by us all. Sighting of the day for me were 5 red Throated Divers all together at lunch time and again we had super views of a very obliging Yellowhammer.
June 27th
Weather overcast with some sunny breaks light breeze but still cool - I had a very easy day today with all Mulls specialist species coming out on cue. We turned up at a White-tailed Eagle stop and there they were and then they flew right over us. We went a quarter of a mile up the road for morning coffee and proceeded to watch an Otter for half an hour. On to a comfort break and shortly after arriving there we had a female Hen Harrier which flew round for ten minutes. We went on to our lunch stop where we look for Golden Eagle but did not see one, we did however see Buzzards , Kestrel, 2 Red Throated Divers, 2 Black Guillemots and a Cormorant. Before leaving our lunch stop we had seen a couple of Common Seals with pups and shortly after lunch we were watching Red Deer and later we saw some newborn Red Deer calves. A brilliant Yellowhammer followed which pleased guests as much as the big stuff but still no Golden Eagle. Tea break and as I was serving Pam's lemon drizzle cake the Golden Eagle got up and gave us a good display flying for several minutes before disappearing and then returning for another look, perhaps the Eagles have also heard about Pam's now legendary drizzle cake.
June 26th
Weather rain for most of the day with one short break, warm with light breeze - Thanks to the short break in the rain it turned out to be a good bird of prey day with both types of Eagle coming out to take advantage of the rain break to dry out giving us good views much to my relief. We also had very good sightings of Buzzards and in particular a Merlin and whilst having afternoon tea in our kitchen we saw a very good Sparrowhawk carrying prey, not bad for a very wet day. As well as raptors we saw Red Throated Divers and diving Gannets and some good views of Red Breasted Mergansers, Redshank, Common Sandpiper and to one guests delight a very close Skylark. Mammal were also seen well with 2 Otters both Grey and Common Seals and Fallow and Red Deer and not to be forgotten Rabbits.
Our guests arrived expecting little from a very wet day and ended the day surprised and pleased with what we had been able to see.
June 25th
Weather light rain but warmer - No tour but also too wet to mow lawns which was some compensation for the damp weather. After Pam had finished cleaning the self-catering cottages the rain stopped so we went out for a couple of hours to try and find some birds not already on my Mull year list. We got really lucky as we managed two new ones for the year, a Grey Wagtail in short supply on Mull this year and a Wood Warbler here in good numbers but the first one I have seen having annoyingly heard lots.
June 24th
Weather similar to yesterday with less breeze - Hard work on the wildlife front today as most of the main species were playing find us if you can. We did eventually find nearly all of them but our patience was severely tested and I worked very hard trying to keep my lovely guests entertained. When you have guests who really care and try not to pressurize you it makes you try even harder to make the day out special for them, so thanks to all of you on todays tour and I hope you were rewarded for your patience and good humour. The Harriers at the end of the day were very good weren't they even if the lazy Golden Eagle only sat there and would not fly.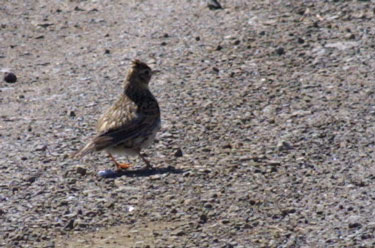 June 23rd
Weather sunny but with cool strong breeze - A tour with all of Mulls prime species seen but to get the Otter we had to go down a road which arguably has the worst surface in Britain and takes me 40 minutes to travel 5 miles. The Otter we saw after slaloming round the deep crevasse pot holes was extremely good and made up for journey from hell. We had several Golden Eagles today and a brilliant White-Tailed Eagle and superb Kestrel, both types of Seal and Deer were seen and we ended the day with a male Hen Harrier.
June 22nd
Weather rain all day but warmer - We had lots of wildlife wherever we went today, small black insects that certainly made their presence felt on some of our guests who even when I found fantastic Otter at lunchtime would not get out of the van to see it claiming they were watching a family of Goldfinches feeding on seaweed. That is what makes wildlife so great but also frustrating for tour operators, you can't please everyone at the same time. The Otter was brilliant though.
June 21st
Weather cloudy start with rain from midday onwards - Arthur had a day at home today to get the lawns mown before the rain started again and I (Pam) took the tour which got off to a good start with the White-tail Eagle flying directly over our heads. Although some of the larger species were kept down with the rain we had some great sighting of Cuckoo, Great Northern and Red throated Divers, Yellowhammer and a newly born Red Deer calf my first of the year as well as a lot of laughs with a friendly group, all members of the 'wet right knee society' after kneeling to smell a lovely Fragrant Orchid.
June 20th
Weather sunny and warm with light breeze - Today the wildlife was a struggle although we did see both types of Eagle none of the sightings however were spectacular. We did however see lots of Red Deer stags more than I have seen for some months and a few more Common Seals with their babies. A lot of sea birds were seen in particular a very large group of Shags which had obviously found a shoal of fish and were taking full advantage of it while they could.
June 19th
Weather sunny, Dry and warmer with light breeze - Weather perfect for both views and wildlife watching and all Mulls star species obliged, particularly Otter, and both types of Eagle. Good news on the Golden Eagle front more chicks have survived than we thought after the very cold wet conditions in May. We are seeing more of this years Red Deer calves now and we also saw our first newborn Common Seal of the year today.
June 18th
Weather cloudy but dry and little wind - No tour today so I did my breeding bird square which is around the farm. I saw lots of species with young including Bullfinch, Lesser Redpoll, Blackcap, Great, Blue and Coal Tits, Blackbirds and Thrushes, lots of Yellowhammers, Sparrowhawks, Buzzards and Hen Harrier, Great Spotted Woodpecker, Treecreeper, Woodcock and lots more, over 30 species were seen within a kilometre square of where we live and that does not include the Barn and Tawny Owls, we are lucky to have so many bird species in and around the farm even after the poor spring.
June 17th
Weather back to autumnal conditions with strong breeze and heavy rain all day - We managed to see 2 White-tailed Eagles in the morning just sitting waiting for the rain to stop, they were in for a long wait. A nice Sedge Warbler, a few Red Deer and a couple of Red Throated Divers were seen as we spent most of the day searching for Otters then at our last stop we found a mother and cub. After our guests had got drenched with the Otters I took them back to Ardrioch where they had afternoon tea and home baked cakes in front of our aga drying off, warming up and watching lots of fledged young birds which had hatched in the nest boxes around the garden on the feeders set strategically around our house and self catering cottages. I was able to show a guest who was not so interested in birds several wildflowers including 4 species of Orchids as well today, Wildflowers are like toilet stops nobody appears to want them but when you stop everyone seems enthusiastic.
June 16th
Weather another beautiful day - Roller, Roller, Roller did I mention Roller we saw one on Mull today not on the tour but Pam had it in the morning and we both went and found it again in the evening, a first ever sighting for both of us, thanks to Brian Rains for the information. Todays tour was excellent again and we saw all Mulls major species, with both types of Eagle carrying prey and Otter eating fish, Hen Harrier hunting and a very good Red Deer stag. WE also saw a ROLLER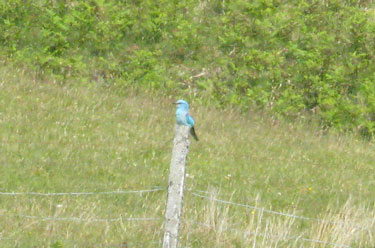 June 15th
Weather the same as yesterday but cool when the sun went in - My thanks to Dave Cole and family who private hired the van for todays trip and were an absolute joy to take out put me under no pressure and were delighted with everything they saw. Their highlights were brilliant White-tailed Eagle flying directly over the van, gorgeous Lesser Redpoll and Yellowhammer, Bottle Nose Dolphins and Hen Harrier to end the day. We also saw Golden Eagles but not the best views ever but the good news is that the Goldies in our area have had a good breeding season despite the awful weather conditions in May.
June 14th
Weather sunny and warm with a light breeze - It was a perfect day, great guests, good weather, fantastic views of Mull in its prime and the birds and other wildlife were pretty great too. Some days are just brilliant on all counts and this was one of them, thank you one and all.
June 13th
Weather mainly sunny but with freshening wind no rain - I had a day off so Pam did the tour and was Eagled out when she got home. I went out with a friend and added Redstart and Spotted Flycatcher to my Mull year list, I always like to see Redstart as it is such a striking bird. I met and chatted with a couple of fellow BTO members who confirmed that Stonechats and Grey Wagtails have suffered badly in Scotland after 2 very hard winters.
June 12th
Weather warm and sunny with light breeze - Two notable sightings on todays tour Bottle Nose Dolphins in Loch Na Keal 5 or 6 of them quite close in and towards the end of the day we had brilliant views of a Short Eared Owl hunting right by us as we were looking for a Hen Harrier which did not appear. Another good Eagle day and we also had cracking views of Sedge Warbler and Whinchat and 2 Cuckoos.
June 11th
Weather sunny and warm with light breeze - At last it feels like spring, maybe summer is just around the corner . I do not normally do tours on a saturday but today made an exception and was I glad I did as we saw all Mulls major species really close in high definition, I can count the times on one hand that this actually happens. After an hour and a half one of my guests said to me 'we are not seeing much are we' and at that stage we hadn't but wildlife does not always come out to order. At the end of the day the same guest said 'is that the best day you have had this year' as I keep saying wildlife watching requires patience, if you have that and a little faith you can be well rewarded. Although we did not see Hen Harrier today we saw fabulous Short Eared Owl instead.
June 10th
Weather sunny and warmer but definitely not hot - Red Deer stags in their velvet, White-tailed Eagles, Golden Eagles, Buzzards galore and Kestrels all seen as well as three Red Throated Divers, Great Northern Divers, sea birds and Seals on another very good day. Today however the winner was Mull at last seen in glorious Technicolor, views that made you gasp from the Outer Hebridies to Skye, it was just special and guests when I could get them to take me seriously were literally gob smacked. We had a slight insect problem today with a small creepy crawly in the van as one of my guests tried to usher it out with a Mull map she lost her grip on the map which disappeared through the window and off down the road in the wind, when I had stopped laughing I gave chase and retrieved said map not to badly traumatized after its adventure. Many thanks to all my guests today for making it such an enjoyable day out, particularly Margaret who climbed the hill to the consternation of her daughters she was a a breath of fresh air and a joy to take out.
Note from Pam - Whilst Arthur is busy with the tours I have taken a little time out from baking to look at all the new baby birds which are now coming into the garden. Although Greenfinches are having a hard time nationally they are doing very well here as can be seen with these 3 babies on the branch by the feeder. Arthur put up 10 new bird boxes around the garden last winter and a number of these have been used this spring.
June 9th
Weather another nice day but it is still very breezy and was cooler than yesterday - Both types of Eagle were brilliant again today, this is becoming a nice habit long may it continue. We saw lots of Red Deer and a single Fallow Deer, a very dark one, and plenty of Seals but no Grey ones. Chicks and ducklings are appearing with their parents with Lapwing, Oystercatcher, Shelduck and Eider being seen as well as lots of Goslings. Great views of Linnet and Whinchat today which always pleases our guests and me in particular. I thought we were not going to see a Hen Harrier today but just as we approached Tobermory my guests spotted one in a field which flew right past us, fantastic, as I always say on the tours I don't mind who spots, I am not proud , nine pairs of eyes are a lot better than one.
June 8th
Weather Sunny all day with light breeze but still cool and it is June - Another great Eagle day, boy they are performing well for us at the moment, sometimes guests have to be patient but the results are worth waiting for. Otters today, nice to know they still exist, we also had very good views of Fallow Deer as well as the usual Red Deer. Kestrels were well in evidence today which means they are probably feeding young and we also saw a very late Great Northern Diver. Another good day to DISCOVER MULL as the views were stunning with views of the Outer Hebridies, the Small Isles Eigg, Muck , Rhum and Canna and the Black Cuillins of Skye.
June 7th
Weather dull with cold showers during the day - I (Pam) gave Arthur a well earned rest today and the tour got off to a great start with a White-tail Eagle flying over our heads, unfortunately it then rained on and off for most of the middle part of the day and finding eagles was difficult. Eventually at 4 pm the Golden Eagle flew and we had good views of it hunting against the hill side getting all it's golden colours on it's head and back. Just before the end of the day we found a hunting Short-eared Owl that caught a vole and took it back to the nest sight, as it reappeared it was being attacked by a male Hen Harrier - fantastic - it flew off only to be attacked by a neighbouring Short-eared Owl who even did a 'wing clap' for us - wow - we had waited all day, but what a finale.
June 6th
Weather white Cloud but dry with a little breeze, very pleasant - Yesterday I forgot the Cuckoo fest with 3 Cuckoos either chasing each other or being chased by Meadow Pipits, very exciting and the first Cuckoos my guests had seen for some time or not at all. Today was a great day for the Mull specialities but the stand out by far was the magnificent views of a male Hen Harrier at the end of the tour, by far the best view we have had this year, talk about leaving guests on a high note, well this was it.
June 5th
Weather sunny and warm for most of the day but deteriorated after afternoon tea - the day began with a male Hen Harrier and a Buzzard having a fracas which went on for several minutes. At our next stop a Buzzard having a longer fracas with a Sparrowhawk, I think the Buzzards must have got out of the wrong side of their nests this morning. Red Deer were then seen and a Curlew flew in front of the van and we spotted 2 Goosanders on the river, all this and we had only been on tour for 45 minutes. Good views of both Eagles and great views of 2 very close Red Throated Divers followed and we even took time out to look at a very smart Snail. A really good day out with nice guests and a lot of laughs, I don't know why so many people think wildlife watching has to be deadly serious, I don't even though I love it I go out to have a Good time and enjoy everything I see.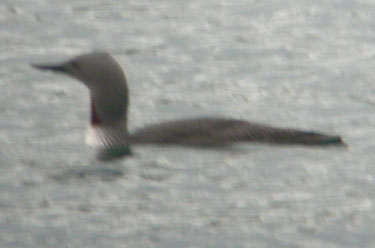 June 4th
Weather sunny , warm with light breeze - We had friends staying with us this weekend and so after Pam had cleaned the self-catering cottages we had a leisurely lunch before heading to Cailiach Point. We spent 3 hours walking and watching Fulmars, kittiwakes, razorbills, Guillemots and Shags we also saw a single Gannet and lots of Wheatear, unfortunately we did not see any Puffins. The scenery was stunning and with no one else about we were just able to while away the hours and chill out, Mull must be one of the best cures for stress ever.
June 3rd
Weather we learnt today we had had 306 millimetres of rain in May 3 times the normal rainfall for May. Today we had Beautiful warm sunshine all day with very little wind Hoorah - A great day today with all target species seenand we were all in shirt sleeves. The highlight bird of the day had to be the male Merlin that flew in front of the van so close that even guest in the back had very good views of it. We went with friends to the Killoran Hotel this evening for a meal it was Really Fabulous.
June 2nd
Weather cloudy morning improving in the afternoon breezy, cool but dry - A very good Eagle day, particularly Golden Eagle which gave us a great display. We had good sightings of both Linnet and Twite as we waited for the Golden Eagle to appear. 2 Otters were seen early in the day and we also had good views of Great Northern and Red Throated Divers. We saw our first Eider ducklings of the year today and it is nice to see new life appearing after the recent poor weather.
June 1st
Weather Still windy with low cloud - We started the day on the calm side of the island which was just as well as we saw an Otter at our first stop unfortunately it disappeared nearly as soon as we had picked it up. We quickly drove to another vantage point and picked it up again much closer this time and watched it fishing and then out of the water, a great start to the day. We had another good day of White-tailed Eagle sightings and also saw both grey and Common Seals requested by one of my guests, another happy chappie and both types of Deer were seen well. At lunch my highlights with Wheatear, Linnet and Twite all seen well, we also had good sightings of both Red Throated and Great Northern Divers. The afternoon was quiet and although we tried hard very little appeared under the low cloud and wind but guests enjoyed some very good Drizzle Cake at tea time.

---
This is the web site of Pam & Arthur Brown, Ardrioch Farm, Dervaig, Isle of Mull. PA75 6QR