December 2018
Dec 24th to Jan 2nd 2019
We have been away for Christmas and the New Year
Dec 17th to Dec 23rd
After the gales and ferry disruptions things quietened down this week not only the weather but wildlife wise as well so there is little new to report and we now have Christmas to enjoy, so this will be my last blog post of 2018, I will start up again with the blog at the start of next year. After a very promising start to the year my bird list somewhat stalled and I ended up with 142 species seen in 2018. The highlights were Glossy Ibis seen in January and Cattle and Little Egrets seen in November although the Snow Buntings in early spring and of course the Kingfisher at Dervaig were also amongst my personal favourites. It has been noticeable that although species numbers were around the same on Mull this year the numbers of birds for some migrant species were well down, let us hope this is a blip due to the very cold Spring and not a trend. On that cautious note may Pam and I take this opportunity to wish all guests and blog readers a very Happy Christmas and a wonderfull New Year of wildlife watching.

Dec 9th to Dec 16th
A mixed bag of weather this week and I have discovered that if I feed the birds later in the mornings I get more species in the garden and I think this is down to the Chaffinches. We have between 150 and 200 chaffinches in our garden at one time but only after I have filled up the seed feeders, before then we only have a few and so this encourages the other species to come and try their luck. After I have filled the seed feeders and the Chaffinches turn up in Sqadrens, the sheer weight of numbers of Chaffinches puts off a lot of the other species which is a shame no matter how much I like Chaffinches. Pam cut my hair with the machine this week but forgot to put the guard on for the first run up the back of my head so it now looks like I have a Mohican in reverse and I have to constantly wear a hat or look a complete numpty much to Pam's delight. We had a lovely time visiting friends with Christmas Cards this week, it is the time of year to make time for friends and family and those less fortunate than ourselves. Three Ardrioch facts lately, the Woodcocks are back in our woodland, we have several calling Tawny Owls around the property and the Jays are visiting the garden at first light but don't hang around for long.
Dec 3rd to Dec 9th
We have had a busy week with Cristmas coming up and Pam's birthday, although we did manage a couple of days birding during our off time. We went to the Salmon Hatchery outfalls and saw a Carrion Crow mixed in with numerous Hooded Crows. There were Redshanks and Turnstone on the shoreline and lots of Black Headed Gulls with the Common Gulls and Herring Gulls but no white winged gulls yet this winter. Ducks seen were Mallards, Teal, Wigeon and Goldeneye. The White-tailed Eagles are setting up their nests for next year and we have seen a pair of young Golden Eagles which look as if they are setting up home on a new territory, we will keep monitoring their situation. As always at the end of the tourist season and shortening days Otters are more easily seen with 3 seen on both days out. In the garden there are zillions of Chaffinches, lots of Greenfinches and Goldfinches with the occasional Siskin but our Brambling have disappeared, we hope the resident Sparrowhawk isn't to blame. The Jays and Treecreepers our now daily visitors although you have to be lucky to see them. I have been doing some work in the burn above my dam and touch wood the water supply is in full swing. A thank you to Hannah and Tom and the staff at the Bellachroy for such a good meal for Pam's birthday, she had a lovely time with our friends and a great day all in all as she spent large quantities of the day on the phone to family and friends.
Dec 2nd
Pam had a busy day making chutney which if it tastes as good as it smells will be delicious. I spent most of the day watching football on the tv much to Pams disgust, I don't think Lucy was too impressed either.
Pam... I'm home from my wonderful holiday to California and Tampa in Florida, I have been watching dolphins with my grandchildren, swam with manatee and body boarded with my son and was turned truly Indian for Rajiv (daughter-in-laws brother) and Naha's Wedding. I've worn a sari, had Henna hand painting, danced Bollywood style and took part in a Hindu wedding ceromony. On the Wedding day the bridegroom, Rajiv, goes to meet the brides family on horse back surrounded by loud music and dancing in the street. Here I am with our family going to one of the many parties that was held during the week.

Dec 1st
A lovely day so we decided to go out birding this morning and saw over 50 species of birds and 5 mammals. Birds of prey seen were 2 Golden Eagles, a White-tailed Sea Eagle, Sparrowhawk, Kestrel and of course Buzzards. Pam and I were particularly pleased to see some Long Tailed Tits, 2 Reed Buntings and a Dipper sitting on a tree root out of reach of the swollen river water. Two Otters were seen as were both types of Seal, Red Deer and a Rabbit. Lucy enjoyed the outing with us until she got car sick which was a shame but otherwise it was nice to be out and about with Pam now she has returned home. Whilst she has been away I busied myself clearing up the leaves and putting the garden to bed for the winter and for once I had a decent bonfire.

December 2017
Dec 31st
We arrived home yesterday afternoon and I was out and about birding again today and thanks to my mate Mike Murphy managed to see the long staying Glossy Ibis bringing my 2017 Mull Bird List total to 143.
In the area where the Ibis is staying on Mull we also saw a Hare a mammal we don't often see on Mull so not a bad way to end the year. We are going New Years day birding tomorrow so look out for the first day of my 2018 blog and in the meantime Happy New Year to all my readers.

Dec 14th to 31st

Dec 11th to 13th


It is still very cold so I decided to just take photo's of the birds we see every day in our garden for you to look at if you stumble on our web site during the holiday period. As the weather is forcast to remain cold we have decided this will be our last post before Christmas. So we would both like to take this opportunity to wish all our friends, guests and blog readers a very Happy Christmas and New Year and look forward to blogging for you in the new year with my Mull birding news.

Dec 10th
We risked life and limb going down to the Loch opposite Ardrioch today as it was so icy and enjoyed watching a very large dog Otter which was 200 yards away when we first spotted it but because we remained very quiet and camouflaged against a Gorse Bush it came within 20 feet of us on its way up the burn.

Dec 7th to 9th
The weather on Mull for the last few days has been more akin to Ice Age with snow and freezing temperatures so we have not been out birding but on the Ice Age theme a photo of some of Pam's cuddly toys to make you smile. I got her the Mammoth for her birthday a few days ago.

Dec 4th to 6th
Not a lot happening on Mull at the moment except in our garden where we have had a visit from a family of Long Tailed Tits. We are bracing ourselves for some wintry weather this weekend although as I write it is just wet and blustery. Pam is iceing the Christmas Cake and will be celebrating, if you can use that term, her birthday soon, no its not Chrismas day as I am not Santa. We were planning a day out to the South of the Island this week but the weather has put a stop to that so it will be just what's around the Dervaig area for the next few days. If we do have anything wildlife wise to report you will find it here or on Alan Spellman's Mullbirds site.
Dec 3rd
A morning out with Pam and we saw Red Deer and Fallow Deer including the one in the photograph below which took off as we stopped the car and I was just able to get this photo of a yearling stag. We saw 2 White-tailed Sea Eagles one of them having a real scrap with a Heron, not the one in the picture, believe me you would not look that chilled if you had just escaped White-tailed Eagle talons. 2 Golden Eagles were seen as they appeared off a hillside in their territory to see off a transgressing White-tail, this was the one that tangled with the Heron. On our way home we spotted an Otter and over the hill road back home a beautiful male Hen Harrier.

Dec 2nd
Today after trying to find one all year Pam and I saw 3 Common Crossbills in the forestry plantation along the Glen Road between Dervaig and Salen.
Dec 1st
We had a dinner party tonight so no birding although while I was doing some work in the garden I did manage to see a Treecreeper climbing the tree by our garden gate. Nov 30th
A major home refurbishment has started near Dervaig and it is still only November, yes our pair of White-tailed Sea Eagles have started to rebuild their nest in preparation for the 2018 breeding season, they are either being very pro-active or have an early 2018 holiday planned, either way it will be good for our self-caterers to have the Eagles so close. We went to Calgary yesterday and were very fortunate to see both Great Northern and Black Throated Divers in the bay. I counted 15 Greenfinches in the garden this morning and 10 Collared Doves, this is a record for Collared Doves a beautiful bird often given a hard time by garden birders but Pam and I are very pleased to have them.Dec 3rd
A morning out with Pam and we saw Red Deer and Fallow Deer including the one in the photograph below which took off as we stopped the car and I was just able to get this photo of a yearling stag. We saw 2 White-tailed Sea Eagles one of them having a real scrap with a Heron, not the one in the picture, believe me you would not look that chilled if you had just escaped White-tailed Eagle talons. 2 Golden Eagles were seen as they appeared off a hillside in their territory to see off a transgressing White-tail, this was the one that tangled with the Heron. On our way home we spotted an Otter and over the hill road back home a beautiful male Hen Harrier.
December 2016
Dec 18th
Today we had one of those low cloud and drizzly rain, you know the sort 'wetting rain', every time I tried to look through my binoculars they just got covered in water. As this is my last blog of the year I would like to wish all my readers and guests a very Happy Christmas and look out for my renewing my blog page early in the new year. The picture of the this Robin was taken in our garden.







Dec 17th
The day after the night before when we had a party for friends on Mull, a good time was had by all but now-a-days it takes me a full day to get over a night of partying so I spent today recovering.
Dec 16th
At last we saw an Otter at Dervaig, the Kingfisher was seen here recently as well but not by us
Dec 15th
It rained again, all morning but as we had to go to Salen we decided to go and look for Otters as we have yet to see one since returning from our last visit to friends and family. Although we did not see an Otter we did see 4 White-tailed Sea Eagles, a male Hen Harrier, Red Deer, Kestrel, Common Seal and a Golden Eagle as we were returning home and the rain had stopped. At Lagganulva Bay with all the Gulls and Oystercatchers was a large flock of Lapwings always a great bird to see and for us a nice surprise.
Dec 14th
It rained and we saw a White-tailed Sea Eagle sitting in a tree looking disconsulate not far from our back garden. Talking of our garden we had a Treecreeper climbing up one of our trees this morning, always a nice sighting. Pam has spent a lot of time cleaning this week as we are having a party on Friday, I have been making myself scarce, don't you think it strange that if you are about ladies seem to find jobs for you to do. oh, oh here she comes again.







Dec 13th
Another fabulous sighting of a Female Hen Harrier this morning, it was hunting very close to my car along a ridge with fabulous views of the Ardnamurchan Lighthouse and the Small Isles and Skye as a backdrop, unforgetable. This afternoon Pam and I went out in fading light and had some spectacular Golden Eagle action. There were two birds just holding on the wind looking for prey, it was wonderful to see and shortly afterwards we had a young Goldie chasing a Kestrel, both were travelling at speed when the Eagle pulled its wings in, banked and dropped after the Kestrel, it missed, then flew off in another direction. Shortly afterwards the Kestrel came back flying right past us and I swear there was a grin on its face or maybe just relief.

Dec 12th
Me and my mate the Mull dentist Mr Price met up again this morning, it was really nice with me lying back in an easy chair whilst he practised with his new drill and talked to me about canal roots, it was so enjoyable we plan at least to more get togethers in January next year. The funny thing was after we had parted company I could not feel a thing in my mouth and I swear I had not touched a drop although Pam drove home to be on the safe side. Another Hen Harrier seen today and I took a photo of some of Dervaig's Snipe, later in the afternnoon a Kestrel flew across our garden.

Dec 11th
Another dull but dry day and warm out of the wind, well I was warm as I had that many layers on I looked like Michelin Man. Out and about again today and here are the highlights, Twenty Two Snipe at Dervaig this is a Mull record for me anywhere on Mull for this species. Red Deer through Glen Bellart with Mistle Thrushes and Redwings seen as well. At Aros Bay there were lots of Wigeon and Black Headed Gulls were with the usual Gulls we have on Mull. At Killiechronan in the fields with Starlings were a couple of Fieldfares with 2 Buzzards pestering them, they in turn were suddenly disturbed as a young White-tailed Sea Eagle went through. Great Northern Divers and Slavonian Grebes were on Loch Na Keal and along the hill on the right were 2 interacting Kestrels. Returning home late as I was held up by a farmer moving some yearling cattle I had another fabulous sighting of a female (ringtail) Hen Harrier a lovely trip out and about with plenty to see.

Dec 10th
A trip round the block, over the hill road and back via Calgary Bay. We had only just set off when Pam spotted a female Hen Harrier hunting over tusset grass between the road and Loch Cuin, Hen Harriers are always great birds to see particularly as they are amongst Britains most persecuted. A Heron at Dervaig mentioned as it was the first I have seen since returning home. It was at Lainne Sguier and Calgary Bay that the main bird action was seen with 2 Purple Sandpipers, 2 Ringed Plovers, 4 Great Northern Divers, and single Black Throated and Red Throated Divers present as well. Lots of Gulls, Oystercatchers and Curlews were seen and a couple of Kestrels one of them being harassed by a Raven giving great views as they floated in a sky dancing spectacle in a very cool breeze. Red Deer were seen but to far away to get a decent photo so I took this picture of cattle in Torloisk wood relaxing out of the wind. We were out for just over an hour and got all this wildlife and possibly pneumonia, guess what I will dress properly before I go out tomorrow.

Dec 9th
A dull unseasonally warm day with a strong breeze and bird wise little to get too excited about. At Dervaig there were at least 4 Redshank, 2 Greenshank, Snipe galour and 3 Little Grebes. On to Calgary and although all Mulls main winter Gulls were present along with Oystercatchers and a single Shag, there was little else to set the pulses racing. I watched a Buzzard across the bay dive bombing something behind the hill for several minutes but nothing was disturbed, I will leave you to make up your minds what it might have been, White-tailed Eagle on a carcase would be my guess but then I would have expected to have seen some corvids.

Dec 8th
We got our internet connection back, hence the blog catch up. We went to Tobermory this morning for more shopping and for Pam to spend time at the hair dressers, did I say time it seemed like days, there only a certain amount of time a bloke can Christmas shop without losing the will to live although we eventually got most of what we were looking for. On our way home at Dervaig we saw 3 Whooper Swans (taken on full zoom), 3 Goldeneye Ducks, a Snipe and 2 White-tailed Sea Eagles flew over, RESULT, thats more like it.

Dec 7th
Driving up the Glen road from Salen to Dervaig on our way home a male Hen Harrier flew alongside the car as if to say welcome home and a Buzzard sitting on a telegraph pole nodded as if we were returning grandees, it just goes to show what we miss when we are away.
Dec 1st to 6th
Back down to Cheshire for the 70th birthday party of Jerry Sullivan, one of our best friends, which was great by the way, the only problem was that a lot of the invited guests had flu like symptoms including my Dad and Sister so now back home we hope we have not returned with it. Whilst down in Cheshire we caught up with good school friends John and Roy with their wives Irene and Kay, it was just for lunch which lasted nearly 4 hours and was brilliant, thanks to John for arranging the day. We managed a little Christmas shopping between feeding and looking after Dad for my sister, who is a star, and deserved the break short though it was. Our new Grandson is growing like a weed and we have lots of fun with Nia who is still coming to terms with having to share her Mum with him. The only downside to the trip was going to see Manchester City lose 3-1 at home to Chelsea, they should bar me from the ground as I never see them win.
December 2015
Christmas and New Year 2015.
Pam and I would like to wish all guests and readers of this blog a very Happy Christmas and a New Year when all you wish for comes true. Don't over indulge, Ho Ho Ho, that's a case of do as I say and not as I do??? Hope to see some of you again in the New Year.
Arthur & Pam
December 2015
This is just to update readers on our progress, it has been quite traumatic for a few weeks as our youngest grand daughter was rushed into hospital with a flu virus and was really ill for several days. Pam went down to help out and fortunately Nia and her Mum have now fully recovered and Pam has returned home, unfortunately she now has a virus and is on medication, up to now both me and Richard our son have managed not to get MAN FLU. I went to Glasgow this week and have been given the all clear after my cateract operation and so now I can go to the optician to get new glasses which should enable me to see properly for the first time since my retinal bleed in October last year, I can't wait. When I have my new specs I will get out birding again and keep you updated about wildlife on Mull, because of my sight problems I only managed 136 birds on Mull this year, I hope to pass 150 next year.

Whooper Swans on the Mishnish during Nov & Dec

What a difference a day makes - no - 10 minutes on Mull!

---



December 2014
Dec 20th
Happy Christmas and a fabulous New Year to all our guests and readers of this blog. The blog will return again early in the new year.
Dec 18th & 19th
No time for birding as at long last our new solar panels have been fitted, they were due to be fitted in June when we had the best summer weather for years but it took the council ages to grant the the planning permission and so they were fitted the week before Christmas during some of the worst winter weather on Mull in years. When we told the council that we were putting in solar panels and might need planning pemission we sent them pictures of the proposed site and map references and they told us they could see no problems and would fast track the application for which I am very grateful as if fast tracking takes 6 months it must take years normally. In the event I must say the guys did a good job fixing the panels in very poor conditions and even though we had little sun in the first 2 days we are producing a reasonable amount of our own power already. Discover Mull and our Self-catering are getting greener.

Dec 17th
A trip to the dentist today as a large filling had fallen out and although it was damp and windy I did manage a little wildlife watching. The highlights were Red Deer - yes I do know what they look like even if I can't see ours, a White-tailed Sea Eagle and an Otter going acoss a bay at high tide, I think it was going home for the evening after a hard days fishing. The low point of the day was the filling and the fact that it was several hours before I could eat anything.
Dec 16th
A day at home looking at the birds seen in the garden and across the Loch from our kitchen. A total of 16 species were seen in the garden including Great sotted Woodpecker and Treecreeper. We have our own regular Buzzard at the moment but unfortunately it is extremely camera shy. Birds seen on the Loch from the kitchen were a beautiful male Goosander, a small party of Red Breasted mergansers, a Grey Heron and a Common Gull. In all we saw 20 species of birds without leaving the kitchen, not bad for a dull winters day. On the Mammal front we had 4 Rabbits in the garden and evidence of the ellusive Deer which had visited during the night.
Dec 13th-15th
The reason we are not doing daily blogs is that we have no phone connection and it has been the same since 11th the day of the big storm. We informed BT about the the problem, they say they will fix the problem as it is on their line but ZZZZzzzzz still nothing happening, Pam is having to go around to our neighbours to up load onto the internet. Anyway back to our happenings, we went Christmas shopping in Tobermory on Saturday and on our way in we spotted 6 Whooper Swans on Loch Torr, 2 parents and 4 Cygnets, didn't they do well, there was a female Goldeneye on the Loch also. We had a day of rest on Sunday, well I did, Pam never seems to rest and spent most of the day wrapping Chrismas presents, ironing, cooking and speculating who would get kicked out of Strictly come Dancing. Monday morning and it was a reasonably calm day for once so I went out birding, Pam went on working. I had a great time with Snipe, White-tailed Eagle, Peregrine Falcon, Buzzard and Great Northern Diver at Cailaich. Black Throated Diver and 2 Purple Sandpipers at Lainne Sgeir, Redwings at Torloisk and Kingfisher, Goosander, Redshanks and Greenshanks at Dervaig. In the garden in the afternoon a Yellowhammer and Great Spotted Woodpecker put in an appearance joining the zillions of Chaffinches we have every day, still no Brambling but I am still looking.
Dec 12th
Today Pam, I and Sally the Sheltie went to serch for the Red Deer that we have seen evidence of in the garden:

We're going on a Deer hunt, we're looking for a big one, Coats and Wellies on - we're not cold!

Uh-oh Boggy Ground, a serious bog... We can't go over it... We can't go under it... We'll have to go through it
Squelch, squelch...........
Squelch, squelch...........
Squelch, squelch..........

We're going on a Deer hunt, we're looking for a big one, Coats and Wellies on - we're not cold!

Uh-oh bracken covered ground, very tall bracken... We can't go over it... We can't go under it... We'll have to go through it
Stumble, trip......
Stumble, trip......
Stumble, trip......

We're going on a Deer hunt, we're looking for a big one, Coats and Wellies on - we're not cold!

Uh-oh a Wood, a small but dark wood... We can't go over it... We can't go under it... We'll have to go through it
Bash, crash......
Bash, crash......
Bash, crash......

Hours later, still no Deer... we'll have to go on a Deer hunt another day!
St umble, trip......
Dec 10th and 11th
Twere the days of the big storm and for most of the time we battened down the hatches stayed indoors hoping that the roof stayed on and making space under the bed in case it didn't. In the late afternoon of the 11th we ventured forth as the wind had dropped to just a gale and took some moody pictures of the sea between Calgary and Treshnish. It was hard to focus the camera as standing up was something of a problem but intrepid as we are we sustained a right good buffeting to bring you these photographs.


Dec 9th
A computer malfunction has prevented me from blogging for the last few days but back on air now so I can review the happenings at Ardrioch over the last few days. Over the last few days I have been clearing out my shed with help from Nic Davies and cleared out the trenches for the solar panel system which was due to be installed on the 10th but due to the impendinding disasterous weather forecast it has been postponed again. There has not been much time for birding but we are seeing a pair of White-tailed Eagles which have been circling over the house and woods for the last few days, they could be looking for a new nest site or just chilling out before the next breeding season - I will keep you updated. Ferries are being cancelled as we prepare for the predicted gales and high waves and as I write this blog it is hailing, we have had thunder and lightening and it is only just getting started it will be a testing few days for Mull's wildlife.
Dec 4th
A dull drizzly day and a trip to the dentist for Pam and a walk round Aros Park for me. The highlight of the walk was a party of Long-tailed Tits and there was also a mixed flock of birds which included Siskins. On our way home we stopped off at Loch Cuin and saw several species of Waders, Redshanks, Greenshank, Curlews, Snipe, Ringed Plovers and a single winter plumaged Dunlin. Back at Ardrioch we had visits from both the Yellowhammer and Great Spotted Woodpecker again this afternoon.
Dec 3rd


A dull driech day and a trip to the hospital for physiotherapy on my knee and of course birding on the way. Buzzards, Kestrels, Golden and White-tailed Eagles were seen but bird of prey of the day was the beautiful male Hen Harrier seen hunting between Grasspoint and Gorten. This is the most persecuted bird in Britain with hardly any breeding in England or the east side of Scotland, so Orkney, Mull and Islay are the last strongholds of this iconic bird and we are lucky to still have them. Waders were again prominent today and as they are a particular favorite of mine I am delighted to see them.

Dec 2nd
A lovely, cool, dry day after yesterdays rain. After working in the shed until coffee break I decided to go and look for wildlife. It was a funny old day as shortly after starting out a local farmer stopped me and kept me talking for 45 minutes. Rushing to make up the time I was again held up as a carrier van had gone off the road between Salen and Knock, another 20 minute wait. In the time that I did have looking for wildlife it was waders that were most in evidence with Snipe, Redshank and Ringed Plover at Dervaig, Curlew's at Salen and Oystercatchers and a single Bar-tailed Godwit at Killiechronan. The only birds of prey I saw today were several Buzzards and a Kestrel which I was watching when stopped by the local farmer.

Dec 1st
A very wet day and also very dark so we were restricted to what we could see in the garden and on the property. I decided a trip up to our water supply was warranted as it has been several days since I checked it out and was I glad I did because just in the field at the back of the house I disturbed a Woodcock which gave me lovely views as it flew off into our wood. We went to Tobermory to fill up the car this afternoon and was pleasantly surprised as the fuel was 5 pence a litre cheaper than it was last time I filled up in Tobermory.
December 2013
Pam and I would like to wish all our guests and blog readers best wishes and a very happy Christmas and a fabulous new year of wildlife watching in 2014. We hope to see lots of you again on Mull next year when I shall be doing our wildlife tours in a brand new vehicle.
Dec 14th
This will be my last blog of the year as we now have a new computer and men have appeared out of the woodwork to play with them. Apparently they are going to update our web site and put on more up to date software that the new computer can recognize, experience counts for little in the world of technology as our old computer is finding out. When we took our first computer to the re-cycling centre recently we nearly had to hire a skip to put it in but when it had gone we had loads more space in the office. With luck the blog will be back on air at the start of the new year.
Dec 13th
A special Christmas thank you to the carriers who went out of their way to deliver the new computer this morning, it certainly saved me from a weekend of ear ache. It was a good day for me bird wise as at last I have another bird for my year list on Mull, Long Tailed Tits, everyone else had seen them, they have been in the garden, but not when I was around but today on a trip to Calgary there they were in the trees by Bulldog cottage. Other good sightings today were 6 Snipe and some Wigeons at Dervaig and a pair of Yellowhammers in our garden.
Dec 12th
A morning spent Christmas shopping in Tobermory and whilst we were there a carrier brought our much anticipated new computer but as we were both out took it away again. As Pam needs the computer very badly I set off to the Fishnish Ferry to find that one of the two carriers had already left the Island. Still I always live in hope and after waiting for two hours the other carrier turned up and drove strait on to the waiting ferry. I was not deterred and ran down the slipway and onto the boat, hurrah, well done I can hear you say. Well not quite our computer was on the carrier that had left the island earlier and I had wasted two hours waiting for nothing. I thought I would pick up a prescription we had ordered earlier in the day on my way home so that my afternoon would not be completely wasted only to be told when I got to the surgery it would not be available till tomorrow. AAAHHH!!!.
Dec 11th
A lovely day and this morning Pam and I went and sorted a potential problem with our water system which was running very slowly, it isn't any more, now it is running as fast as river ready for a canoe slalom. You will be pleased to know that the results of a water test taken recently was very good and despite the recent very wet weather even passed the colour test.
Dec 10th
A good day for travelling and we returned to Mull after celebrating 'you know whose' 60th birthday with family and friends. We stopped as we always do at the antiques centre just outside Doune where we have a terrific breakfast and then on to Oban. We got really lucky as the ferry was running late and we managed to catch the noon ferry, although it was 12-25pm as we boarded.
Dec 9th
A nice day spent with my mum and dad who are both nearly 90 and are quite amazing. A visit to the NFU insurance office in Nantwich who do all my insurance and give us extremely good personal service which is why we don't change.
Dec 8th
A beautiful warm day and a trip to the supermarket in the morning where a very nice lady kindly washed and waxed our car. I cannot remember the last time we gave our car a treat like this but it is coming up to Christmas, I don't think the car wash lady thought her Christmas had come early when she saw the state of the car but she made a great job of cleaning it and we were very grateful to her. This evening we celebrated part two of 'she who must not be named'
birthday, many thanks to the great chef and the trainee waiter.
Dec 7th
The day after the night before.
Dec 6th
A pleasant day and a trip to Chester Christmas shopping, the first time since we left to live on Mull we have Christmas shopped in Chester and the first time I had used a park and ride. As the bus filled up I was faced with a dilemma whether to offer my seat as a gentleman or to risk a slap on the face for being presumptuous, I opted for the former and was mightily relieved as the lady gratefully accepted as she had recently had a Knee operation and was dreading having to stand all the way into Chester. I think it is a shame in this day and age that men have to consider if being a gentleman could be not PC. Tonight was part one of of 'she who cannot be named' celebrations and the water flowed like wine, probably because it was wine and of the fizzy variety.
Dec 5th
This was the day of the big storm and were we glad we travelled down yesterday as with lorries overturning, trees falling across roads, ferries cancelled and no trains running we would never have completed the journey. When the phone lines had been re-connected we found out all was OK at Ardrioch and Chrissie had taken good care of Misty and Sally our dogs as always.
Dec 4th
We left Mull a day early to avoid the big storm, it is always a little sad leaving as there is always wildlife some where on our journey to the ferry waiting to be seen but we never seem to have time to stop. The journey down was pretty uneventful with the motorways running well and we arrived at our sons house at 6-30pm. We went out to a local pub this evening for a meal and some real ale and the birthday girl was able to have her favorite cider, Aspalls on draught, yeah.l
Dec 3rd
Dull and driech and a day spent getting ready to go down to Cheshire to celebrate a big 60 and it is not mine. The birds in the garden are increasing daily and the Chaffinches are taking over our garden, they are like locusts, all I can say is that they must have had a great breeding season. We do have a gorgeous Yellowhammer every day now brightening up our dark winter days with a splash of colour.
Dec 2nd
Dull and damp again and a trip up to the burn, no not to my water supply but to wash my clothes that were absolutely filthy after their visit to the bog, I now know what life was like before they invented washing machines. On a lighter note we do have a washing machine but I had to do the pre wash before Pam would allow my clothes anywhere near it. On the bird front another bird has found out that I have birds back in the garden as a Sparrowhawk flew through this afternoon.
Dec 1st
A lovely morning and so Pam and I went on a drive round locally and saw at least 12 Great Northern Divers, a male Hen Harrier always a nice bird to see, 2 juvenile White-tailed Eagles, close together but not close enough to get in the same photograph, a kestrel and 2 Buzzards. We ended up at Cailaich Point where I donned my wellingtons and went looking for Jack Snipe in the bog, Pam was positive that one flew out but I missed it as the bog gave way and I was up to my waist in in water and mud with wellies full of water. I had to go home in the boot of the car as I was really filthy, at least I now know how the dogs feel when Pam takes them for a walk at Calgary Bay.

---
December - 2012
Dec 14th- 31st
We went away for Christmas today to beat the the bad weather. We spent a lovely Christmas with our daughter and son-in-law and Grandchildren in Devon and our son Richard got engaged to Sheetal on Christmas day, cue the champagne.
Dec 13th
Weather sunny, frosty and cold - We took the dogs for a walk to Loch Frisa this morning, it was simply glorious, the views down the Loch towards Ben Talaidh were just stunning, Pam still far from well managed a mile before stopping at a bench to sit and take in the views and enjoy the tranquillity, I power walked the dogs for another mile before returning to the car park. After so much time just coughing and spluttering it is nice to be out in the fresh air again and enjoying seeing Mull in its magical winter wonderland setting.
Dec 12th
Weather cloudy, less cold but started to freeze again in the afternoon - I am well on the mend now but Pam still has a bad dose of girl flu. We actually got out for a couple of hours today and it was quite a treat as we are starting to get cabin fever. We had not gone far when Pam spotted 2 Golden Eagles hunting, nothing wrong with her eyesight at least. 2 Otters followed and I spotted 1 of them, nothing wrong with my eyesight either and a single White-tailed Eagle was also seen courtesy of Pam, drat. A walk down Calgary Beach finished us off but the dogs really enjoyed it, then back to the cabin for another rest.
Dec 4th to 11th
Weather still mainly cold but thawed during the last couple of days - Pam and I have both had bad coughs during the last couple of weeks and so have not been out birding but occasionally we managed to take the dogs for some local walks. We have been looking at the birds in the garden and taking some photographs of Arctic Mull so rather than bore you with similar prose we have decided to give you a photographic blog for the week, we hope you like it.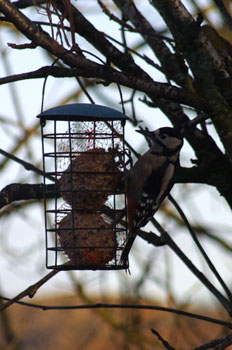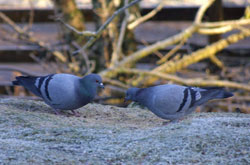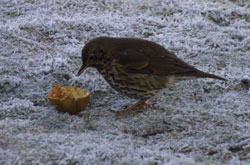 Arthur has been feeding the garden birds well during the cold spell with fat balls,
nuts and seeds in the trees, seeds on the ground and apples for the Thrushes

The views from Ardrioch have been stunning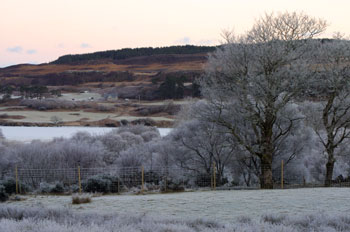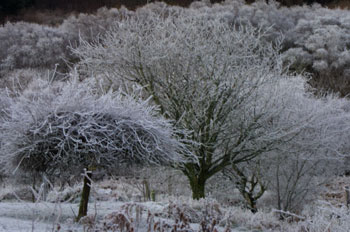 and also the views of the small isles, note the snow line on Rhum.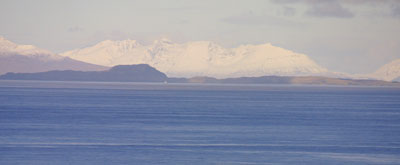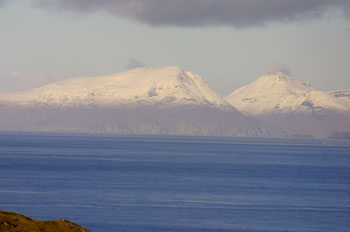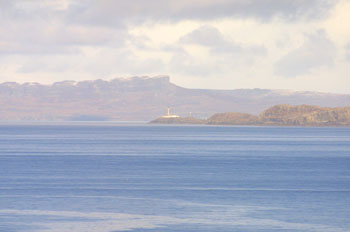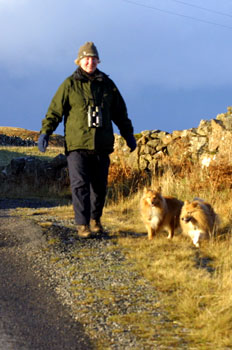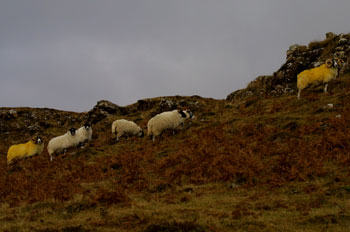 We managed to get out with the dogs
and saw some lovely colourful Blackface Rams and Ewes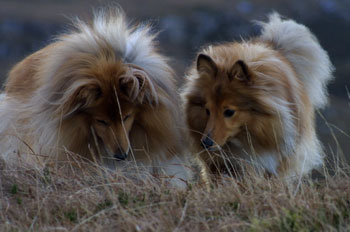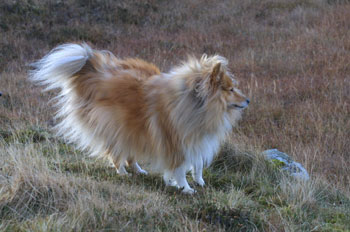 and finally a 'Sheltie under a Pear Tree'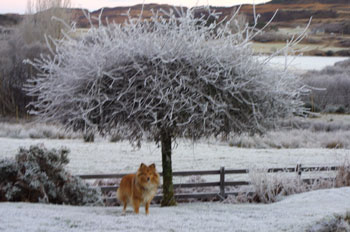 Dec 3rd
Weather a slight thaw has set in and it is raining and sleeting and although it is warmer it feels cold in the wind - our yard is like an ice rink this morning as the rain on top of the frost has made it very treacherous. We saw one of our White-tailed Eagles flying over the wood today and the Chaffinches which had noticeably disappeared during the very cold weather of recent days have returned in good numbers again today.
Dec 2nd
Weather very, very cold - we took the dogs for a walk to Calgary beach today and it was -3 degrees C when we left home but at Calgary it was plus 2 degrees C only 4 miles down the road but on the coast. Returning home it was back down to minus 3 degrees, it goes to show how being by the coast keeps temperatures higher. In the garden we are now putting out fruit for the thrushes which has attracted 11 Blackbirds and a single Song Thrush daily, Pam was very amused watching as a version of 'musical chairs' but with apples took place with the Blackbirds replacing the Song Thrush on the spread out apples at regular intervals throughout the afternoon.
Dec 1st
Weather Another cold, sunny day - I went with a friend to do a BTO square for the Bird Atlas today but was not able to do it as they were shooting Woodcock on the estate. So we decided to do a bit of bird watching on the way home and saw a Merlin chasing Meadow Pipits along the shore of Loch na Keal. In the river Ba as we crossed the bridge we noticed a Goosander swimming up the river. 3 Bar-tail Godwits, a single Ringed Plover and a Greenshank were also seen. Finally as we returned home over the hill we saw a fantastic hunting Golden Eagle.
This is the web site of Pam & Arthur Brown, Ardrioch Farm, Dervaig, Isle of Mull. PA75 6QR