April 2019
29th and 30th April
No tours so Pam and I have been catching up on more new arrivals including, Black Tailed Godwit, Whinchat and Blackcap. We also caught up with, at last, a Short Eared Owl at 9pm on the 29th. Another bird that we saw was the lovely Reed Bunting in the photo below, we have a soft spot for Reed buntings as they were the first bird we identified for ourselves when we started birding, many moons ago. It is raining a little this evening and we do need the water after over 3 weeks without any but we hope now the rain has started in knows when to stop, on Mull it can be all or nothing (Small Faces) that was for Blake and Sheila. The first of May (Bee Gees) tomorrow and we are going to Iona to see if there are any Corncrakes in yet, watch this space.

28th April
My first tour of the year with a lovely group of guests. We had a good start with Redshank, Common Sandpiper and a Black-tail Godwit coming into summer plumage and the next few stops found lots of Red Deer, hinds and stags. At mornng coffee we watched over the Golden Eagle area hoping to see a change over of birds on the nest, we were entertained in the field behind us with Linnet, Wheatear, Meadow Pipit and another Common Sandpiper. As we were about to pack up and leave I saw an Eagle flying towards the hill side and landing but this was a White-tail Eagle, a second one followed it in and soon the male Golden Eagle got up to see them off, my guests were delighted as they tallon grasped in the sky before the White-tails were sent packing off down the loch. The Goldie then landed on a rock giving us great views before going to the nest and doing a change over with the female on the nest. Around the corner we found one of the White-tail Eagles sitting out on an island and I soon picked up an Otter in the water swimming towards us, when it reached the shore it dissapeared, maybe just curled up on the rocks and went to sleep. The day got cooler later on but my guests enjoyed a bit of sea watching at the end of the day with Gannets, Guilimots, Shags and Shearwaters seen. (Pam)
26th and 27th April
Still not feeling great but managed to get my lawns mowed and the garden birds fed. Sarah Barry, a young, old friend called to see us and she has hardly changed since we last saw her, she is just as delightful as ever and still as enthusiastic about wildlife. It was nice to meet her boyfriend Justin, and enjoy a lovely lunch and catch up with them both, it turns out that Justin had done a Spitzbergen trip like we did last year and knew where all the best wildlife spots were, it was great comparing notes. As I am still feeling rough Pam is doing tomorrows tour.
25th April
My friend and neighbour Nick has shared man flu with me which has prevented me from getting out as often as I would like although this morning I did manage 3 hours birding and saw my first Sedge Warbler , Common Whitethroat, Wood Warbler and Cuckoo of the year, so its not all bad.

24th April
Pam and I both saw the Grasshopper Warbler this morning and I also saw my first Linnets of the year taking my Mull year list to 116 species of bird.
23rd April
A tour today with Golden and White-tailed Sea Eagle seen as was an Otter, Red Deer and Seals but I had a great day seeing a Common Redstart, a bird I didn't see last year and a gorgeous bird to see. The tour was very successful but I was on cloud nine particularly as it was such an unexpected spot in an area you would not expect to see Redstart. It was noticable that the good weather over Easter has brought in many migrants and most of our Winter migrants have now moved off to their northern breeding grounds. Pam heard a Grasshopper Warbler at Dervaig reedbeds this morning and I will try and get a view of one tomorrow.

!8th April to 22nd April


Grandchildren up for Easter, no birding allowed?????
17th April
A tour birding today with guests just wanting anything we could see with just one request for a Golden Eagle if possible. I love these tours when there is no pressure to find certain species but guests just pleased to see anything. Today we saw 56 Species of birds including 3 White-tailed Sea Eagles, 2 Golden Eagles and a male Hen Harrier, 4 mammals including Otter and Red Deer and 3 Slow worms. I saw my first Common Sandpiper of the year and first Willow Warbler, other notable sightings were Manx Shearwaters in large numbers with quite a few Guilliemots, Kittiwakes and a single Gannet of Cailaich Point. A dipper was seen as were 2 Grey Wagtails as the wind dropped so migration has started in earnest.
16th April
A tour in less windy conditions and try as I might I could not find an Otter today but we saw a very good Golden Eagle which I spotted as it flew in front of a hill and as luck would have it the bird landed and I got the telescope on it and my guests had brilliant views of all its spectacular colours. a very good White-tailed Sea Eagle today and both types of Deer, the Fallow Deer an excellent spot by Rebecca one of my guests. I had two new birds for the year today, my first Swallow and a Grey Wagtail, this brings my Mull year list up to 110 species, a little down on this time last year as we had fewer rarities on Mull this winter and so I will have to try and catch up in the Autumn.

15th April
A day at home as it was very windy and I had no tour and I had to go and help my neighbour out with her water supply.
14th April
Another tour in very, very windy, cold conditions and when asked all my guest really wanted was Otter and after that anything else we could see. It took most of the day but in the end we did get a very good Otter, it was in the only area of the tour where we were completely out of the wind and it was eating a really large fish with Hooded Crows and a Herring Gull looking on enviously. despite the wind we still saw 48 species of birds and Mammals including a good but distant Golden Eagle, Red Deer and both types of Seal although for me the sighting of the day was the summer plumaged Slavonian Grebe really lovely in its breeding plumage.

!3th April
This morning after feeding the birds in the garden and going up to check our water supply I helped Pam move stuff out of the Sheiling, our smaller self-catering cottage which we had stored in there over winter for a friend. The hardest job was moving a double bed mattress which was bulky and heavy and with my arms still stretched from yesterday they were now crying out in anguish. Where have all my muscles gone since I have given up farming, I feel like Sampson after he had his hair cut off by Delilah, no strength. In my retirment I must work on that. A new bird for the year appeared in the garden today, a Pied Wagtail, and very smart it was too.

12th April
A trip to Oban to visit a friend in hospital, a trip to Oban from Dervaig takes up most of the day as you leave early to catch the ferry and don't return until after 5 o'clock as visiting times are 2 till 4 but it was worth it as our friend looked a lot better than we thought she would which was a big plus. Not a lot of wildlife to report except for a fairly large hurry of Gulls seen from the ferry but too distant to identify, a single Gannet flying very low over the water, a few kittiwakes, Black Guilliemots and Razorbills. My arms have grown a couple of inches from carrying a bag full of goodies from the health food shop, many thanks to the kind lady in the shop for allowing us to leave our bags there when we walked up th the hospital.
!1th April
A tour today and Golden Eagles stole the show with a total of 5 being seen in the day with a couple of really good sightings and not just dots on the horizon. However it was the 2 Otters seen at the end of the day that really pleased my guests and I have to say they were really good value and not too distant even climbing on to the top of an island to give us a last profile look before dissappearing over the top but forever locked in my guests memory. Another sighting of Bullfinches in the same tree as before was enjoyed by all, myself included and all in all it was a lovely tour with very good spotters and appreciative guests.
10th April
Today I left Arthur at home cleaning the self-catering windows and had a day out with my swimming friends. We took the Tobermory ferry over to Kilchoan and drove to Sanna Bay where we had a lovely swim in the beautiful sunshine, the sea temperature is around 11 degrees now. Afterwards we warmed our selves up with hot soup and sandwiches and a bracing walk along the beach looking at some lovely wild flowers and fabulous geology in the rocks around the bay, Coltsfoot and dyke pictured,. We then drove around to the Ardnamurchan Lighthouse for tea and cakes in the little cafe and wonderful views of Mull, Coll and the small isles. I saw my first Manx Shearwaters of the year as well as plenty of Razorbills and Guillemots and 2 Harbour Porpoise. We had a lovely day and didn't know when we planned it 2 weeks ago that we had chosen the best day of the year so far.

April 9th
A tour today and what a start to the tour season, Bottlenose Dolphins, there might only have been 2 of them but they were close inshore and my guests had great views, no boat required. Double the number of Dolphins and that was how many Otters we saw, 2 of them really close and 2 more distant but they all count. Red Deer, White-tailed Sea Eagles and a distant Golden Eagle were seen as were Buzzards, Kestrel and a Sparrowhawk which was a brilliant spot by one of my guests. Other notable sighting were Bullfinches, Slavonian Grebe in summer plumage, Goosander, Red breasted Mergansers and Wheatear. My guests were great fun and made for a great day out with over 50 species seen during the tour.

April 8th
We went to Tobermory this morning as the car had to have the tracking checked at the garage, so we took the oportunity to go for a walk into Aros Park from the Tobermory car park and back by the main road. The idea was to take Lucy for a decent walk and maybe see a Chiffchaff and also for Pam and I to get some excercise. In the event Lucy got her decent walk, we saw a chiffchaff and now my knees and hips are crying out for help, me I'm just crying out. In Aros Park I took a photo of a Rhodadendron tree covered in lovely red flowers and on the way home a picture of this pair of Canada Geese which at the current rate of breeding will soon outnumber the Greylag Geese on Mull.

April 7th
No time for birding today as we are getting ready for the season to start so we were busy and one job we had was taking some furniture to a friend as we have been storing it in one of our self catering cottages over winter for her but now need the cottage ourselves. On our way to her house we saw that some early tourists were in trouble on our single track roads, a word of caution if you cannot reverse very well give youself plenty of room and use the passing places provided in plenty of time and save yourself grief from locals. The other thing you should do is keep an eye on people coming up behind you as locals are not on holiday and need to get to work so stop and allow them to pass and remember drive like you would on double roads and Stay on the left side of the road even if the passing place is on the right.




April 6th
Out at dawn to see what was about and found plenty of Red Deer, they were everywhere and there werealso lots of Buzzards just waking up sitting on favorite perches waiting for their day to begin. Afew Manx Shearwaters passing by Cailaich Point with some Auks and Kittiwakes and a single Gannet. It was lovely to be out with nobody else about just me the views and birdsong. The views over the Small Isles was particularly special and I felt at peace in my own world away from all the brexit news, if you can you should try it. In the afternoon Pam and I had a great sighting of a Male Hen Harrier hunting in Glen Bellart, another special Mull moment.
April 5th
Today I saw my first Peregrine Falcon of the year on Mull, not on the hills or tall buildings as you might expect but in our field just outside the garden, although it was a great sighting for us one of our garden birds was not so lucky as when the Peregrine flew off it had prey in its talons, only a titbit but prey none the less. Our friends Meg and Stephen leave tomorrow so they called in for a cup of tea with us and saw one of our Yellowhammers in the garden and thus taking their week on Mull list to an impressive 82 species of birds. I had some garden work to do today so I was too busy to get out and about so the Peregrine in the morning was a welcome surprise.
April 4th
A day out and 59 bird species seen and also mammals, the highlight being Hare of which we saw 3 in total, we also saw 3 Otters, Common and Grey Seals, Red Deer and Rabbits. The bird species seen included White-tailed Sea Eagles, Golden Eagles, Hen Harriers incuding a great view of a male. We saw a large flock of Golden Plover and another flock of Ringed Plover, 22 Whooper swans landed on a Loch joining the Tufted Ducks and Goldeneye already there. Another great sighting was of 2 Red Legged Partridge which flew down the road in front of the van, that is the beauty of birding you never know what might turn up. I think that this was the first time I have seen Red Legged Partidge on Mull. My other highlight of the day were the pair of Red Throated Divers which we saw in a place I have not been to on Mull for a couple of years. Finally at another rarely visited spot we saw a lovely pair of Wheatear, it was a great day out with friends and something I am looking forward to doing more of in my retirment. Todays photo's were taken by our friend Alan 'Mullbirds' Spellman who joined us on our day out.

April 3rd
Woke up to rain and high winds so apart from going to Tobermory to fill up the mini-van and order some bird seed I did little in the way of birding but hope to make up for it tomorrow when we go out birding with friends.
April 2nd
Our first tour of the season and although it was cool at times it was a much better day than had been forecast. We were very soon watching a very obliging Otter which was catching and eating fish in the sea and then caught a big Crab and brought it on to land to eat and for once it came out where we could see it very well in the scopes. We were also able to enjoy Slavonian Grebes, Great Northern Divers, Red Breasted Mergansers, and 2 White-tailed Sea Eagles when not watching the Otter, we even had time to enjoy coffee and buiscuits, the guests were well chuffed and stuffed. Red Deer, Fallow Deer and Common Seal and in the afternoon it was Golden Eagles that took centre stage and they performed equally as well as the Otter had in the morning, doing what Eagles do, not fishing. Other great sightings of the day, Bullfiches, Redwings, Sand Martins and a White Wagtail, the latter two my first of the year.

April 1st
Steam cleaned the kitchen floor for most of the day but have finished at last, I made a pretty good job of it even if I say so myself. The problem with doing a good job is that my wife now wants me to do more rooms and they say a woman's work is never done, what about us men?. I notice that if I look hard enough that the grass on the lawn is starting to grow and it will be the lawn needs mowing, then of course its the end of winter and it's light later and Pam will notice the windows will need cleaning, and then of course I am still doing the tours, its no wonder I am retiring, I need more time to do the chores ....... coming darling. (Hasn't he noticed what day it is, he he he. Pam)
April 2018
April 30th
Another beautiful day for a tour and as soon as we pulled in for morning coffee an Otter appeared swimming to a seaweedy rock and staying there for the whole of our coffee break first cleaning itself then going back into the water and catching a huge fish which it ate watched over by a hungry heron who was trying to work out how to get his share of the catch. Meanwhile the Golden Eagle flew, the Seals lazed on the rocks and the cuckoo called. Unfortunatly I had managed to park the bus (Pam by the way today) in a rather sticky patch of mud and got stuck when I tried to reverse out so thanks to all my guests for getting out and giving me a little advice and a big push. (Two wheel drive, Arthurs said I should have reversed in) Our first White-tail Eagle was sitting in the top of the tree over looking it's nest and our second was in her nest feeding a small chick. Whilst watching our 3rd Golden Eagle the cuckoo called again but this time it came and sat on wires close by, a first for some of my guests. The Whimbrel was seen again today along with Curlew, Wheatears and Stonechat.
April 29th
A beautiful day for a tour and we had a really good morning with all Mull's specialist species seen by noon. We had a Red Deer stag and Hen Harrier in the first half hour and at coffee break we saw a flying Golden eagle and 2 White-tail Eagles, both types of seal, Slavonian Grebe and Great northern Diver, we didn't know which way to look. After coffee we stopped to look for an Otter and we thought there wasn't one there until an eagle eyed guest saw one come down from a burn and across the shingle and sand and slink under the seaweed. We watched the Otter for 20 minutes during which time a White-tail Sea Eagle appeared being mobbed by a crow and a Buzzard. Birds of the day: Whimbrel, a first for some of my guests, and a grand total of 5 Cuckoos, these were my first Cuckoos on Mull this year.

April 28th
It was change over day in the self-catering so it was routine jobs today although I did manage to put off mowing the lawns for one more week as we had a severe ground frost last night which the grass did not appreciate. Lucy was a little stir crazy this afternoon so we had to go out and play games with her she enjoys this a lot and tears round the garden for all she is worth, we have to laugh at her antics. Although she is getting a little more confidence particularly in her own space she still baulks at any strange or sudden noises. On the other hand she is coming on leaps and bounds (literally) with her training she now does jumps that is small fences and sits on a small stand and will now stay, all this is done in the confines of the garden, we dare not let her off the lead out of the garden as one loud bang and she would be on the mainland.
April 27th
A tour today in quite good if a little cold weather, the Eagles seemed to think so as we saw quite a few Golden and White-tailed sea Eagles with some excellent views. We saw a good but distant Otter, maybe even 2 but with Golden Eagles flying up behind us and White-tailed Sea Eagles flying in front of us and the Otter(s) out on the skerries I could not look in 3 places at once. Red Deer including a stag were seen in good numbers with both types of Seal also seen well. The highlight of my day was my first Whinchat of the year, this is a beautiful little bird and I always look forward for its return to Mull. Another good sighting was the flying male Eider Duck and I also had a brief Hen Harrier sighting which I don't think any of my guests picked up.

April 25th & 26th
A couple of days birding for myself and on a walk with Pam & Lucy, the pup, through Aros Park we found our first Chiffcaff (picture right) of the year along with a Willow Warbler (picture left) and this lovely Azalea in full bloom. Whilst on a hunt around Killichronan woods for new arrival of migrants I found this close but secretive Fallow Deer.




April 24th
A walk to Langamull Beach this morning with Pam and Lucy, it was lovely and just a few photos of the walk to wet your Mull appetites.

April 23rd
A tough day to be taking out a tour and so it proved on many levels. Firstly the weather was not great, even at the start of the day, and it got worse and secondly they are doing much needed roadworks where we were told it would be a 15 minute break and after waiting patiently for 15 minutes we were told it would be at least another 45 minutes meaning we had to do a different tour or just hang around. We were on our way to have a closer look at a White-tailed Sea Eagle we had seen in a tree from across the Loch but that idea had to be abandoned and due to the weather we did not see another. We did see a Golden Eagles head as it sat on its nest and Red Deer and Common Seals but for most of the day we were looking for Otter. We had seen one briefly at the beginning of the day but some guests missed it and were desperate to see one. We looked everywhere and not another to be seen until returning to the place where the Otter had been seen in the morning on our way back home it reappeared and just like this morning after a brief cameo it dissappeared again but not before all my guests had seen it well through the telescope. On a personal view whilst looking for Otters I did see a Common Scoter a regular but not common Duck for Mull to add to my Mull year list.
April 22nd
A tour today in breezy wet conditions but that did not stop us having a great day out with both types of Deer Red and Fallow seen as well as Common and Grey Seals and lets not forget the Rabbits although it was the very good Otter that our guests were most pleased to see. We saw 50 species of birds with Eider Ducks, Goosander, and breeding plumage Great Northern Divers being standouts. It was however at tea break when the rain stopped for that the bird sightings of the day happened, firstly a Short Eared Owl being mobbed by Hooded Crows at close quarters and then 6 Hooded Crows playing a game with some white plastic tube or were they just highlighting the dangers of plastic in the wild. The day could not have ended on a much better note but it did when a Golden Eagle appeared being mobbed by not just a male Hen Harrier but also a Short Eared Owl with all three in the shot together, another WOW moment in Mulls world. The day ended with our local White-tailed Sea Eagle feeding its young (bless).

April 21st
It is Saturday and we have no tour as it is change over day in our self-catering and as it is the Mull music festival weekend we did not want to venture to far out with Lucy who is still not to great with lots of people and surprises. On this basis I stayed close to home only going down to the end of Loch Cuin and across the road from Ardrioch to the side of Loch Cuin and in and around our garden. In total I saw 27 different bird species and 2 Mammals, 3 if you count Lucy but I was only counting the wild ones like this Red Deer in our field. My particular favorite was our Yellowhammer and an amusing Dunnock a bird often overlooked which was playing hide and seek in the Daffodils.

April 20th
No Dolphins on todays tour but nobody minded (much) because today we had an Otter, a very good Otter. Today we also had not one, not two but 3 Great Skuas and 3 Gannets and a Kittiewake and one Black-tailed Godwit and 15 lovely Golden Plover. Birds of prey included Golden Eagle, White-tailed Sea Eagle, Hen Harrier, Sparrowhawk, Kestrel, Buzzard and a very fast fleeting view of a Merlin which flew righy in front of the van. Blackcap was seen for the second tour running this is becoming habitual (not). Red Deer were seen in good numbers as were Common Seal and also getting the seal of approval were Great Northern Divers and breeding plumaged Slavonian Grebe. Pam came on todays tour and showed she has lost none of her spotting skills.

April 19th
A tour and the pictures say it all. Bottle-nose Dolphins, Black-tail Godwit and Short-eared Owl. We saw 62 bird species and 5 Mammals but no Otter but because the Dolphins were so good nobody minded (much). A pair of Blackcap were seen not a usual bird for a Discover Mull Tour and my first of the year, I also saw my first Willow Warbler of the year soon they will be everywhere. Whilst we were watching the Dolphins a Great Skua flew through another good sighting which will be surpassed tomorrow (so you now know I am late with this blog). Whimbrel drew lots of oos and aars as it was a first for some of my guests. Raptors seen were Golden and White-tailed Eagles, Hen harrier, Buzzard, Kestrel and Sparrowhawk. We had great views of a flying Snipe but the only thing that came close to usurping the Dolphins was the great view of 2 day flying Short Eared Owls. Thanks to all my guests great spotters one and all and more importantly good fun. GREAT DAY

April 18th
Pam and I took Lucy to dog training today and according to Moira the trainer, Pam and I are coming on slowly but Lucy is doing great. I told Pam if I got as many treats as Lucy I might be doing great to, judging by the look I got she didn't agree.
April 17th
A tour in very inclement weather which my guests bore with stoical good humour and grace and they were rewarded with good Eagle sightings and more although it was not my best tour, thank goodness for the hot soup and sandwiches. (to avoid confusion the sandwiches were not hot).
April 16th
A trip out with friends and enjoyed by all.
April 15th
Today I went out with Pete and Jenny who are friends from Cheshire who are staying with us for the week, they house sit for us and do change overs in the self-catering when we go away in the Summer. We went out for a drive round today and had a spectacular sighting of a Peregrine falcon chasing after a hapless Rock Dove and they both flew past us really close twice as the Dove tried to evade capture, it was certainly one of those WOW wildlife moments. My report says Rock Dove (Good escaping tactics) Peregrine Falcon (Hunting tactics need work) Every now and then you do something pretty special and don't get the recognition you deserve, this is what happened to a hunting Sparrowhawk which flew past us, not quite as close, not quite as fast but a great sighting never the less but it only make a splash as the Peregrine was just so much more spectacular, bad luck mate. Todays photo of a very obliging Sand Martin on a power line.

April 14th
I went into Tobermory for fuel today and on my way in I saw a Reed Bunting in scrub along the Mishnish Lochs and managed a quick photo before a car came up behind me. On the return journey I spotted a lovely Grey Wagtail on telephone wires and this time I was able to photograph it using my telescope. at Loch Torr I saw my first Sand Martins of the year, migration appears to be slow again this year but with warmer weather forecast it could speed up next week. I think our local White-tailed Sea Eagles have hatched their chicks as I thought I saw feeding on the nest when I went to check our water supply this morning. Finally when walking Lucy across the road to the Loch I had a very good female Hen Harrier sighting.

April 13th
The weather today certainly lived up to Friday the Thirteenth, colder and wetter the Mull we all know and love, a great day for a tour. Well it turned out it was with all Mulls special species seen including 2 Otters at a spot I have not seen Otters in for 4 years, let's hope they remain there for the summer. I am now going for an early night to recover from 2 wonderfull weeks of Grandchildren, ZZZZZZZZ
April 12th
Today was the last full day with the family so we took a picnic up to Cailaich Point for a spot of Sea watching, it was the first day of Spring weatherwise with temperatures soaring to 17 degrees and sunshine all day. Highlight bird seen on the sea watch had to be the Great Skua spotted by Pam, our first on Mull this year. we also saw Manx Shearwaters, Gannet, Razorbills, Guilliemots, Black Guilliemots, Great Northern Divers and Shags. Another highlight was a flock of 8 Whooper swans migrating north between Mull and Coll a lovely sight to see. This afternoon I left the girls playing with Lucy as I went to have 40 winks, Grandchildren can be quite exhausting for this Grandpa. Ps They went Swimming in the sea again today, anyone know any good doctors as I am sure they need treatment.
April 11th
Pam did todays tour and I took the girls out to look for Otters, we found a very good one and the girls were great as the otter was very close but just for once in a week they kept quiet and so did not disturb the Otter from eating its Crab. Pam had a great day seeing very good White-tailed Sea Eagles, 2 Golden Eagles, Hen Harrier, an Otter and Red Deer amongst a variety of other Mull wildlife. In the evening we took the girls to the Hebridean Lodge restaurant in Tobermory, we also took their Mum as she had been a very good girl. The menu was very grown up and I think the girls felt a wee bit special, they were very well behaved and did not leave a scrap of food on their plates. thanks to Helen for providing us with such a good meal.

April 10th
A cold but dry day with winds coming in from the East so Pam and our daughter Becky WENT SEA SWIMMING?????? mad or what. Later Pam went to the Bank bus and I took Becky and the girls to Calgary where we saw Bottle Nose Dolphins, now these are Mammals that should be in the sea on a cold morning in April.

April 9th
A day out with our Becky (our daughter) and the girls and although some of us, ie the smaller girls, got very cold. A good time was had by all including Lucy even though she found the day tiring and went to sleep in her cage as we were having lunch. On our walk we saw some Hares, check out the photo, a Grey Seal and a White-tailed Sea Eagle. As I have put a few photographs of cattle on the blog recently I thought I would redress the balance with a picture of a mum with two new born lambs having lunch before we got ours. On the way to our walk I saw a Carrion Crow, a very rare bird on Mull as we have Hooded Crows, my Grandchildren were very amused when I got excited by a Crow, even when I tried to explain the significence. Oh well, you can't win them all, I don't understand their horrific taste in music.

April 8th
A tour today in perfect conditions but to prove Winter is not quite over there were a lot of Redwings around on Mull today, these winter Thrushes are gathering before travelling North to breed. Eight Golden Eagles seen today including a juvenile still hanging around its birth territory and proving my guests with great views through the scope thanks to it white underwing and tail markings. Size comparrison for the Eagle was given by a very persistent female Hen Harrier which was constantly mobbing the young Eagle and it made for a great spectacle. We saw 2 White-tailed Sea Eagles one in a tree and one flew over our heads and we also had good sightings of Red Deer including stags and both Common and Grey Seals. Sighting of the day for me was of a full breeding plumaged Slavonian Grebe it was a beautiful bird and well worth seeing. Other notable sightings were Grey wagtail and an Iceland Gull and I got a better if not brilliant photo of a Wheatear.

April 7th
A short trip to cailaich Point with the family and Pam saw her first Wheatear and we both saw our first Guilliemot for 2018. there were lots of Meadow Pipits and Skylarks and a good view of a Kestrel.

April 6th


Firstly, a big thank you to all of yesterdays guests for their patience and perseverance in some very trying conditions weatherwise. It was raining heavily at the start of the day and it was raining heavily at the end of the day with little or no respite in between. My guests were rewarded with a record number of Hen Harriers ever seen on one Discover Mull Tour, it is no coincidence we have no Grouse shooting estates on Mull but have lots of Hen Harriers, draw your own conclusions. Against all odds and the weather conditions we saw a Golden Eagle being harried by a Raven giving good size comparrison, my guests were, in modern parlance, well pleased. They were more than well pleased with the Otter we saw and which put on a great display just for us as no one in their right minds would be out in the weather conditions unless they had to be. We also saw a White-tailed Sea Eagle on a distant nest, difficult to see throgh the rain and a particularly troublesome branch which partially cover the view but as it was blowing in the wind it was a case of now you see it now you don't. Red Deer were seen as we approached Tobermory at the end of the tour. My highlights today were my first Wheatears of the year and also my first Manx Shearwaters and a very close Gannet which dived into the water after food right in front of our eyes. We had afternoon tea at our house in the warm and dry and my guests were able to watch all our garden birds in comfort and warmth, to put it mildly they were well pleased.
April 5th
Today I took Pam around our tour patch to show her where I am seeing 'stuff' ('stuff' is a birding term for wildlife ) I don't know why but there it is. We visited the sewage outfalls when we were out for a last chance for Pam to see an Iceland Gull before it goes back north and luckily for her, and me, we saw it and whats more I got a half decent photo of it flying. At Gruline Church we saw 4 Bullfinches another bird I had seen this year but Pam had not so I got myself a lot of Brownie Points, but as a male friend of mine once said he never seems to get to redeem them before they seem to expire. On the original reason for the trip we saw Hen Harriers, Golden Eagles, White-tailed Sea Eagles, Red Deer, Fallow Deer, Common Seal, the only Mull specialist we did not see was Otter but we were only out for 3 hours and that included the walk to the outfalls. One last word at the outfalls we saw the female Gadwall and managed a not too clever photo but a better one of a pair of Shelduck which was also there.

April 4th
I spent time out and about today and although I did not see too much wildlife to get you off your seat I did see a lot of stuff to be very glad I had made the effort. To begin with the views were spectacular after yesterdays snow as you can see from the photos of Beinne More and Rhum, Beinne More was taken from Tostary and Rhum from the Cailaich road. Also at Cailaich I took the picture of the herd of Highland Cows and Calves as they walked up the road towards me, I love seeing the Cailaich Highland herd as they are in such a great setting. At Cailaich Point there was this single Lapwing in a field with Oystercatchers and I took the photograph before 3 others joined the party. In a mixed flock of Meadow Pipits and Skylarks I managed to get one photo of a feeding Meadow Pipit the others were too far away and I did not want to disturb them so remained in the car. I did see 2 White-tailed sea Eagles feeding on an island and took this picture through my scope, it isn't great but you get the picture. One other bit of wildlife that was really worth seeing were the 4 long staying Bar-tailed Godwits at Killiechronan now coming into breeding plumage. It is not just the wildlife that makes Mull special, today it was just a pleasure to be out. All the photos in the first 4 days of April were taken today.

April 3rd
It rained all day with a lot of snow on the hills so it was another clear up day as we have to get ready for our other grandchildren who are visiting this weekend with our daughter as their dad could not get time off work. Lucy was relieved to have the house and us back to herself today and between tidying the house and cottage we gave her a lot of time for training and fun, we had a lot of fun too as she can get a little bit nuts.
April 2nd
My first full tour of the year in perishing cold conditions due to a strong easterly wind. During the day we had fantastic views of displaying Hen Harriers with 4, three females and a male, seen during the day. White-tailed Sea Eagles were seen very well, one flying very close before landing near a juvenile on some rocks, provoking gasps of pleasure from some of my guests. As I was putting the telescope on one of the Eagles I saw an Otter swim past but due to the rough seas and the unobliging Otter that was the only sighting of an Otter today. Three distant Golden Eagles were seen and other birds of prey were Buzzards, of course, and Kestrels. We had good views of Red Deer stags, hinds and a couple of Fallow Deer. Other notable sightings were the Whimbrel at Salen and some very nice Goldeneye Ducks.

April 1st
Happy Easter to all readers of this blog. Todays Easter Egg hunt round the garden went down very well with the Grandchildren. Thanks to Richie our son for his hard work on aga and boiler servicing, fixing our neighbours water supply and putting my music through to the bedroom and other numerous small jobs. Thanks also to my frustated daughter-in-law Sheetal who once again fixed up my ageing body and left me with loads of instuctions and phyiso technices to keep it fixed up, sorry love it probably won't happen although I will try.
April 2017
April 30th
You know the saying about March coming in like a Lion and out like a Lamb well April was just the opposite it came in like a Lamb but out like a Lion as yesterday the wind was awful even though it was much warmer. The tour started on a very high note with a fantastic sighting of the Golden Plover in breeding plumage at one of our first stops, this was followed at coffee break by 4 White-tailed sea Eagles flying over our heads, my guests were extatic. Apart from some good Red Deer sightings, raptors and Otters were proving difficult until after lunch I spotted an Otter, not the best Otter I have seen because of the very rough water although through the scope it gave good views if you could stand up. The day ended with another Eagle which made my guests day. Other sightings today great Whimbrels, a beautiful Grey Wagtail and a Dipper. Late news our local White-tailed Sea eagle has hatched 2 chicks and our Self catering guests saw both Hen Harrier and Buzzard from our garden this morning and I saw a lovely Redpoll this evening.

April 29th
Saturday and no tour today as it is change over day in the self-catering and after last night I did not feel up to going out wildlife watching although we did nip down to Dervaig to see the Sedge Warbler. Pam spent the morning cleaning cottages whilst I mowed all three lawns, I have to say they now look a lot better than I feel. I would just like to mention the Hebridian Lodge, thanks to Helen and our waitress for giving us such a fabulous meal and a great evening.
April 28th
A tour today and we had great views of Golden Eagles and White-tailed Sea Eagles which were what most of our guests wanted to see. I managed to remember to take a few photos today of Eider Ducks, a Whimbrel, a Black Guillemot and a Slow Worm, we also had great sightings of a Yellowhammer and Great Northern Divers. Tonight we are going out with friends to celebrate my birthday so I don't expect to be up for much tomorrow as Pam has offered to drive.
April 27thWe had to go to Fort William today as our car had had another recall from the manufacturers so it had to go back to the dealership, this was our 3rd recall in little over a year and to put it mildly we are not amused. We did manage a big shop at a large supermarket so it was not a complete wasted journey although the round trip is 125 miles and 4 ferry crossings so although the work was done free it is hardly free when you add up the transport costs and the fact that you cannot do a tour on the day so also lost earnings.
April 26th
Dentist-Root canal treatment that's enough said about today. The dentist was great however.
April 25th
On todays tour if you were out of the wind and not in a shower it was fine, otherwise it was perishingly cold. A slow start which was ok as my guests had seen our close White-tailed Sea Eagle fly over our house as they waited for me to bring the mini-bus out, they also saw our Hen harrier flying along the ridge at the back of the house, I nearly felt redundant. At coffee time however we saw 2 Golden Eagles giving great views a certain first for some of my guests. Red Deer, several Whimbrel, Swallows and Sand Martin were to follow before a White-tailed Eagle was spotted in a tree. As we were looking for an Otter we hears and then spotted a Cuckoo, the first of the year for me and a lifetime first for my guests, see fuzzy picture. After lunch an Otter was seen and my guests were really delighted even though some of them were hypothermic when they got back into the bus. A Hen Harrier was spotted before the end of the day and we confimed hatching of our close WTSE as they were both on the nest with the female feeding young.

April 24th
Batten down the hatches, Winter bit back with a vengeance today, gale force winds from the north brought sleet, hail, rain and snow on the hills, you name it, we got it. No tour today thankfully as it would not have been pleasant out there and I am sure that birds with eggs or chicks were having a terrible time. Our garden was full of birds today looking for food a plenty just to keep warm, Swallows must be wondering if they got their timing all wrong. Hoping for better tomorrow as I do have a tour.
April 23rd
A tour today in cold but dry, breezy conditions, my guests were very keen, good spotters and very good fun so a good day was had by all. Before I mention the wildlife I have to mention Pam, everyone on todays full tour had special praise for the food and the very welcome very hot soup at lunch time and the hot drinks and biscuits and cake at coffee and tea time. Our guests might come for the wildlife but they certainly appreciate the efforts she goes to to help them through some early Spring days when the weather is not very warm and made colder by the wind chill. Todays highlights were White-tailed sea Eagles and a brilliant Hen Harrier and because they were all good spotters we all saw the Golden eagle if it only hung about for a minute or so. Red Deer were seen as were lots of Seal although no Otters seen today but not for lack of trying.
April 22nd


A quiet day wildlife watching as I had to do some fencing on the farm and my mate from next door came and gave me a hand, well he did most of the work and I was his gofor. You know what that intails, gofor the posts, gofor the staples, gofor the hammer, gofor the wire cutters, hit that post but watch my fingers etc. Nick did a great job but as a gofor I was a little slow, put it down to age. On the wildlife front Pam and I went out into our wood to look for the Tree Pipit to photograph, we did not see it but our nearby White-tailed Eagle flew over our heads and as I had the camera I had to take a photo of it, well would'nt you?

April 21st
An early visitor to the garden today a Great Spotted Woodpecker on the nut feeder, a lovely way to start the day. Pam and I went down to the Reedbed at Dervaig early this morning and heard our first Sedge Warbler of the year although we could not see it but we did see a Reed Bunting. The early morning cocophony of birdsong with noboby else around was a joy to behold. The photos of the Red Deer and cock Pheasant were taken on our way back from Calgary Bay also this morning. Working on the water supply and lawn mowing for the rest of the day.



April 20th
A tour today with a lot of low cloud and drizzle although the day kicked off well with a pair of Red Throated Divers and a pair of late staying Goldeneye at our first stop. Sand Martins and a nice Willow Warbler at the next stop and a White-tailed Sea Eagle in a tree seen as the weather deteriorated. At coffee break we saw our first Red Deer of the day, a distant Kestrel and to my complete surprize a Golden Eagle flew and even if it was a brief sighting mainly below the skyline all my guests saw it. The weather closed in for most of the rest of the morning but Common Seal were seen and some nice little birds and more Red Deer. It was in the afternoon that the best sightings of the day were seen as the cloud lifted, we had a great view of a White-tailed Sea Eagle and a fantastic Otter which gave us half an hour of entertainment as it fished, ate, fished, ate, well you get the picture. There are still a lot of Great Northern Divers about coming into breeding plumage and I saw my first Tree Pipit of the day at Ardrioch.

April 19th
A pair of Barn swallows flying over the house this morning will hopefully be the pair that nest in our shed. At Dervaig this afternoon Pam and I saw our first Common Sandpiper of the year, yes it is the one in the photograph. At Cailaich Point today we saw a White-tailed Sea Eagle harassing a flock of Gulls following a fishing vessel, it had a couple of abortive attempts to catch a gull before eventually succeeding, it was all very exciting for us but not so for the unfortunate Gull, nature in the raw. Todays results White-tailed Eagle 1 Gull 0.

April 18th
Although todays tour was very good with brilliant White-tailed sea Eagles seen as well as Golden Eagles, Red Deer, Seals and much more it was the Otters that took centre stage. A mother and cub Otter were out in the water when an inquizative Common Seal appeared on the scene, the mum Otter took her cub to the safety of high ground but the Seal followed until the Otters disappeared. We moved to another spot where we could look for Eagles but still see where the Otters were last seen. A while later one of my guests saw the Otters again but closer to where we were and as they swam out the Seal reappeared and once again the mum took the cub to higher ground. This time however she turned and faced off the Seal at the waters edge before going into the water to have a go, the Seal moved away but as the mum returned to the cub the Seal turned and came back but did not attempt to climb out of the water. The Otters waited for some time and the Seal lost interest so the Otters hunted in peace for a while before having a snooze. A while later the Seal returned and proceeded to hug the coastline as if it was looking for the Otters, eventually it gave up and went back out to sea. The Otters then went out to a location from where I got my fuzzy photo mum catching a crab as they did so, the cub in the picture is eating the Crab whilst mum has a bit of peace after the traumatic exchange. All of this took place over the period of about an hour and I don't know what the Seals intentions were but it was behaviour I had never seen before and mum Otter was taking no chances.
April 17th
I went out this morning and all in all it was very quiet considering for once the weather forecasters had got it right and it was beautiful. I did however hear and see my first Willow Warbler of the year which means the air will soon be full of Willow Warbler song as they arrive en masse. The Yellowhammer at Eas Force has gone missing perhapse its mate did not turn up this year, I wonder why?? This afternoon I weedkilled around the solar panels as I don't want them shaded on the day when the sun comes out. White-tailed Sea Eagles should start hatching chicks any day now and the action will begin.
April 16th
Happy Easterto my readers. I was up at silly o'clock this morning and in Tobermory looking for new birds for my year list and although I could not find the Magpie I did see my first Blackcap of the year in Aros Park. As you get older you are not only wiser??? but you realise that silly o'clock starts mean you are very tired in the late afternoon, this did not happen when I was younger. It is supposed to be a very nice day tomorrow so I have plans, watch out weeds around the Solar Panels I am after you.
April 15th
Pam and I spent the morning doing leaflet drops in and around Tobermory, only Dervaig and Salen to go. No birding today so contented myself with watching the birds in the garden.
April 14th
A tour today in windy cool conditions with some showers, but it was a very good tour made even better by Karina and Steve who's banter from start to finish brought a warmth to an otherwise cold day. Golden and White-tailed Sea Eagles were their highlight of the day although we did get very good sightings of Common Seal, Red Deer and Fallow Deer. The Otter sighting we had was difficult although my guests all saw it briefly as it hid in the seaweed, this particular Otter has a habit of doing this but it was the only one we saw today. The Hen Harrier sighting was at the same time as 2 of our Golden Eagles were showing off and guess which birds my guests wanted to see most. My sighting of the day was of a pair of Bullfinches for Pam who was on the tour with me and they were her first of the year and she did not see them at all last year. To our guests amusment I got a kiss for that sighting.
April 13th
No tour today and so I thought I would mow one of the lawns but the rain had other ideas so Pam and I went to Cailaich Point after she had baked more biscuits for tours. At Cailaich we saw Lapwing, Razorbills, Guillimots, our first Manx Shearwaters of the year and 2 spectacularly close Gannets, no camera of course. This afternoon it had dried up somewhat enabling me to mow the lawn. This evening we went looking in our local area at suitable Short Eared Owl territories and found one giving us some great views, I had a camera this time but all you can see are its eyes in some pictures and the good one was more than fuzzy as Alan Spellman would say. I took some Red Deer photos as we travelled round so they will have to be photo of the day. Spot the Short-eared Owl below, Arthur says he might enter it for the Country File calander competition!
April 12th
Today could be described as windy and somewhat cool, very windy and at times cold if you were not wearing the right clothing. Apart from a very good female Hen Harrier sighting in the morning and a brilliant Golden Eagle sighting at lunchtime the other sightings were brief or partial as everything was keeping their heads down. We did see a White-tailed Sea Eagle on its nest although it was only a head and shoulder view, distant Red Deer including stags and an Otter which we waited out. When spotted it did not give us great views but toyed with us by nipping out, catching a fish before hiding out of sight to eat. It would briefly appear again catch a fish then disappear again to eat, very annoying but at least all my guests got to see it. The days real highlight was the female Sparrowhawk in our garden which killed, plucked and ate a Rock Dove in front of the self caterers window and they got the whole episode on video. At the time of writing she has 3 Rock Doves to her name, Red Baron watch out????
one for us oldies there.
April 11th
It never rains but what it pours and that saying could not have been more applicable to todays weather, it poured down for most of the day. I had no tour today and I have to say I was not that worried given the conditions, so I contented myself watching the birds in the garden. The highlight bird was a Sparrowhawk that came and sat in a tree outside our office window obvously sheltering from the rain but also checking out for any unwary little birds that might be about. I did get a photo but it was partially hidden by branches.

April 10th
A tour today and it was another belter, although it was very cold and windy with occasional showers the group were really up for it and always got out of the bus to brave the elements. We started with Gulls at Dervaig with all the Mull specialities to compare with each other at close range. At Dervaig we saw about 12 species and nutty Yellowhammer and Red Deer apart nothing much else till coffee break. It was at coffee time the most fantastic action happened, a juvenile white-tailed Sea Eagle was seen for several minutes before a Golden Eagle and Buzzard were seen together at the same time. I thought that this was fairly good when we spotted a Peregrine Falcon someone in the party thought there were 2 Peregrines but when I saw it I realised it was a male Hen Harrier and it gave us a great view hunting the hill in front of us. Some guests said they could go home now as they had seen it all but as the words were still in the air a Sparrowhawk flew in to join the party. A lot more Eagles were seen during the day and I added Swallow and Red Throated Diver to my year list but in true Springwatch fashion it was not until afternoon tea time till we found an Otter. We watched the Otter for about half an hour getting fantastic views, then frozen solid we clambered back into the bus and went home, my guests were more than happy with their day out and I was happy for them. Now for a hot bath and a cup of hot tea. By the way no photos today as I was so enthralled with the action I forgot to take any pictures however I missed none of the action trying to capture the action, it is all in my head and is a day I will never forget.
April 9th
Today was good for me as it was a small bird day, my favorites, they may be harder to see but this is the time to look for them as there are no leaves on the trees. A lot of little birds are really worth looking at, take the little brown job in the photo below, a Sand Martin, often overlooked as its cousins the Swallows and House Martins are more noticable with thier blue , white and red colouring although the Sand Martin is a smart bird in its own right, cute, quirky and very vocal in flight. Today I got two new Mull list birds, both small ones, Bullfinch and my personal favorite bird the Linnet and there were 4 of them but not hanging around long enough for a photo

April 8th
I had a nice surprise at the head of Loch Cuin today with 4 Black-tailed Godwits in partial breeding plumage, they were a lovely sight to see. At one of our regular tour stops there was a female Otter with a half grown cub, with a bit of luck they should be their for most of the Summer. A Buzzard was building a new nest and if they breed that should be another nest we can watch this Summer. All in All a good reconnoitre tour out to set us up for the season.
April 7th
A quiet day today after the big day out yesterday although I did manage to get out for a short time between working on our water supply and managed to get this nice photo of a male Wheatear sitting on the heather. I went as far as Eas force where I got another unscheduled Mini-Bus inspection, after several minutes of paying particular attention to the the Windows, Window Wipers and Wing Mirrors the Yellowhammer seemed more than satisfied.
April 6th
A day out with friends and what a day we had, Red Deer stags which our friends Pete and Jenny always like to see started off the day and then White-tailed Eagles were seen well as were a few Great Northern Divers. We had Coffee near a Heronry and the calls of the Herons were not exactly in tune. Just after coffee we saw a lovely Reed Bunting our first of the year and we then enjoyed the lovely scenic views and a special sighting of a male Hen Harrier hunting until we reached our destination. We went for a walk before lunch seeing Wild Goats and having great views of Golden Eagles if a little distant. We reached the beach we were aiming for and just enjoyed the wonderfull peace and quiet as we were the only people there. We watched the amusing antics of some very busy Turnstones until it was time to return to the van for lunch. On our way home we had a fantastic sighting of a mother and cub Otter hunting along the shoreline completely oblivious to our presence as we remained in the vehicle. This evening we had a lovely evening at the Am Birlinn Restaurant which is local to us and serves very good locally sourced food.
April 5th
I went to Tobermory this morning for a walk in Aros Park although I saw nothing new in the way of birds for the year the dawn chorus was beautiful to hear. On the hearing front I did hear the Magpie today but it was behind a house and I could not find the damn thing. I did find my first Chiffchaff of the year today and 3 White-tailed Sea Eagles as well as some impressive Red Deer Stags. Pam had a Lesser Redpoll in the garden today which I missed which she will not let me forget, the sooner I see one the better.
April 4th
My first tour of the year was a belter, A fantastic Otter seen without disturbance at very close quarters, so close even I got a decent photo. Golden Eagles having an argy bargy around a nest site as a juvenile had strayed to close to the nest, 4 Goldies in total seen today. Did I mention the fantastic Otter sighting? White-tailed Eagle being mobbed by 2 Buzzards showing very good size comparison, it was like seeing a Wren take on a Crow, how can we mistake a Buzzard for an Eagle given the size disparity, but we do. We had a fabulous Otter sighting today, have I mentioned that? Some of last years visitors might remember the nutty Yellowhammer at Eas Force Waterfall, well its back and in full vehicle attack mode. Finally on what was a really special day at least 4, yes, that's four Mountain (Irish) Hares in a field, on normal tours might have proved the highlight of the dayexcept that today we had a Stupendous Otter or did I mention that earlier?
April 3rd
A very wet day and as I have my first tour of the year tomorrow I took the mini-bus for out for a surprise, you have probably guessed, I took it to the car wash in Tobermory. Thinking it was a £1 a minute and as always not checking first I put in £6, only to find it was a £1 every 3 minutes so it got an 18 minute clean. My guests tomorrow will be most impressed how clean the bus is, oh, oh it is still raining, dirty puddles on the road, you can hardly tell the bus has been cleaned, never mind the idea was sound and you can't win them all.
April 2nd
A lovely day to go sea watching from Cailaich Point, so Pam and I with a couple of friends Pete and Jenny who are staying with us trecked up to the point this morning. We saw all the main Auks, Guillemots, Black Guillemots, Razorbills and much to my surprise 2 Puffins, Gannets, Fulmar and Kittiwakes were also seen along with Shags and Great Northern Divers and on our way back to the car we saw a pair of Shelducks and a wheatear. Really the only birds missing from sea watching from Mull were Manx Shearwaters & Skuas, this only means we have to go again later in the month when maybe Pam will get her Whales and or Dolphins.
April 1st
Summer must be on the way as on a day round the block doing chores I spied, well I could'nt reall miss it, the Hebridian Princess mored off Ulva, the first cruise ship of the year. A Common Seal obviously not doing chores relaxing on an almost submerged Island with only a Great Black backed Gull for company made me smile, as did the Male Shelduck which flew past me before landing at Lagganulva Bay. Remember the song Mellow Yellow, well that could be Mull at the moment, this years Daffodils are spectacular, the yellow Gorse is at its best and of course my favorites the gorgeous Primroses. Spring is here and its not fooling anybody.

April 2016
April 30th
I saw my first Cuckoo of the year today which normally would be a red letter day but a very good friend and lovely lady died this morning and our condolences go out to Alan and all his family.
April 29th
What can you say about Mull's weather after yesterdays white out today was beautiful if a little cold and we had an Eagle fest. We had White-tailed Sea Eagles flying on ridges, over our heads, in nests, perched on trees, interacting with Golden Eagles and well just being everywhere. Golden Eagles whilst not being so abundant also put on a great show, fantastic. Another highlight was a Merlin which flew in front of the bus, an obvious male with its blue, grey plumage. Red Deer were also in abundance today and the rivers and streams were fast filling up with yesterdays snow melt, the scenery was WOW, there is no other way to put it.
April 28th
A first for a Discover Mull Tour today we had to CANCELL due to Snow lots of it. My thanks to the Rollet's who gamely tried to make it as I had told them the show would go on, however the snow got progressively worse till in the end we had to call the day off. I felt verry sorry for our Daffodils as to put it mildly they were flattened. The only thing to do today was stay indoors and enjoy the views.

April 27th
Out early as we were going with friends Meg and Stephen down to Iona hunting Corncrake, it was cold but felt warmer as there was only a strong breeze today and not the winds of yesterday. We arrived on Iona at 10am but no Corncrake, not even a sound of a Corncrake, so we went acoss Iona to the west beach and here we had Eider Ducks, Dunlin, Sanderling, Ringed Plover, Great Northern Diver and lots of Wheatear, Meadow Pipits and Pied wagtails including a White Wagtail (Alba) in total 3 new birds for my Mull year list (We count Iona). However the sighting of the day at the beach had to be the female Merlin which flew up the beach as I was just phoning Alan Spellman with my other beach sightings. We went for the 1pm boat back but stopped for one last Corncrake look, as you do and just as impatient Arthur was leaving Pam called him back as a Corncrake had come out into the open giving us very good views and when I remembered I got my camera and got one picture as it dissapeared back into the undergrowth. We had lots more sightings on our way home including Otters, Golden Plovers and Chiffchaff but today was all about Iona.

April 26th
A tour in strong cold wind, definately a day for thermols. Lovely guests who tried to take the pressure off and at the same time keep warm. Highlights of the day were great Otter, White-tailed Sea Eagles, Red Deer and for once Fallow Deer, Common Seal, Dipper, Great Northern Divers in breeding plumage and Whimbrel. Unfortunately there were no Golden Eagles or Hen Harriers on todays tour but not through lack of trying. I thought winter was over but sometimes it comes back to bite you, this is one of those years.
April 25th
A very cold windy day but we had 3 White-tailed Sea Eagles at our first stop, one on the nest and two perched above, this is highly unusual at a nest site but the parent birds were not looking too anxious so I have no idea what was going on, good sighting all the same.At the same stop as the White-tailed Sea Eagles a female Hen harrier flew by giving us a very good if relatively short sighting. A Ring Billed Gull, my first of the year was the highlight at our second stop and there were 4 Lesser Black backed Gulls here as well. We went on feeling cold but happy as we did see some close Red Deer, 2 Red Throated Divers and a Golden Eagle, all this before lunch. After lunch of sandwiches and Pam's very hot welcome carrot soup we saw a Whimbrel and the first of 2 Otters the second was much better. The day ended on a high with a very Close Dipper one of my guests requests at the start of the day.

April 24th
A dream day with 3 Hen Harriers seen, White-tailed Sea Eagles, Golden Eagles, 2 Otters, Red Deer including stags, impressive even if they had shed their antlers. Common Seals were seen in numbers and a Grey Seal although we were trying to watch an Otter, Golden Eagle, breeding plumage Slavonian Grebe and a similar plumaged Great Northern Diver at the sametime, we needed eyes in the back of our heads. We saw Whinchat, my first of the year, Stonechat, a fly by Linnet, Gannet, Guilliemot, Snipe the list goes on but suffice it to say a great day on tour. There's More our friend Alan Mullbirds Spellman took us to see the Hawfinch ( also my first of the year or ever on Mull) it gave us great views, thanks Alan. On our way home we had another great sighting of a Short Eared Owl, which was perched and then flew off hunting. We then went home carefully as the road in the Short Eared Owl territory has more holes than Blackburn Lancashire. Note the Beatles Sargeant Pepper reference I slipped in there just for Blake and Sheila May who when they have nothing better to do kindly read my blog.Thanks to Alan Spellman for this lovely Hawfinch picture, my picture was rubbish by comparison.

April 23rd
Up and out early this morning looking for incoming migrants and although I did not see any new birds for the year the views were brilliant and the gorgeous sound of birdsong was breathtaking. Pam was busy with the self-catering and I had a few chore including taking Sally for a walk to the Loch and to check the water supply, no real hardship. We spent a lovely hour with our neighbours drinking coffee and for a change watching birds in their garden which included Treecreepers and Song Thrushes. I am back out on tour tomorrow and the weather is looking very cold, Pam where have you hidden my thermols?

April 22nd
There can only be one bird in todays report and that is Hen Harrier, we actually saw 3 in total but the male that flew over Ardrioch and then over our heads was spectacular and not soon forgotten. Thanks to our friend Jaq who cut my hair today with my shears, it was on number 5 but Pam doesn't like it much as she likes long hair. I wish I could oblige but age and nature have caught up with me so its number 5 or the dreaded comb over, I know which I prefer. There are some more photos taken in the last few days for you to look at. Mull is spectacular at the moment and the weather beautiful, sorry that more of you cannot see this fairest of the Scottish Islands at this moment in time.

April 21st
A tour today with lovely guests and although we had to work very hard for the wildlife we did get they were very appreciative of everything we saw. There were 2 White-tailed Sea Eagles seen and a Golden Eagle which saw off a Buzzard which had encroached a little to close to its nest site. A Sparrowhawk was seen closely followed by a Kestrel which was being mobbed by irate Meadow Pipits. A beautiful pair of Grey Wagtails was a highlight as was the Whimbrel and Greenshank, both lifetime firsts for one of my guests.
April 20th
I had to go back to Fort William to fetch the van home and hopefully the hinges on the van doors will do the job they are there for this time?I discovered a surprising fact on my way back to the ferry, just before arriving at Lochaline I saw a Golden Eagle, so they do exist on Morven, or was it one of ours from Mull just visiting. Pam took Sally for a walk across the road to the Loch this morning and saw a female Hen Harrier fly up the loch before heading off towards Dervaig.
April 19th
No tour as we have no van so I took the opportunity to get up early, 5am, and try and find some little birds for my year list. In Aros Park I saw a Chiffchaff and my first Bullfinch of the year, a beautiful male. Then at home when I went to check the water supply I saw my first Tree Pipit and Willow Warbler and as I write this it is still only 10-30am.

April 18th
A trip to Fort William, to be precise it was to the garage at Ben Nevis Motors as the door hinge on the van was going again, this is a fault on the new design Ford Torneos and there has been a recall but they are 3 weeks behind so mine is a temporary job until the end of the season, I hope it works, this is the second time it has gone. On a happier note we saw A hen harrier hunting between Dervaig and Salen this morning on our way to the ferry and I took a couple of photos of the birds in our garden on our return.

April 17th
A tour today with White-tailed Sea Eagles high on the agenda and to say they obliged would be putting it lightly. The best sighting was one that flew right past us before dissapearing over the hill, only to reappear shortly after flying directly at us. Then again it might have been the one that flew in behind us and picked up something off the beach, this one was Very close, as we were looking for a Golden Eagle that had gone into hiding after dropping off a sitting perch. It could however have been the one that flew in unexpectedly and sat on a branch of a tree giving good photo opportunities, take your pick. We did find an Otter but none of my guests seemed to be to bothered, mind you it was perishingly cold. Two new birds for the year today Common Sandpiper and Eider Duck.

April 16th
Another local report today but no less wildlife scentric. Pam took Sally our dog across the road to the Lochside and watched a female Hen Harrier fly over the Loch towards one of her favorite hunting areas. In our garden we did not see our Sparrowhawk just evidence of its visit with Rock Dove feathers strewn all over the back lawn. Then our new self caterer Mike was blown away by th number and vatiety of birds in our garden, his only problem which window to look out of so as not to miss any, we know the feeling Mike.
April 15th
With a strong north wind and only 6 degrees it was not particularly warm for todays tour but it was more than made up for by the warmth of our guests. My guests wanted Eagles and boy did they get Eagles, particularly the Golden Eagle seen at what we at Discover Mull call 'picknick on the hill'. The bird came over the hill and was quartering along the ridge, a wonderful sighting. The Goldie then turned inland towards us and came down below the skyline giving us tremendous views of all its colours and its golden head. The bird then flew low over the Kestrel nest sight and those readers who have been at this site with us will realise how close it was getting by now, its presence brought out the male Kestrel which proceeded to chase the offending Golde Eagle and by so doing gave us a reality check on how large Golden Eagles are or is it how small Kestrels are. This sighting was so good and memorable I forgot about my camera completely, I am a birder who likes watching birds not a photographer who wants to find birds to photograph, there is a difference. I also saw my first Red Throated Diver on Mull for the year and we saw 4 White-tailed Sea Eagles. 37 Red Deer were seen at Killbrennan today a record for me at this site. The views today were awesome hence the picture of Loch Frisa, but I cannot get the Golden Eagle out of my mind, I'm not sure I ever will.

April 14th
A beautiful day and Pam went guideing for guests off a cruise ship which was in Tobermory and I decided to see what birds I could see from home, that is the garden, the farm and over the road on Loch Cuin. I saw 30 species of birds with a Lesser Redpoll looking very smart in its bright red breeding plumage, he will have little trouble attracting a female if his personality matches his looks. The same could be said of the beautiful Yellowhammer which appeared when I was on the phone, i'm afraid it somewhat distracted me and I had to stop our conversation for a few seconds for which I appologise. On the subject of courtship, down on the Loch 2 male Red Breasted Mergansers were trying to pull 3 females, for those of us of a certain age it reminded me of 3 girls dancing round their handbags whilst a couple of blokes were giving it their all.

April 13th
They say 1 Swallow doesn't make a summer and here on Mull today that certainly rang true, I saw my first Swallow of the year and the weather was baltic, I hope its warmer when I see my next one. I saw an Otter today and true to form it was being harrassed by homo sapians trying to get too close, It Disappeared. Lots of sightings of little birds today as well as both types of Eagle and a Sparrowhawk but my highlight birds of the day were the very close Goosanders seen on Loch Cuin.




April 12th
A driech day and a trip into Tobermory was dissapointing as the road into Aros Park was closed so I had to walk round the town itself and saw little more in the way of bird life than we get in our garden. On my way home a White-tailed Sea Eagle flew past showing just how big they are and I also saw a pair of Goldeneye still on the Mishnish Lochs. There were several Snipe feeding at Dervaig but more of a probable problem, there was also a pair of Canada Geese as well. I know we are supposed to appreciate all wildlife but Canada Geese????
April 11th
A tour today and for me there were several stand outs, firstly my guests, they were delightful and I basically had a day out with mates. Secondly Ffion, who proved that 8 year old children can get a lot out of the day if they are interested in wildlife. Then there was the wildlife itself, the special view of a Female Hen Harrier hunting over the moorland very close and giving us breath taking action, thanks to Roy in the back of the mini-bus for that sighting. Then there was the Fallow Deer hidden in the trees, we had Una to thank for that one and all I can say is she must have X-ray eyes. Then there was the White-tailed Sea Eagle that flew so close over the bus that it looked like a 7-4-7 plane, I spotted that, see I am not completely obsolete. The Golden Eagle distant but a good sighting and the numbers of Red Deer seen including stags which a couple of my guests were desperate to see, it gives me great pleasure when my guests have their wishes turn into reality. Finally for myself other birds stood out, the little Wren on a post sing its heart out, the Stonechat and Wheatears resplendent in their summer breeding plumage, the Lesser Redpolls in our garden on our return and my Chris Packham moment my first Linnets of the year. Thanks to all my guests who enjoyed the day with me and made it so special.

April 10th
Another gorgeous day and I went for a drive out in preparation for tomorrows tour. I saw 50 species of birds and mammals with the highlight for me being a Whimbrel, I don't think it was a migrant but the bird that hangs out in the Salen area over winter. A flock of Sand Martins on territory and screaming in excitment as they flew up and down the river catching insects. For a few seconds I had a race with a Wren which flew up the road in frontof the van before it dived left into a hedge. White-tailed Sea Eagles at nest sights and Golden Eagle flying over a White-tailed Sea Eagle nest were the best raptors I saw today and Red Deer were more prominant due to the warm sunshine. Basking Seals of both varieties and still some Slavonian Grebes on the Lochs with Great Northern Divers. Pam went rowing this afternoon, it was a case of row in haste repent at leisure, ooh, oww, ooh, oww, muscles she did not know existed, SHE DOES NOW.
April 9th
Pam and I went out to look for and find a Short Eared Owl this evening and I took these photos of Ben More with loch Tuath in the fore ground in the evening light and the sun going down over Coll from Calgary Bay, it was a beautiful evening and a great time for some of Mulls special views.

April 8th
Busy today with final preparations for the arrival of tomorrows guests in the self-catering although I had to go and get a couple of things from Tobermory's hardware store. On my way home I took this photo of Dervaig from off the hill road to Torloisk, the Loch in the picture is Loch Cuin where I see most of the birds mentioned in my blog at Dervaig.


April 1st to 7th
We have been down south visiting family, particularly my dad before the season starts and we get busy. We took Sally our Sheltie with us for the first time as she is a very good car traveller which Misty, our Sheltie that died, was not. As a reward we bought Sally a a dog basket for travelling and we think Nia our grand daughter thought it was a present for her, hence the photograph. Nia has fallen in love with Sally and they spend time together when they visit us or we visit them and when Sally gets fed up she is small and fast enough to get away and hide where Nia cannot get at her. We had a lovely few days.

April 2015
April 30th
A wonderful tour today in gorgeous weather with super guests, we had great sightings, lots of banter and I had a fantastic day out, I felt guilty taking their money at the end of the day but I managed to anyway. The highlights, a Merlin right over our heads, both types of Eagle performing well, a Dipper, Whinchat, Stonechat, very good Otter, Red Deer, Seals, Slow worms, and to end a very good day a Cuckoo on a wire on our way back into Tobermory. I nearly forgot in all the excitement, my first Linnet on Mull this year, as regular readers will know this is my favourite bird, my lovely day was complete.

April 29th
A day of leaflet dropping and picking up new leaflets which should last for a few years so our prices will remain the same, zero inflation, now where have I heard that before. Pam had a hair appointment which gave me an hour to scive off birding and I saw a Chiffchaff in Aros Park, not a very common bird on Mull. On our way home we stopped to look for Short Eared Owl and we got really lucky, no, not Short Eared Owl, but this beautiful Whinchat, one of my favourite birds and my second new bird of the day for my Mull year list.

April 28th
Out on a tour with similar weather conditions to the 26th with more rain, hail, sleet and cold wind but this time suitably attired, I was as warm as toast. We saw lots of wildlife considering the conditions with a fabulous male Hen Harrier hunting at the end of the day. We had witnessed a spectacular displaying Hen Harrier a few minutes before the hunting one and so we now know there are at least 2 males in the same area.. White-tailed Eagles were seen very well as was a Golden Eagle, not bad given the conditions and a lovely Kestrel hunting across a ridge during a lull in the showers. Other notable sightings were a very close Gannet, a Razorbill, Kittiwakes, Eider Ducks, 8 whimbrel in a field on passage a very large herd of Red Deer, Common and Grey Seals. A super group of guests who loved the whole day in spite of the weather conditions and the Harrier sightings were the icing on their cake, literally.
April 27th
No tour today and I spent the day at home in front of the Aga drinking hot tea and coffee and getting over my hypothermia from yesterday and now feel much better.
April 26th
Another 50 species tour today in very cold blustery, showery conditions and take away the hypothermia everyone had a great day. The highlights were a brilliant Otter which one of our guests was desperate to see and it made her day. Whimbrel, lifetime firsts for all our guests and a Cuckoo which a guest had asked if she would hear one but we went one better and not nly heard one but it flewright over us giving great views. We had super views of White-tailed Eagles today which of course was on all our guests wish list. As all my guests know I like to show everything that Mull has to offer and the photo of the day was this proud Oystercatcher seen as we were watching breeding plumaged Slavonian Grebes and Great Northern Divers.

April 25th
It was a black day for one of our Blackbirds in the garden, the Sparrowhawk got him and with the weather getting colder for the next few days this could spell trouble for his partner. Tree Pipits have arrived back in our wood and the Great Spotted Woodpecker is now a daily visitor to our garden as are Siskins, Coal Tits And Goldfinches. Our nearest nesting White-tailed Eagles are still on their nest with no sign of young yet and if they do have young they will become first time parents. We are not completely sure but we think the Dervaig White-tails have failed this year I will keep you posted.
April 24th
A tour today with 50 species of wildlife being seen including another great view of a male Hen Harrier and a very good Dipper a bird not seen often on our tours. White-tailed Eagle was seen feeding chicks, flying and perched, a favorite occupation for them. Otter seen towards the end of the day and to my relief it was a good one. Red Deer and both types of Seal were watched during the day and returning back to Dervaig at the end of the tour we had a brief sighting of a Short Eared Owl. Back at Ardrioch our regular Great Spotted Woodpecker was in the garden. We had Pam's sea swimming buddies round this evening and they are talking of starting again in a few days, hmmm I think I would rather take a cold bath?

April 23rd
Pam and I only had just over an hour to go birding this evening but what an hour it was. At the end of the Loch at Dervaig we saw some Redshanks and then we saw our first Common Sandpiper of the year, I must admit it was what I was hoping for as I knew some had arrived on Mull whilst we were away. We then went looking for Short Eared Owls as Pam had not seen one on Mull this year and although we were to be dissapointed by not seeing any Owls we did witness a spectacular displaying male Hen Harrier. Now this was no timid display, he was giving it his all, Pam was so impressed she remarked that had she been a female Hen Harrier he would have pulled! Then as we were watching the female Hen Harrier not as impressed as Pam as she was flying away from the male, we heard and then saw my second new Mull bird of the year, the lovely Willow Warbler in the picture below.

April 16th to April 22nd
We have been away for a week, the main reason being the Christening of our youngest grand daughter Nia. Our thanks to the lovely vicar, Alison Fulford for the great christening service at Baddiley Church in Cheshire. The service was followed by a celebration party at the Wrenbury social club and a good time was had by all with the bouncy castle proving a big hit with the numerous children which attended the event. On the wildlife front we spent the Saturday before the Christening at Chester Zoo with all our grand daughters as the 3 from Devon had come up for the Christening. We had a great time and I must say that Chester Zoo is a brilliant Zoo with lots more room for the animals than it had when we used to take our children there and if you are in the area it is well worth a visit. Back to news about Mull tomorrow.
Whilst staying at our son's house in Nantwich we saw this Sparrowhawk that killed and ate a Woodpidgeon in their drive way, we stood by his front door and took this picture, it was not more than 15 feet away but seemingly unbothered by our presence.

April 15th
A tour today in better weather and it began well with Red Deer seen early in the day, a lot more of them were seen during the day including stags. A superb Otter was seen before coffee break, check out the photo below, it was fairly close and by using a bit of field craft we did not disturb it. 2 Golden Eagles were seen, one being mobbed by a Merlin. 3 White-tailed Sea Eagles in close proximity to each other near the end of the day and a brilliant Short Eared Owl to end the day. There was one other great sighting today, a summer plumaged Black Throated Diver, what a bird, Chris Packham would have been rubbing his thighs.

April 14th
The rain keeps coming down and our friends went home.
April 13th
Our friends last day and they went to Cailaich point whilst Pam went on one of her bus guiding trips. They all returned in time for lunch and the rain came down.
April 12th
A nice walk with our friends around Aros Park was very exillarating but not great for wildlife. On returning to Tobermory we had a lovely lunch at MacGochan's before returning home.
April 11th
Our friends went for a walk locally this morning and had a great view of a male Hen Harrier which made me somewhat jealous as I was busy cleaning through our water supply ready for the upcoming season. In the afternoon we went to Tobermory and Pam and I bought a Christening gift for our latest Granddaughter, Nia. We then went to the Screen Machine to watch the film The second best Exotic Marigold Hotel which we all thought was Excellent. After the film we went and had a terrific meal at Cafe Fish, certainly a full day which could mean a late start tomorrow.
April 10th
A beautiful day and Pam and I went for a walk around Croig and Langamull with visiting friends from Cheshire. It was a good walk with lovely scenery but not as many birds as I would have liked. The best birds seen were A brilliant juvenile White-tailed Eagle, a pair of pristine Wheatears and two separate groups of Great Northern Divers with 5 birds in each group. We had a lovely late lunch at the Calgary art gallery and afterwards a leisurly look at the very good art displayed there.
April 9th
A pair of Hen Harriers put on a great display at the start of the day and this was soon followed by seeing the Slow Worms, A very promising start to a beautiful day. We then had to show a lot of patience as most of the birds seen were Buzzards, in fact all the birds of prey seen were Buzzards. We did see some seabirds, Gannets, Razorbills, Guillemots, Shags, a Cormorant and some Great Northern Divers. At lunchtime it all changed , with Golden Eagle a brilliant White-tailed Sea Eagle and a pair of Kestrels leaving only anOtter to find and we were soon watching a mother and cub together. They were so good we were able to let 2 young girls have a good look through our spare telescope, they were too young to have come out on a tour and it made their day.
April 8th
Great group out again today with lots of sunshine, wildlife and laughs, just my sort of day. White-tailed Sea Eagles and juvenile Golden Eagles were the order of the day with both species giving us spectacular views, also putting on a good show was a Hen Harrier seen early in the day. The bird of prey of the day for me was a Merlin giving a Raven a really hard time looking tiny against this large corvid. Otters proved illusive until after dropping off most of my guests when I found one for the last couple on board the van, and miracle of miracles as we were setting up the scope my other guests of the day came past and I was able to flag them down so we all got an Otter sighting, as Shakespere might say, alls well that ends well! The picture below is of a Whimbrel seen before coffee break, note the head stripe, a diagnostic difference between Whimbrel and Curlew, sorry about the quality of the picture, I am no David Bailey.

April 7th
A very good day for all the Mull specialities although we did have to wait some time for a Golden Eagle and when it appeared as if not to be out done so did a Hen Harrier. Special sightings for me today were my first Sand Martins of the year at Killiechronan and my first Swallow of the year at Lagganulva Bay, migration has started. Thanks to all my guests for your spotting and patience and all the youngsters Abigail, Jodie and Owen deserved their half hour on Calgary Beach.
April 6th
A cooler day with a little more breeze but still a successful day of wildlife watching with very good White-tailed Eagle sightings. a young guest wanted to see Seals and we saw some close Common Seals which he could see very well through the scope as they basked on the shore of an island. The larger Grey Seal was seen later and further out, not quite as exciting. We had a very good Otter sighting which could have been much better but for the presence of a guy trying to get a close photo with no field craft what so ever and obviously disturbing the Otter - these people are becoming a real problem to wildlife on Mull. Golden Eagles in good numbers but not as close as yesterday and we did get a good Kestrel sighting. We missed out on Hen Harrier today but I had a special view of a male on my way home, sod's law it was in the exact spot we had stopped to look for them, it goes to prove timing and patience is required for wildlife watching. We had our first Slow Worms on the tour today.
April 5th
A full tour today and the weather was gorgeous after early morning mist. We saw lots of Golden Eagles today as most of them are not down on eggs yet. We saw three White-tailed Sea Eagles and a Peregrine Falcon and at least 4 Hen Harriers but they really took some finding against the moorland background. There were some good small bird sightings including Stonechat and Yellowhammer. At coffee break we had a very good Otter which stayed around for sometime and numpty that I am I let my coffee go cold and forgot I had a camera, but as I always say you can miss the moment trying to capture the moment. I did take a picture of the Ben More mountain range with wisps of cloud upon it, a truly magical view, Mull at its magnificent best.

April 4th


A cool day spent mostly at home, working? not my favorite hobby although I did get out for a short while and saw my first Lesser Black-backed Gull of the year, not a special bird but a really smart Gull and my 100th bird species seen on Mull this year.

April 3rd
A short trip out and I saw this lovely Meadow Pipit and a pair of Red Throated Divers before returning to my chores around the homestead which I am getting through at a snails pace. By the way it is a very slow snail.
April 2nd
A lovely calm day for our first tour of the season and what a day we had. I was not looking forward to the day as you might have noticed a lack of Otter sightings this year and we know guests really want to see Otters, well they had obviously been hiding waiting for the season to start as today we saw 7, Seven Otters, you are reading this blog right, I know, unbelievable, even I have to pinch myself and I was there. It was not only Otters but Golden Eagles with 5 or was it 6 seen in the day and 6 White-tailed Sea Eagles as well. Other raptors of note were Kestrels at least 4, Buzzards, we stopped counting those, a Sparrowhawk, Peregrine Falcon and at the end of the day a female Hen Harrier. One guest in the bus wanted to see a Curlew, she got a few and a Whimbrel as a bonus. Another mammal we have hardly seen this year but did today thanks to a wonder spot by Pam were Fallow Deer and just in case I forgot to mention it, we had Seven Otters today.
April 1st
Pam and I went out to Tobermory doing pre Easter leaflet drops, remember the date, Aprils fools day. The clutch went on the car and we had to abandon it in Tobermory. Thank to Judith and Alan Mullbirds Spellman for their kindness in going out of their way to give us a lift home.

---
April 2014
April 30th
A cold blast from the East and dull conditions made for not so pleasant wildlife watching today, however I did see my first House Martin of the year on Mull at our first stop. There was not much action anywhere on the sea but we watched a couple of Buzzards flying around each other, trying to keep warm I think. At our first Golden Eagle spot we had a brief glimpse of one and saw a lot of spooked Red Deer, we did not see what had spooked them but somthing certainly had. A much better Goldie at our next stop but apart from the lovely views there was little else to warm us up. Lunchtime was approaching and we were all looking forward to some hot soup, our hopes were dashed as an Otter came out to feed giving us good views in and out of the water before going to hide in a boat. Isn't it funny how you can forget how cold you are when you have some exciting wildlife to watch. Lunch and the promised hot soup, then warmed and replenished it was on to look for White-tailed Eagle and we were not dissapointed they gave us the best display I have had for some time. After the White-tails the weather got worse or was it that the cold was taking its toll but before the day was over we had seen Fallow Deer, Common and Grey Seals, a male Hen Harrier and the Slow Worms. By now we were so cold a hot bath and hot toddy were called for so we headed home after another special day of Mull Wildlife Watching.
April 29th
A dull day but warm and wind free, in other words a good day for wildlife watching. The day started promisingly with a good sighting of a male Hen Harrier we also saw some Red Deer and a Willow Warbler before the Harrier put in an appearance. On to a place where we are seeing Slow Worm's, 7 were there today and some Lapwings were flying with a Curlew all of them being distured by an over flying Hooded Crow. For the next couple of hours we only saw small and regular species until coffee break when we had a really good sighting of a Cuckoo. On to lunch time and after lunch we found our first Otter which gave us very good views, the one we saw at the end of the day was even better. A good sighting of a White-tail Eagle in a tree but more exciting was the sight of the female on her nest feeding her newly hatched chick. At afternoon tea break we saw a very good view of a Golden Eagle with a Buzzard giving good size comparisons for our guests.
April 28th
A beautiful warm, sunny April day and it turned into an Eagle festival with both eagles being seen in good numbers both flying and sitting. The day had begun on a positive note with 2 Otters seen well at our first stop. We had 2 Cuckoo's today and both Great-northern and Black-throated Divers seen well. Red Deer were every where and we also saw a good number of Fallow Deer today as well as Common Seals and Rabbits. My bird of the day has to be the Linnet although our Wheatears are looking particularly beautiful at the moment. New bird of the year for my list was a Sedge Warbler and we heard our first Grass-hopper Warblers of the year but did not see them.

April 27th
A beautiful day and we saw all Mull's big species on the tour today and I got 2 new birds for my year list, a Fulmar and a Tree Pipit or as Pam would call it a line Pipit as it was sitting singing away on power lines. We saw all three types of Diver today and Razorbills and a Black Guillemot but the seas around Mull remain very quiet up to now. Golden Eagles are performing well for me on tours so far this year and were again the stars of todays tour although the male Hen Harrier appearing out of nowhere ran them close. Today we saw an Otter but typically it played hide and seek with us before it eventually appeared on the top of a rock and promptly went to sleep as the tide came in. All our guests saw it well through the scopes and it did get up in the end sprain, strole across the rocks and dissapeared into the sea weed as they do.
April 26th
A dull but dry morning and an early start to go to Iona and try to see Corncrake. We arrived on Iona at 10-15am and saw a Corncrake at 10-25am see picture below, this gave us 3 hours on the island looking for other birds. We saw Linnets and Twite another first for me this year, House Sparrows, Starlings, Rooks and Jackdaws. There were a lot of Wheatears and Meadow Pipits and Skylarks and Sand Martins. On the shore and in the sea we saw Great Northern Divers, Eider Ducks, Shelducks, Ringed Plovers, Dunlin, Pied and White Wagtails. On our jouney back on the ferry we saw Razorbills, Guillemots, Shags, Kittiwakes and Common Gulls. Back on Mull at Fidden there were 52 Golden Plover in one field and on our way home as it started to rain an Otter and some Red Deer. We arrived home tired but very pleased, it had been a long day.

April 25th
A nice day for a tour and it turned out to be a first class day for Eagles, paticularly the Golden variety with good views of 2 and really special views of 3 more. There were also good sightings of White-tailed Eagle but only a distant fleeting view of a male Hen Harrier disturbed by a flying Golden Eagle. Very good Red Deer again today but on the flip side no Otter but we did see lots of Seals. Two Red Throated Divers were seen well today as were Great Northern Divers and Black Guillemots. Common Sandpipers have now arrived on mass asd we see Wheatears everywhere. Finally my Slow worms continue to delight my guests but still no Adders this year.
April 24th
Up early and out looking for new incoming migrants to no avail, somedays it pays to just stay in bed.
April 23rd
A dull cloudy and at times wet day, not the best weather for a tour you might think but at our first stop a brilliant male Hen Harrier inter-acting with a couple of Hooded Crows and then at the 2nd stop 7 Slow Worms. On we went and saw Buzzards, Black Guillemots, Razorbills, Oystercatchers, Redshanks, all Mull's 5 types of Gulls, several Great Northern Divers and a Black Throated Diver eating a large fish. This is all very good I hear you thinking but what about Eagles, patience blog readers we are getting to them, 3 Golden Eagles, 1 flying reasonably close, 1 with a Buzzard giving great size comparisons and the last in misty rain sitting or was it clinging on to a small tree near the top of a hill. White-tailed Eagles, we witnessed one on the nest when her partner came in, I think to get out of the rain but was sent off with a flea in his ear; not literally, it soon flew off in a huff giving us good views of its enormous wing span. Just before lunch we went to spend a penny and as we queued, we British are good at that, a large Otter appeared and gave us a fantastic sighting, at times very close, sometimes eating fishes and even checking out the inside of a moored boat, special or what. Just so as not to be out done a Seal turned up, it was either jealous of all the attention the Otter was getting or more likely just checking us out. To end on some more happy notes 2 new birds for my year list a White Wagtail (Alba) and my first Linnets of the year, my favorite bird.
April 22nd
More cloudy today but undetered I went for a 2 mile walk to test out my knee and look for migrants, the knee held up pretty well which was a good job as there were no new migrants. As I have been fairly sedantry with the leg problem the 2 mile walk left me feeling like I had run the London marathon so when I returned home I put my feet up on our new Lazy Boy sofa and nodded off, so nothing to write home about bird wise.
April 21st
It was a beautiful day and we thought this weather will have brought in some new migrant birds, it hadn't so I took the photo of this lovely Willow Warbler instead. This evening on a short local walk with the dogs, it has to be short for Misty and me with my knee problem we saw 3 Hen Harriers, 2 Grey Wagtails and a Blue Tit on our Pear Tree.




April 20th
Another lovely sunny day and another very good tour with Golden Eagles, Otter, Hen Harrier, Red Deer all seen very well although we only had a brief view of a flying White-tailed Eagle. Other birds of note were Goosander, Red Breasted Merganser, and Wheatears everywhere. Now for my regular readers the saga is over, I HAVE AT LAST SEEN THE TOBERMORY MAGPIE, it does exist and as you can see from the pictures it favours the area around the old cemetry, it flew from a bush in the cemetry to the wall around the cemetry. Yes, I got proof because I know there will be doubters out there. I have to thank Pam as she saw it fly into the bush as we were enjoying our wonderful Tobermory ice creams.

April 19th
A beautiful day and I filled up the bird feeders in the hope of something good coming into the garden. I then went up the hill with Sally our youngest dog to check out the water supply, it was whilst we were up the hill that something good came into the garden, in fact two somethings good came into the garden, a female Blackcap, the one with the brown cap and a Long tailed Tit, Pam 2 Arthur 0. On a short trip out this afternoon a pair of Peregrin Falcons interacting with a Raven and a very close White-tailed Eagle but as I missed the Long tailed Tit no new year ticks for me today; darn it.
April 18th
All our family have gone now so it is back to doing tours and what a day we had, with lovely Spring weather and birdsong everywhere. We had 7 Slow Worms and a Stonechat at our first stop and a displaying male Hen Harrier at the 2nd. We saw quite a lot of Sand Martins on territory and one Swallow. Red Deer everywhere and 2 Hares, unusual on our tours. Three separate White-tailed Eagles were seen giving very good close views, do you really need to artificially attract these birds by throwing out fish? My first Willow Warbler of the year was seen and then superb views of a Golden Eagle seeing off a Buzzard before giving us a fine display of its hunting technique. After seeing both Common and Grey Seals we at last had a good Otter sighting but we had to wait it out as after spotting it briefly it went to sleep out of sight of us on an island, but eventually it woke up and went fishing, giving excellent views. There are a lot more Lesser Black-backed Gulls about now and our Kestrel sightings were also very good. It was a great day to be back at work, if you can count wildlife watching as work.

April 17th
A dull dry but windy day and our son Richard and his wife Sheetal were due to leave Mull on the 11o'clock ferry from Craignure but it was cancelled due to the wind, they did get off on the Fishnish ferry however making thejouney home longer but Sheetal saw Glen Coe and Rannoch Moor for the first time. Simon and Becky went on the long walk to Glengorm and Pam and I took the Grandchildren to Aros Park for a shorter walk and we all met up for a lovely lunch at the Glengorm Cafe. It was great to have the Grandchildren to ourselves for a few hours as they leave on the early ferry tomorrow.
April 16th
A dull with forcast rain which did not materialise and 2 new Mull birds for me this year, a Common Sandpiper and my first Swallow. On a trip around Mull with the family we saw 3 Otters, a mother with 2 well grown cubs and they got so close that our grand children aged four, six and eight were able to watch them for some time without the need for binoculars. Red Deer a Golden Eagle and 2 Hen Harriers were also seen during the day out. Home made pizza's and Tobermory home made ice cream for tea; yum.

April 15th
A beautiful day and this afternoon our son and son-in-law went Kayaking and saw a very close Mink and had a White-tailed Eagle fly right over their Kayaks. We went out as a family for a meal at the Bellachroy this evening, it has new owners now and they are doing more up market food but still do very good childrens meals. In the morning I went Magpie hunting with my son and daughter-in-law once again to no avail.
April 14th
A full tour today with lovely guests and we saw White-tailed Eagles but only young Jamie saw one fly. We had fantastic views of a Golden Eagle which was quite close and being mobbed by Hooded Crows giving good size comparisons. Two very good Otters in separate locations which as always gives our guests a good feeling and we also saw some very good Red Deer stags. We stopped off to look at standing stones and take in the fabulous views on a gloriosly sunny day and also photographed some black Highland Cows with their new offspring in a delightful Mull setting.

April 13th
A dreary first day of the holiday for our grand children and with our son and daughter-in-law arriving at lunch time we spent the morning reading stories and chasing the poor dogs around the house. In the afternoon we watched the football, Liverpool versus Manchester City some of the family, the red side or as we prefer to call it the dark side were happy the blue half of the family were not.
April 12th
Can't go out today as the family are arriving from deepest Devon and we are putting the final touches on before they get here. They arrived this afternoon and it is great to see them all again including our 3 grand daughters. Our son and daughter-in-law and our prospective new grandchild due in October arrive tomorrow.
April 9th to 11th inc
A time of inclement weather, getting new carpets put down, bringing back all the furniture, replacing books in the bookcase and dust each one! Why? cleaning through the water supply after the very wet winter, hang on is that my masters voice I hear, 'yes love, what else do you want me to do', 'oh yes dear I will hep with the spare camp bed for our youngest grandchild, just give me a second please', I need time off for good behaviour. I did manage 2 new birds during the 3 days of forced hard labour, a Blackcap in Aros Park and a pair of Jackdaws at Ulva School in the same field as the Lapwings. Our family are all up for Easter in case you hadn't guessed.

April 8th
A cold but mainly dry day but the tour was shotened as I had guests off a cruise ship out with me and they had to be back in Tobermory by 3pm. In the shortened day we saw 3 Golden Eagles, a White-tailed Sea Eagle, Common and Grey Seals, Red Deer stags and some Eider Ducks another Mull first for me this year. Pam did he r first bus guiding trip down to Iona with guests from the same cruise ship as my guests and due to a dustbin wagon breaking down in Glen More they were an hour and a half late returning to Tobermory which meant that my rushing to get my guests back on time was not neccessary, but we wern't to know that.
April 7th
The carpet man came today and after we had settled him and his son in we left them to it for an hour or so aswe were only getting in their way. We took a short trip to Cailaich Point and just after we turned off the main Calgary road 2 hirondines flew in front of the car, they were my first Sand Martins on Mull this year. At Cailaich we watched a juvenile Gannet being persistantly pestered by a 2nd year Herring Gull and there were quite a few Wheatears at Cailaich as well as some Red Deer. Pam saw the Black-throated Diver still at Calgary her first of the year and this evening there was a Tawny Owl hooting in a tree right outside our bedroom window and although I have heard a lot of them in our area this year this was the first I had seen and it become my 100th bird species sighting on Mull for 2014. Check out my bird list for my sightings this year.
April 6th
A tour today and would you believe it heavy rain and strong winds, oh joy. The first thing of note we saw was a Black Throated Diver seen through cascading rain from under cover of the large boot of the new van, with no drips as was the case with the old one. On we went with good humour because the guide was confident in the knowledge that shortly after noon we might see an Otter,even on dreadful days of weather it is good to keep guests spirits up. Shortly after noon we saw an Otter, well at least I did as it slipped behind an island to be out of the wind. Our guest then had to look at a Great Northern Diver and 2 Black Guillemots as we waited patiently for the Otter to reappear to eat its lunch, which after half an hour it did, thankfully and our guests were able to see it until we got so hungry it was time for our own lunch. As the afternoon drew on we saw a Buzzard and Sparrowhawk as the rain had stopped and then we stopped at a Golden Eagle site and low and behold the Eagle, flew giving great views as it flew over a Red Deer stag oblivious as it chewed its cud. On the way back from seeing the Eagle 3 Fallow Deer came out of the woods to take in the sunshine and a White-tailed Eagle put in a brief cameo appearance. After which time the rain returned so we headed home for a hot bath and thaw out.
April 5th
We have friends visiting tonight so I was not allowed out as the house is in chaos as the man bringing the new carpets has not arrived and we have furniture stacked on furniture and Pam has no idea where we are going to sit our guests. Phew, it turned out all right on the night, our friends had a great time, took the chaos in their stride and as usual Pam's cooking was fabulous and after a few drinks so was the craic (crack) a gallic term for gossip, fun, entertainment and enjoyable conversation.
April 4th
A dull warm day and a trip to Tobermory was required so the morning was taken up with business and for me a haircut, my first since before Christmas so much needed. I did manage a trip out in the late afternoon and saw some lovely Slavonian Grebe in summer plumage but the little blighters kept diving making digi-scoping them impossible. Stopping to look at some Great Northern Divers I saw an Otter which although very nice to see was taking lessons from the Grebes on how to avoid being photographed. I did manage a couple of photo,s though of a drake Teal, my favorite duck particularly as it did pose for me and some Red Breasted Merganser pictures.

April 3rd
Gardening this morning, not my favorite occupation as regular readers know but in the late afternoon Pam and I did manage a short journey out where we saw lots of Great Northern Divers and Wheatears. These were Pams first Wheatear of the year so she was well pleased. She was not so pleased with the Red Grouse which again failed to put in an appearance when Pam was out with me, I think the Red Grouse are fast becoming Pam,s bogey bird on Mull like the Magpie is for me.
April 2nd
A trip down to Cailaich today and I had brilliant views of a Merlin, it was going like a rocket and Meadow Pipits were flying everywhere, under the Merlin looking completely unimpressed was a small group of Red Deer. Golden Eagles and a Kestrel were seen as I ventured further afield and there were several different Waders at Dervaig as I returned home and I managed to get a rather a nice photo of an Oystercatcher sharing a small rock with a pair very nice common Gulls. Then an after the 9pm watershed moment, a pair of very amorous Buzzards and they wern't just necking, get a tree I thought.

April 1st
No fooling the new 3 piece suite turned up today and as it is a Lazy Boy I can now put my feet up all the time, literally. In the bird world we had great views of 2 Hen Harriers today, one in the morning and one in the afternoon when returning from filling up the new van in Tobermory. I hope the van has a large fuel tank as it was the most money it has ever cost me to fill up a vehicle, I think it must think it is a long distant lorry. I digress back to birds and in particular Golden Eagles, arn't they just iconic, when you get sightings like the ones I had this morning it just blows you away and leaves you awestruck, a little like my fuel bill for the van.
April - 2013
April 30th
A beautiful day for a tour and we saw over 60 species of birds and mammals including an Otter, a Golden Eagle being mobbed by a Buzzard giving good size comparison and both types of Deer we have on Mull. We also saw my first Great Skua of the year and a Cuckoo which Harry photographed through the van window before jokingly complaining that I needed to clean the windows, who does he think I am? George Formby. I nearly forgot I saw my favorite bird for the first time this year on Mull today, a pair of Linnets.
April 29th


Very very windy so as we had no tour today we spent most of the day doing jobs in and around the homestead. As Pam was very busy decorating and sanding and varnishing the doors to the bathrooms she got me HOOVERING, now chaps this is a machine with a long handle that sucks up bits off the floor and furniture, ours is called George and has a nice smiley face, it was a good job one of us could smile. When I managed to escape I found 3 Dunlin, my first of the year.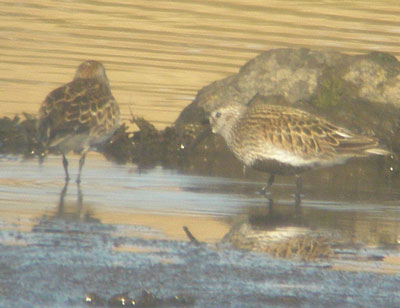 April 28th
Back on the road again in very cold windy showery weather not nice at all but we saw all the Mull big 5 Golden Eagle, White-tailed Eagle, Hen Harrier, Red Deer and 2 Otters, as we keep saying showery days can be best but it was very cold in the wind. In a total of 50 species seen during the day my 2 highlights were a White Wagtail with Pied Wagtails on Calgary Beach and the beautiful Black-tailed Godwits coming into breeding plumage at Dervaig on our way home seen in picture below.

April 27th
A lovely day and so Pam and I went for a walk with the dogs to Quinnish and looked for little birds. We saw the 3 Eider Ducks in the picture below just before we entered the woods always a nice Duck to see in breeding plumage. We also saw a lot of Tits, Coal, Blue and Great, a Song Thrush and Chaffinches but the 2 best sightings came towards the end of the walk, a female Bullfinch and then a Chiffchaff, not a Common bird on Mull but one I needed for my year list.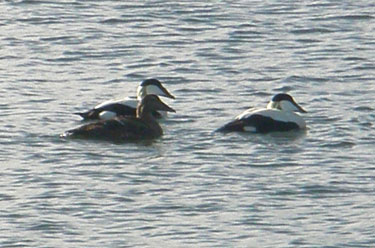 April 26th
Sunny again but with a cold wind and its great to have a day off from painting and decorating the new bathrooms to do the tour for Arthur with a lovely group of people. An early start gave us great views of Bottlenose Dolphins at Calgary Bay, a group of about 7 animals were obviously hunting fish by driving them into the shallow waters of the bay with some occasional tail slapping. I could have stayed and watched all day but my guests wanted to see more and they were not disappointed as at the next stop we saw a Cuckoo, a first for some guests. Golden Eagle, Otter, Red Deer and Seal were seen during the day as well as lots of history, geology talked about. Another first for guests was sniffing the gorse for it delicious coconut smell and watching me avoiding running over baby lambs on the road.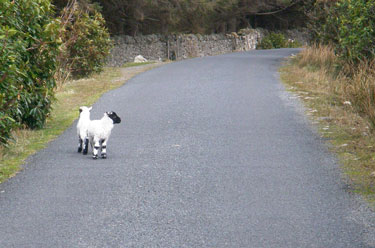 April 25th
Another mainly sunny and windy day but my knee has swollen so I find it difficult to drive, I will go to the doctors tomorrow and Pam will do the tour. We had the Great Spotted Woodpecker back in the garden today just in time for visiting friends to see it although they were more taken with the Siskins. We went for a short outing with our friends with Pam driving and managed to see a male Hen Harrier and some Red Deer and a breeding plumaged Great Northern Diver.
April 24th
After heavy overnight rain it turned into a lovely day but still windy. There is really only one word to describe todays tour EAGLES, we had talon grasping White tailed Eagles, a White-tailed Eagle being mobbed by a Buzzard over our heads and boringly White-tailed Eagles just flying and sitting. We had Golden Eagles hunting very close, Golden Eagles flying together almost over our heads and Golden Eagles just being Golden Eagles. We did see other birds and mammals but really all I can remember from today were lovely guests and EAGLES.
April 23rd
A showery day and slightly warmer and as I was working around the house it gave me a chance to study the birds in our garden and in particular the Siskins, they are a tremendous bird to see and the contrasting black and yellows of this feisty little bird is remarkable. There was a fall of between 50 and 100 Pied Wagtails at the Dervaig reedbed this evening a fantastic sight to see with Wagtails everywhere and mixed in with them a solitary Willow Warbler and 2 Blue Tits. We saw a hunting Hen Harrier on our way home probably the one seen by Pam hunting over our field.
April 22nd
A very wet and windy start to todays tour with a very windy but dry finish, not the best weather for wildlife watching and very cold. We had a brilliant view of a Peregrine Falcon today and a good Otter but I think my favorite part of the day was sea watching at Cailaich where although not many birds there were quite a few species to be seen. I saw my first Fulmar of the year and several Kittiwakes, a few Gannets with their bright white plumage brightening up the dark background. There were Guillemots and Razorbills a pair of Shelduck, Shags and Herring Gulls and of course the Oystercatchers, even as we were leaving we saw our first Red Deer of the day. Even in the trying conditions we saw Buzzards, Kestrels and White-tailed Eagles and for me another highlight a field full of Meadow Pipits newly arrived feeding like crazy out of the biting wind.
April 21st
A very windy day with a quite severe wind chill and although migration has started it is still painfully slow. On the tour today both types of Eagle were seen well although the Golden Eagle was a distance away. An Otter put in an appearance and all the guests saw it through the telescope and then we went closer and saw it briefly on the rocks before it went into the sea for a snack before doing what Otters do best, disappearing. Both types of Deer were seen as were Common seals and I saw my first Manx Shearwaters of the year 3 of them from a very windy Cailaich Point. We spent a long time looking for Hen Harrier without success and when I got home Pam told me she had seen one from the kitchen window quartering our front field, oh well such is life.
April 20th
A nice warm day and so as I had to pick Pam up from the ferry at 4-45pm I decided to go and look for the White Billed diver which had been reported the day before near Gribun. As you Know me by now I had to go birding on the way and at Aros Bridge I saw a beautiful Grey Wagtail my first of the season and there were also several Willow Warblers in a few places also my first this year. Oh yes the White Billed Diver, I am fairly sure I saw it as I had a very good look at a Diver with a big white bill near an obvious Great Northern Diver it certainly matched the pictures in my book but I await conformation from photographs taken of the bird and if I am right Hoorah what a find.
April 19th
A tour today in windy conditions and 54 species were seen on the day including Common Sandpipers, my first this year. Otters were seen and White Tailed Eagles, Red Deer and Seals all in all a very good day out with spectacular views from all over Mull. Eas Force the water fall is now pouring out water a complete contrast to the water trickle it was last week during the drought.
April 18th
Another tough day weather wise but nothing like as bad as forecast with much less wind, so my guests were able to see most of the special wildlife Mull has to offer even if some of it was distant. I always say that I look for everything on our tours and one of todays highlights was a group of 14 Slavonian Grebes most in breeding plumage on Loch No Keal, a Bar-tailed Godwit and a Whimbrel being other highlights.
April 17th
Typical a much nicer day and no tour as I had another dentist appointment for my root canal treatment. I now have a temporary filling before I have to go again in July, will the treatment never end, probably as the dentist told me if I have any problems between now and then the said tooth will have to go, OUCH. As you can imagine no birding today to traumatized.
April 16th
Rain and gales for todays tour 4 of my 6 guests cancelled their tour as they thought we would see nothing. In the event we had a great day with 51 species seen including a very close unexpected Woodcock, some late leaving Redwings, a very close White-tailed Eagle, a Whimbrel, Red Deer and a very hungry Donkey which was up for eating anything as one of my guests Ian found out. My special thanks to Ian and Karen for braving the elements and helping to make it a great day of birding and wildlife watching. We started the day as strangers to each other and ended as friends it just goes to show sometimes bad weather is very good for wildlife watching, birders certainly think so as the wildlife is often unusual and unpredictable and those that cancelled missed out on a very good day. Today I added 3 more bird species to my Mull year list, Sand Martins, Swallows and a Kittiwake.
April 15th
A much better day weather wise and it was a good job as Pam was guiding two bus loads of guests from a cruise ship. She did two tours one in the morning and one in the afternoon, going from Tobermory to Calgary Bay via Dervaig and then back to Tobermory by way of Salen. Although this is not a wildlife tour she did see a House Martin at Aros Bridge the first reported on Mull this year. I had a stinker of a day visiting the Tobermory tip with 2 loads of old bathroom suites and did not see any wildlife of note.
April 14th
!4 hours of continual rain overnight brought relief to a lot of people who get their water off the hill and maybe now the Tobermory distillery can start producing again after a few very dry weeks. Last night we took the plumbing guys out looking for Owls, we bid not see any Short Eared owls which we were really looking for but did see a Barn Owl just starting to hunt for the evening. This evening we went to the Bellachroy for a meal with the boys who had worked so hard putting in 2 new bathrooms in a week. Our thanks to Richie and his boys Billy and Josh, to Angus MacKenzie (OG) the builder and Ian McAdam and Garry the electricians for all pulling together to make it all possible.
April 13th
An early start for me as I went to look for any new birds that I had not seen before on Mull this year and I had a lovely time seeing lots of little birds which I don't get to see on tours. In the event I did manage to see 1 new Mull species a Bullfinch near the Am Berlinn restaurant. The main Mull species seen were a White-tailed Eagle and lots of Red Deer.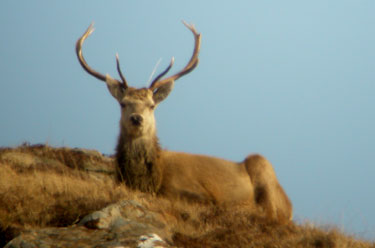 April 12th
Richie's the plumbers boys have worked so hard for the last week that we decided to give them a treat and take them on a tour we also took Linda a volunteer from the Whale and Dolphin Trust. I (Pam) took them as Arthur had to go to the doctors with a touch of gout......ouch.
The day started with rain, we shouldn't complain, and was very slow with a few distant Red Deer, 2 Fallow Deer and Common Seals seen. Plenty of Great Northern Divers and a group of about 6 or 7 summer plumage Slavonian Grebe were also seen. At our toilet break just before lunch and we spotted an Otter feeding and a few minutes later I saw a Golden Eagle sitting right at the top of the hill. I then turned and scanned the rocks to find a juvenile White tail Eagle sitting and an Otter swimming in the water below. As we ate our lunch and watched the activity a second White tail and a second Otter appeared all in the same spot. 'My best Lunch break ever' said Linda and we all agreed with her. The day was finished with both male and female Hen Harrier.
April 11th
Drizzle for most of the day and it was welcomed by all the people on draught ridden Mull. Todays tour brought our first Bottle Nosed Dolphin sighting of the year with a pod of 7 to 10 being seen very close in at Cailaich Point.
A very good Otter sighting today seeing two in total at separate locations and very good White-tailed Eagles and Red Deer Stags. After the Dolphins my favorite sighting of the day was a lovely close view of Britain's smallest bird a Goldcrest, happy days.
April 10th
A much duller day but still dry and a hill fire has raged over the hill from Glen Forsa to Loch Ba disturbing all the waders which were on the hill, it is to be hoped that no sitting Eagles were put off their nests by the smoke. I spent the day going back and to Tobermory fetching and carrying for the plumbers, in the evening however i managed half an hour up the hill at the back of Ardrioch and had a spectacular view of a Short Eared owl.
April 9th
I feel a little sorry for the plumbers putting in the new bathrooms as they are missing out on this incredible weather. On the tour today we had great views of a mother Otter with a young cub which was fantastic as most of my guests like seeing Otters. The White-tailed Eagles were more obliging today , one flying right over the van as we were looking at a Golden Eagle. Great sighting of a Golden Eagle again today and a lovely Red Deer stag who was watching us watching him. A lot of song Thrushes were seen as was a Mistle Thrush and wheatears are now arriving in good numbers. Finally we saw a Black Throated diver in calgary Bay and 3 Great Northern divers at Cailaich Point.
April 8th
Another gorgeous day so I went to try and find my 100th Mull bird of the year and at long last I saw my first Wheatears of the year at Calgary. The rest of the day was spent doing jobs as Richie our son arrives this evening to put in the new bathrooms. Our thanks go to Angus for working so hard to get the rooms ready so that there should be few hold ups. (HOPEFULLY)
April 7th
A strange day as if there was going to be a change in the weather with an odd drop of rain. The day started really well with Buzzards everywhere with a count of 6 in the air at one time. Red Deer and a White-tailed Eagle in the first hour and then none of the big 5 for most of the rest of the day. We did see Goosander, Redshanks, lots of great Northern divers, one in nearly full breeding plumage and a Black Throated Diver at Calgary. As the day drew on and still no Golden Eagles we stopped for afternoon tea and low and behold a Golden Eagle appeared over the hill and landed giving excellent views. Just to show how contrary wildlife can be another was seen even closer half an hour later. The day finished on a high with a sighting of 2 Short Eared Owls.
April 6th
A slightly warmer but duller day and a trip to Oban, the pretence was to see a man about carpets, actually Pam just wanted an excuse to go and see the Sperm Whale in Oban harbour. In the event we saw both the Whale and the carpet man so Pam was a very happy bunny. Back at Ardrioch Pam resumed her door painting whilst I with a lot of help from our neighbour hung our new Discover Mull signs by our drive entrance, many thanks to Nick.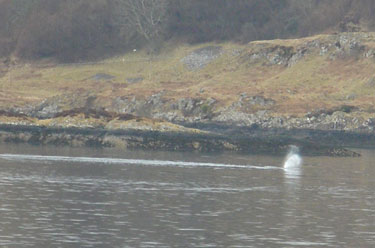 April 5th
Weather unchanged and still hardly any migrants have arrived on Mull. Today we went to Tobermory to have hair cuts and deliver leaflets, this afternoon I had an emergency appointment at the dentist in order to avoid a paracetamol overdose. As you can imagine there was not a lot of time today for wildlife watching.
April 4th
After a very cold night another lovely warm Spring day and although I did not have a tour I did go out for a walk and saw brilliant Golden Eagles. A walk down Ensay Burn brought little in the way of wildlife but the views along the burn were lovely and as I had not done the walk before I enjoyed myself immensely. At Ardrioch Pam is busy with Angus our builder and Ian our electrician getting the rooms ready for next week when Richie our son and plumber come from cheshire for 10 days to put in two new bathrooms and revamp our water system. Most of the time she is happy if I am out of the way unless there is a demolition job to do then I am your man.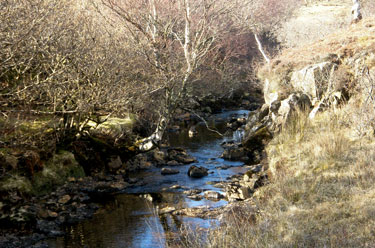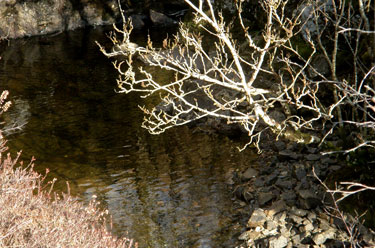 April 3rd
Weather keeps getting better and it was another lovely day after overnight frost. Eider Ducks my first of the year a good start to the day, this was followed by an extraordinary sighting of an Otter running across a field in the middle of nowhere, it certainly surprised me. We had a wait to see a White-tailed Eagle and then at the end of the day one flew over the top of the van giving great views, Golden Eagles showed well and we had a terrific male Hen Harrier sighting. My guests were really happy to be able to photograph some black Highland Cows with their Calves being able to get really close without bothering them at all, then a couple of walkers with dogs came by and if we hadn't been there they would have been in real trouble as the cows started to go for the dogs. Please remember you do have a responsibility if you have dogs, keep them away from cows with calves and sheep with small lambs, it is not the farmers responsibility unless the animals have got out.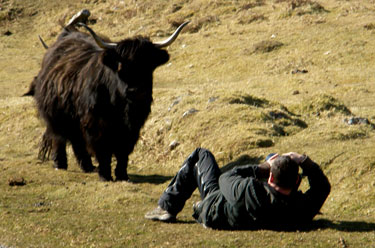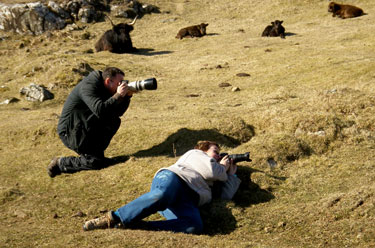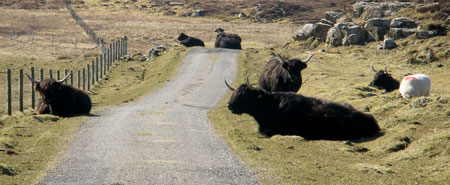 April 2nd
A lovely and warmer day today great for renovations but fortunately for me I had a tour to take out, what a shame. My guests were desperate to see an Otter and we got a great one after searching the coast for 6 hours, we also saw terrific Golden Eagles which appeared out of nowhere as we were looking for, you guessed it, Otter. Early morning persistence had brought us good sightings of White-tailed Eagles and Red Deer but my 3 favorite sightings of a very good day were a gorgeous Yellowhammer, a Common Scoter and Slavonian Grebe in summer plumage, all seen at the same stop as we were searching for OTTER.
April 1st
A day similar to yesterday with more wind. Aprils fools day and I would have enjoyed going out birding but with renovations going on apace at Ardrioch I spent a large part of the day sanding down our new back door and helping the builder which in my case means making the brews and shutting water off and on. On a brighter note the Woodpecker made an appearance on the peanuts so a day not entirely wasted

---
April - 2012
April 30th
Weather beautiful but windy - A day full of birds of prey with fabulous sighting of a Merlin that we followed down the road and saw several times in a 5 minute period. Displaying Hen Harriers both in the morning and afternoon which of course delighted our guests as did the White-tailed Sea Eagle changeover at a nest site and a very close Golden Eagle. Little birds were in short supply as there was too much wind.
April 29th
Weather beautiful sunny with a light warm breeze - It was very good weather today for a Spring wedding and Pam spent the day watching one, we wish them both well. I went out birding, what else, an early morning walk to look for Sedge and Grasshopper Warbler, saw the Sedge heard the Grasshoppers at least 6 in Dervaig reed beds. Later I went and did a bird atlas square and heard a Wood Warbler and my first Chiffchaff on Mull without see either of them.
April 28th
Weather cloudy calm and warm - another fabulous sighting of Hen Harriers concluded another good bird of prey day, with another 4 Golden Eagles seen although guests had to be fairly patient. We had lots of small birds today with a really good Yellowhammer being the stand out. Red Deer and Seals were the main Mammals of the day as again the Otter seen was very brief and seen only by one guest, it pays to be alert were Otters are concerned.
April 27th
Weather sunny, breezy, dry but cool in the coastal breeze - We had our first Dunlin of the year on todays tour and a good sighting of a pair of displaying Common Sandpipers and 3 Linnets on a fence which most guests saw. There are more whitethroats about now and they are giving guests good views sitting out on bushes. I heard my first Sedge Warbler of the year today but did not see it and I have still to see a cuckoo although we hear them everyday on the tours. All the usual suspects seen on todays tour although the Otter was very brief.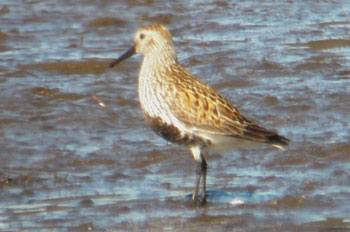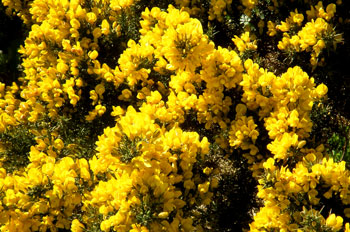 April 26th
Weather sunny, warm and calm - Two more year firsts today, a House Martin and a White Wagtail but we also had a tour first, two scrapping Field Voles, a sight I have never seen before. We had some good sightings of smaller birds today with Common Whitethroat, Willow Warblers, Wheatears, Wrens and common Sandpipers being the standouts. Red Deer and both types of Eagle were seen as usual as were two fighting Kestrels and several Buzzards another good wildlife watching day.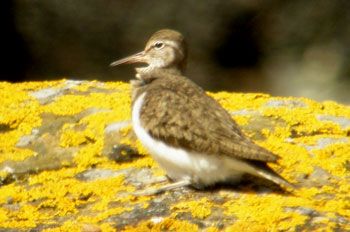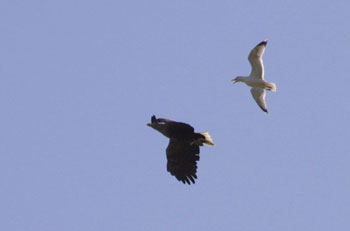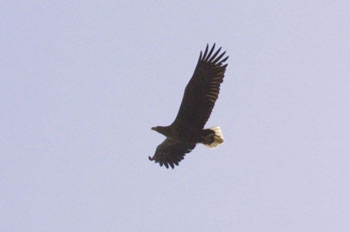 April 25th
Weather sunny but cool with light breeze - Whimbrel seen again today and I saw my first Common Whitethroat of the year and a Black Throated Diver was also seen. We had wonderful sightings of White-tailed Sea Eagles today and 5 different Golden Eagles but the most spectacular sighting of a very good day was of a displaying male Hen Harrier which had all of us watching this spectacular flying display in awe.
April 24th
Weather Rain all morning sunny in the afternoon, calm - On a tour today I saw my first Whinchat of the year, we also had great sightings of 2 Red Throated Divers, Great Northern Divers, a male Linnet and Golden Eagle. The sighting of the day however was of a mother and cub Otter quite close in and out of the water for over an hour, guests were delighted and I was delighted for them, 4 Otters in total during a very pleasant trip with lovely guests.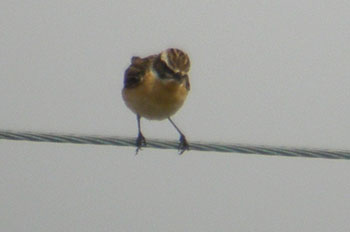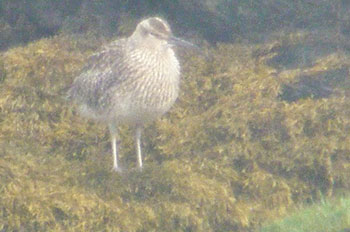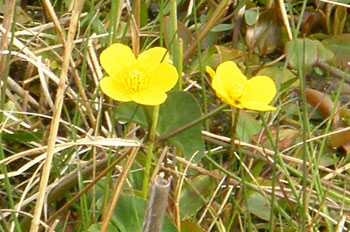 April 21st - April 23rd
We had visitors for Easter so blog on back burner
April 20th
Weather cloudy with light breeze - Common Sandpipers are arriving daily now and we saw at least 4 today, we also heard two distant calling Cuckoos. As well as the Buzzards, Eagles and Kestrels we are seeing more Peregrine Falcons and Merlins this spring. In the hills the sound of spring is all around us as we look for the Eagles with calling Curlews, Skylarks and Meadow Pipits, it is perfect to be out there listening to these evocative sounds.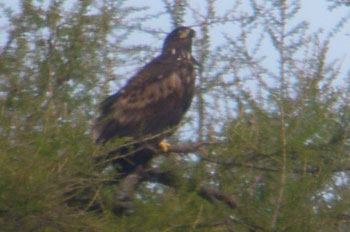 April 19th
Weather sunny and warm but cold wind in exposed areas - Arthur had to see the dentist today so I (Pam) was out on the tour with another nice group all eager to see Eagles and they were not disappointed with lots of both kinds seen well. A very enthusiastic Tom (aged 8) was delighted to see his second ever Golden Eagle, he excitedly told us the first he saw was stuffed. Red and Fallow Deer were seen as well as Seals but unfortunately no Otters today. The birds of the day for me were the dozen or more Great northern Divers looking splendid in full summer plumage and calling with a wonderful haunting sound.
April 18th
Weather sunny all day breezy and warm out of the wind - Another good day with a really nice group of guests, White-tailed Sea Eagles were the bird of the day giving us some fantastic views and included in this was last years injured youngster still doing well and now feeding itself and hopefully well on the road to recovery. We saw 3 Otters today but at quite a long distance away but everyone got to see them through the telescopes. A good sighting of a Hen Harrier at one of our first stops and of course lots of Buzzard and kestrel sightings.
April 17th
Weather sunny first thing then low cloud and drizzle for most of the day - An early start for todays tour and a good job it was as we had seen most of Mulls specialities before the rain and low cloud came down, including a Common Sandpiper my first of the year. At the end of the day as the cloud was lifting we stopped at a spot on the way back into Tobermory and watched as birds got up from everywhere including a Golden Eagle, at least 3 Buzzards and a Kestrel and lots and lots of Crows and Ravens. A fitting end to a great day out with very good humoured and patient guests who bore the low cloud with great fortitude.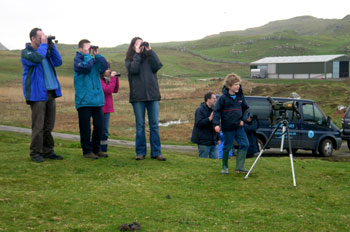 April 16th
Weather cloudy, dry but a cold wind in places - We took an extra tour today and to give Arthur a rest I (Pam) took the tour, it was a slow start to the day with not much to be seen until after morning coffee when we saw the Fallow Deer. 'Things are looking up' I said, and I was right as they were closely followed by White-tail Eagle and Otter. By the end of the day we had seen everything guests wanted to see so we came back home for afternoon tea, a warm up in front of the Aga and a cuddle with the baby lambs for our younger guests. Arthur was far from relaxed when I got home, but again all ended well when Manchester City won some important football match.
April 15th
Weather the same as yesterday - another tour today with the wildlife not being as obliging as in recent days and we did not see any Otters, we did however see Fallow Deer which we have not been seeing of late. I saw my first Linnet of the year today and as it is my favorite bird I was really pleased, other great sightings today were of 2 male Goosanders a really beautiful Duck to see.
April 14th
Weather lovely day light cloud with sunny spells and reasonably warm in the sunshine, light breeze - Perfect conditions for looking for Otters and Seals and we saw lots of Common Seals and 3 Otters which as always delighted our guests. We had both types of Eagle again today but boy did the Golden Eagle take patience, I think all our guests had given up on seeing one when I heard the honking of a Raven, knowing Ravens and Eagles don't get on I searched the sky for the Calling Raven and there it was and whoopee it was Chasing you guessed it a Golden Eagle. The Eagle proceeded to fly on the thermals for about 10 minutes before landing on a hillock and giving all guests a chance to see it through the telescopes. Another successful day, as I say to our guests " don't worry about seeing the big stuff, leave me to worry about finding it, if we have not seen it by 4pm start worrying" I think they had started worrying and it was only 3-30pm.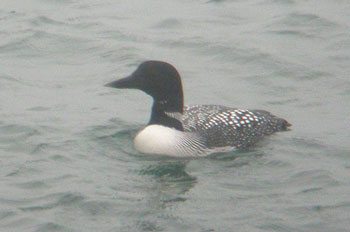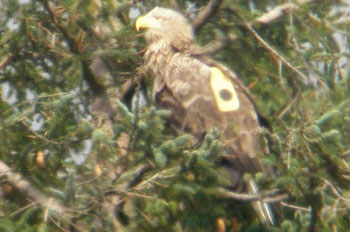 April 13th
Weather low cloud and rain all day - not a day to be out and about but I did go to Calgary with Mike Shepherd a friend of ours who comes to Mull a lot for wildlife watching, painting and to chill out far from the crowded South where he lives. There was not a lot to see in the weather but I managed to get a Photo of The Great Northern Diver we saw yesterday.
April 12th
Weather sunny with a couple of short sharp April showers and a brief hail storm - A tour today and we had great views of a Peregrine Falcon frightening Pigeons before going to a favoured sitting spot. We also a superb sighting of a close Great Northern Diver in summer plumage, a lovely bird to see. Both types of Eagles, 2 Otters and lots of Red Deer were also seen as were Sand Martins and newly arrived Swallows. Another good tour with very nice guests who were very positive, patient and wildlife enthusiasts.
April 11th
Weather sunny with occasional showers - No tour today so I spent some time organizing a pen for the new lamb and her mum to be able to go outside on some grass without disturbance and where they had some shelter. The rest of the day was spent on paperwork, no wildlife watching today, shame.
April 10th
Weather mainly warm and sunny a bit cooler when the sun went in - I make no apologies for starting todays blog with a lamb update. When we were driving past our house towards the end of todays tour we noticed a ewe had just lambed but the lamb was not moving, so we stopped and I ran to the lamb which was still alive - just, getting the lamb by its back legs I gave it a shake to clear its airways and then left it with nursemaid shepherdess Pam to look after it. Pam was brilliant and after 6 hours giving the lamb colostrum and ministering to it managed at 9pm to get it to suck off its mother by itself. The next morning it got up and stretched to show it had no real ill effect from its ordeal of the day before, so to all my guests who were very concerned about the welfare of the little lamb I can assure you it is doing very well thank you and here are the photo's of her with her mum the next morning.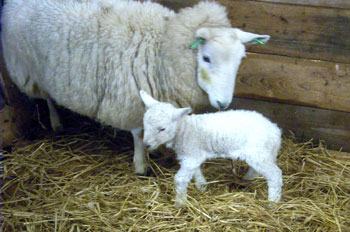 As to the tour yesterday I saw my first Swallows of the year and we had the most fantastic views of a pair of Golden Eagles and to prove this go to Prassad's Treshnish Blog as he was watching the same Eagles at the same time but his photo's are brilliant - mine were not Hey Ho.
An interesting feature about Mull proving we are not just about Eagles and Otters but about everything to do with wildlife. Mull Hazelwoods Landward
April 9th
Weather sunny, breezy but very warm - A great day to be born if you are a lamb and we had our first baby lamb of the year this morning to a first time mum and as you can see from the picture she took to motherhood as if she was born to it. An early morning start today not a tour but in hope of seeing Owls, I did not see any however I did see my first Willow Warbler of the year, so today was a day of firsts and very nice they were too and Pam hasn't told me off today, now that is a first.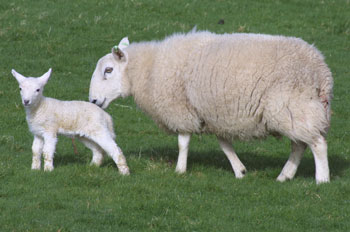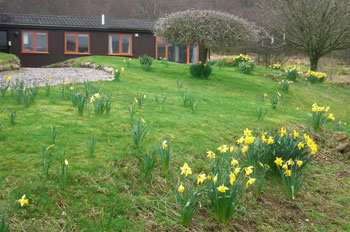 April 8th
Weather Sunny after early morning mist - A morning spent on our water supply and some work to prevent Red Deer jumping our iron wicket gate by the road, Pam spent the morning baking biscuits for the tours. This afternoon I went to see if there was any wildlife to be found and although there was not a lot to be seen apart from 3 Great Northern Divers and a Red Throated Diver I was able to take a picture of the long staying Pink Footed Goose still with Greylags at Calgary and a nice picture of a Shelduck a very pretty duck and now pairing up and on territory.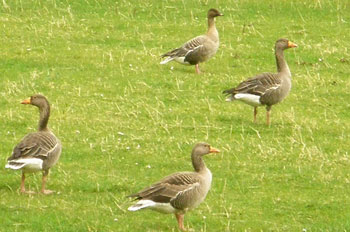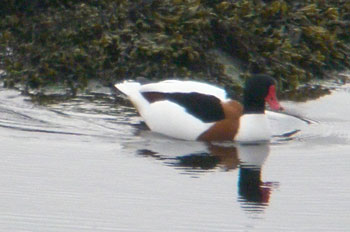 April 7th
Weather cloudy with a little sunshine, warmer as only a light breeze - A tour today and a good day for the big stuff, another terrific Otter sighting, 4 White-tailed Sea Eagles, Golden eagles pair bonding, Buzzard, Kestrels and a probable Merlin but to brief a view to be certain. Red Deer, Common Seals, Rabbits and of course the Otter were the mammals seen on a very good day, other notable birds seen were Slavonian Grebes and Red Throated and Great Northern Divers, good day with very nice guests.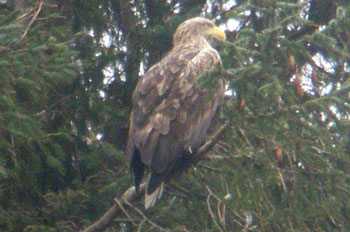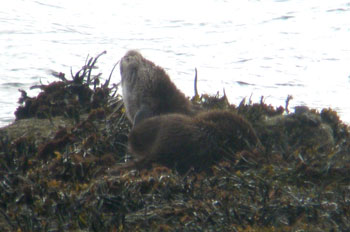 April 6th
Weather Rain, rain, rain, windy Oh Did I mention RAIN - What a day and despite the awful weather we saw A Golden Eagle sheltering from the rain, 2 White-tailed sea Eagles flying in the rain, Red and Fallow Deer ignoring the rain, an Otter fishing in the rain, a Kestrel dashing about trying to outrun the rain and finally a flock of 10 Whooper Swans dropped onto Ulva to get out of the rain. IT RAINED A LOT TODAY?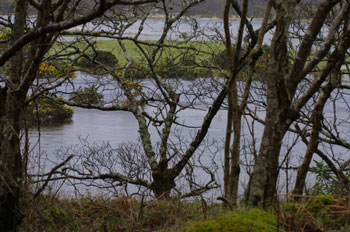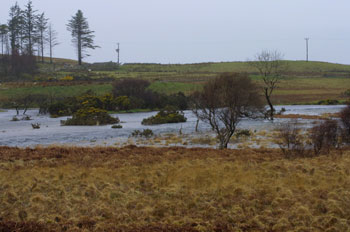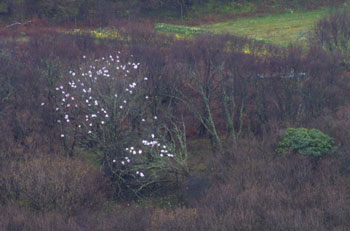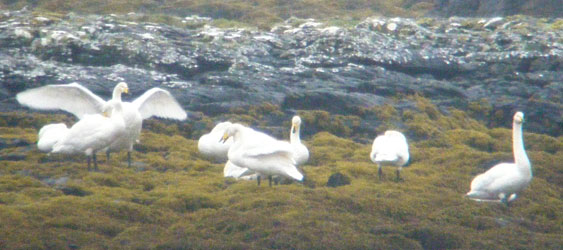 April 5th
Weather low cloud but dry morning rain in the afternoon - A tour today where for me the highlight was the Red Necked Grebe seen in Laggan Ulva bay, the bird was quite close in but by the time we picked it up the weather conditions were deteriorating fast and it had started raining, so the photo is very grainy. Brilliant Otter again today and a White-tailed Eagle in the morning, lots of Red Deer were seen as were Seals and Buzzards. We saw a good smattering of coastal birds including Lapwings, Curlews, Redshanks, Shelduck, Eider and Great Northern Divers, so although the weather was not great it was quite a good day overall.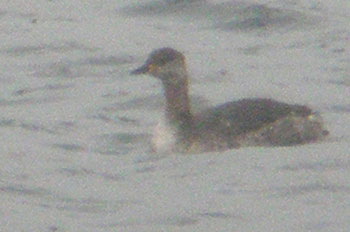 April 4th
Weather today it was windy and very wet - We went to Calgary in the late afternoon after it had stopped raining and were transfixed by the rollers on the waves coming into Calgary Bay, Those of you who Know this beautiful bay know how shallow the water is here, today however you could have brought your surf boards and had a great time, most unusual. Around the corner the waves were crashing in over the skerries a most spectacular sight, there is always something to see and surprise you on this fantastic island including the lovely male Eider surfing in Calgary Bay.
April 3rd
Weather sunshine and showers breezy cool when not in the sun -A tour today with a local family, they were delightful and particularly wanted to see an Otter and thanks to Pam spotting one in the rough sea we were able to give them wonderful views. We owe this to the wind and the Otter and a bit of field craft, our guests could not pick up the Otter in the rough seas so having worked out which way the Otter was travelling we got in front of it and waited and whoopee for once we had got it right and the Otter came round the point and started fishing in a sheltered cove bringing a Crab out only 20 yards from where we were waiting. The wind was blowing right in our faces so the Otter could not scent us and proceeded to delight our guest for the next 10 minutes with its undisturbed antics, brilliant. Both types of Eagles were seen as were Buzzards, Kestrels and Sparrowhawk but bird of the day for me was my first Whimbrel of the year.
April 2nd
Weather we have had a night of non stop rain which continued for most of the morning, the afternoon was much better - Pam and I went to Tobermory this morning, then came home via Salen and Ulva and despite the weather commented on the views and the incredible light we have here on Mull. One view of the dark cloud with sunlight shining through it onto the hills beyond was truly breathtaking but even if I had got my camera with me I could not have done it justice. Our Sparrowhawk spent 10 minutes in a tree in the garden today, as it is so poor at catching birds in flight I think this might be a new tactic to lull the little birds into a false sense of security and become careless, It did not work.
April 1st
Weather rain, cloud and windy morning better in the afternoon - I went to Calgary Bay as soon as it was light and saw the Pink Footed Goose was still with the Greylags in the cemetery field. On my way to the shop in Dervaig I saw a Female Hen Harrier quartering the ground not far from the new Barn Owl Box and in the afternoon I serviced and checked out our water supply so that we will have no problems for guests in the self-catering throughout the summer.

---

April - 2011
April 30th
Weather the same as yesterday with a little more sun - The views today were brilliant and we could see as far as the Outer Hebrides without binoculars. No Otter today but very Good White-tailed Eagles and Golden Eagles but the highlight for the guests today were 3 separate Cuckoos in 3 different locations, it is surprising how many people have heard Cuckoos without actually seeing them. We went out to the Boathouse on Ulva for my birthday celebration meal and it was wonderful we cannot thank the girls enough for their hospitality and great food.
April 29th
Weather cloudy with breeze cool - Another day with the grand children beach combing at Croig where we saw a very close Great Northern Diver and some Crabs and Limpets, i walked the dogs round and round a small beach area to give them a good walk it must have looked very strange. Later at Cailaich we were able to show our 4 year old Grand Daughter an Otter through the scope.
April 28th
Weather a much better day after heavy overnight rain - I am having a couple of days off to spend them with my 3 young grand children, so a walk through the woods with the dogs, then an hour at the Old Byre play area. After lunch we took them to see the piglets in the picture below and also saw a couple of wild Black Rabbits. On our way home we stopped to look for Otter and saw two in an area where I had tried to find them yesterday but they weren't there, ah well that's wildlife for you.
April 27th
Weather cool, cloudy and breezy, rain in the late afternoon - White-tailed Eagles, Whimbrel and Great Northern Divers were the wildlife highlights of todays tour, although my birds of the day were Summer plumaged Dunlins and displaying Redshanks seen on my way home at the end of the day. We included a lot of history in todays tour which makes the tours more flexible and gives guests not so interested in the wildlife a more rounded tour, hopefully we cater for all tastes.
April 26th
Weather Cloudy but mainly dry with westerly breeze - Another tour today and 2 White-tailed Eagles one carrying prey, which looked like a rabbit. On the White-tailed Eagle front, some bad news, we had confirmation today that the Loch Frisa nest had failed due to the poor weather just as the youngsters had hatched. 2 Golden Eagles one a distant view of one on a cairn surveying its territory the other flying giving great views. We also saw an Otter today which appeared out of nowhere as we were looking at some Grey Seals, the Otter gave us a great half hour as we had morning coffee. Another notable sighting today was a group of Red Deer hinds with last years calves at a wallowing hole, I have seen single Deer wallowing before but never a group of over 20. Other notable sightings of the day were a fabulous view of a Whimbrel and my first Mull House Martin of the year. Below find a picture of one of 2 Cock Pheasants which regularly appear in our garden.
April 25th
Weather cloudy turning to rain in the afternoon - A quiet day with the family today with a nice walk through the woods with the dogs this morning where we saw a family of Crossbills feeding young. On returning home I found this lovely Emperor Moth which at about 35mm wide is quite common in the north and wonderfully colourful. There was a lovely female Lesser Redpoll on the feeders in the garden this afternoon more than holding its own against the Siskins and goldfinches. This evening Alan mullbirds Spellman rang to say 2 Bee-eaters had been seen at Calgary so Pam & I and the rest of the family went down to see what all the fuss was about and low and behold they were there - 2 Bee-eaters. We had been all the way to Southern Spain to look for these birds and they turn up 3 miles from home.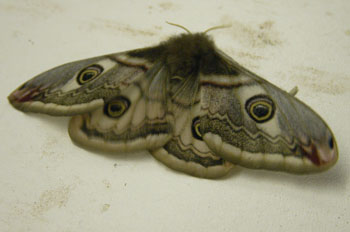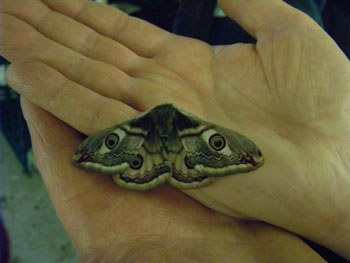 April 24th
Weather lovely, sunshine with slight breeze - After the rain of yesterday I decided to sow some wildflower seeds in the rocky part of our lawn, I had to go to a neighbour to get the top soil and fetch it back in the back of the car. It took me most of the morning to prepare the seed bed and I sowed them in the afternoon. This afternoon our daughter and son-in-law arrived with our 3 small grandchildren and after helping us feed the orphan lambs we all went down to Calgary beach with the dogs for a walk.
April 23rd
Weather low cloud and rain all day damp air made it feel cold - We really needed the rain but I wish it had come on a day when I did not have a tour. In the event 6 Guests and I left Tobermory more in hope than expectation and within an hour we were watching a White-tailed Eagle flying through the rain to perch on a tree not far from where we were standing sheltered under the boot of the van, check out the photo below taken through the rain. We saw a lot of red Breasted Mergansers and a Slavonian Grebe at the same spot before heading off to look for more wildlife and a very much needed hot drink. We passed a couple of Fallow Deer on the way and whilst drinking our teas and coffee heard a Cuckoo and tried very hard to see it but failed, we did however see some Red Deer on the hillside. As we were heading towards our lunch spot and a comfort break we passed a pair of Teal and Shelduck, the Teal were late leaving and the Shelduck had arrived to breed, as we looking at the ducks when a Whimbrel flew in giving us great views of its different bill and striped head. Onto lunch and the Divers 2 Red Throated and 5 Great Northern Divers in the bay together and superb Lapwings in the field close by as we watched the Divers. After lunch we were quite cold so we just drove gently around the island and talked about the History and Geology we saw on the way until we reached a place where we might find an Otter, sure enough as guests were looking at some Razorbills out on the water I spotted an Otter just going out to fish, we watched the Otter for quite a while before it caught a large fish and brought it to land giving us all fantastic views. Now damp and cold I took our guests back to our house for afternoon tea and cakes and a warm in front of the aga and a look at our bird feeders. Birds seen on the feeders were Chaffinches, Greenfinches, Collared Dove, Rock Doves lots of Siskins and a lovely Lesser Redpoll, oh and the Sparrowhawk flew through twice. After tea we went back to Tobermory and saw several Buzzards, 2 Ringed Plovers, 2 Common Sandpipers and 6 redshanks, so a really good day with a lot of sightings some of them excellent despite awful weather conditions.
April 22nd
Weather cloudy, cool but dry - Another BTO day and 3 more squares covered including climbing up a steep hill which my legs are not used to and my Knees complained about. It was really worth it because of the fantastic views I had of 2 Hen Harriers on territory, particularly the male which glided silently below me completely unaware of my presence I think. It is really special to be out and about in the countryside when you get sightings this good in such wonderful scenery and you realize how lucky you are to live here.
April 21st
Weather warmer and less windy but still cool and cloudy - BTO squares again today as I want to get my first summer season visits done before May. The main highlights of the walk were of a family of Crossbills which have now hatched as they are early breeders and towards the end of the walk we saw a beautiful Bullfinch always a treat when we see them, check out the photos below of one we saw earlier in the month.
April 20th
Weather very cold and windy with occasional wintry showers - A great group of guests today who put up with the unseasonal weather with fortitude and good humour. Although we did not see as many species of wildlife as usual due to the very windy conditions we did manage excellent views of White-tailed Eagle, Golden Eagles, Otters and Red and fallow Deer. The strangest sighting of the day was a spectacular Peacock walking through the woods at Gruline, a first for a Discover Mull Tour.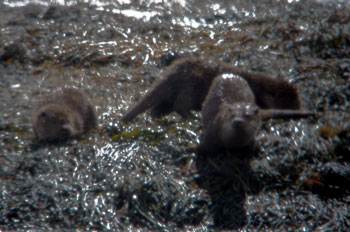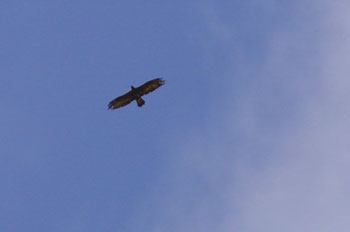 April 19th
Weather cooler but still fine with strong breeze - a tour today and the guests wanted to see White-tailed Eagles and at our first stop as we were looking at Red Breasted Mergansers and Grey Seals a noisy Hooded Crow appeared from behind us and it was mobbing a juvenile White-tailed Eagle, my guests were well choughed and so was I only 10 minutes into the tour and guests satisfied. We had brilliant views of Great Northern Divers with one of them in full summer plumage and at lunch time a Golden Eagle sitting out on a ledge was superb. As the weather got colder and windier as the day drew on we saw less birds but this was more than made up with both types of Deer and even better Seals. As well as Highland Cows with calves and Hebrides Sheep with lambs we are now showing guests some Rare Breed Piglets on our tour. Cute or what? that was Pams comment by the way I am not quite that soppy.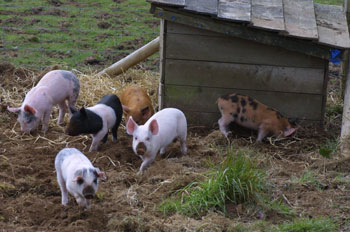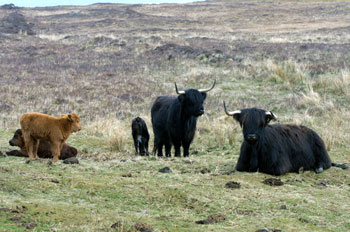 April 18th
Weather back to being beautiful again - More BTO work today and our dogs were not bothering with Rabbits today, this time it was Red Grouse they put one up and it was my first of the year, 3 other year firsts today were Lesser Redpoll, Tree Pipits and a Great Skua. We had wonderful views of 7 Whimbrel which landed right in front of us on the coast and a party of 5 Manx Shearwater were seen when we were watching 2 Great Northern Divers and a Gannet out at sea. We then decided to have a well earned lunch at the tea rooms at Glengorm Castle a very good choice the lunch was lovely, when I say we I mean Pam and me not the dogs we seldom go out to lunch in tearooms with the dogs.
April 17th
Weather cloudy with a little rain in the morning better in the afternoon - I did my first BTO square for the summer today and saw a White-tailed Eagle, 2 Goosanders, a lot of Willow Warblers, a pair of Reed Buntings and a pair of Common Sandpipers. These were the highlights of the square but certainly not all the birds seen, we also saw some Red Deer and chased some rabbits, well I did not chase the Rabbits that was Misty and Sally our dogs who were with me at the time.
April 16th
Weather day 10 of glorious weather if a little cooler in the afternoon - another great tour today 2 White- tailed Eagles within the first 10 minutes followed by red Deer Stags and 2 Otters before morning coffee. We then saw a Common Sandpiper my first of the year and three Golden Eagles, later in the day we witnessed changeovers between adults on both White-tailed and Golden Eagle nests. Fallow Deer in good numbers for this delightful little Deer on Mull and superb views of Grey and Common Seals near to each other and showing their differences quite clearly. Other notable wildlife seen today were Kestrel, Sparrowhawk, Buzzards, Wheatears, Skylarks and Shelduck. Wild flowers now being seen are Primroses, Violets, Gorse, Celandine and Coltsfoot to show spring is well under way.
April 15th
Weather more of the same 9 days without rain - No tour today so I did 2 walks one early morning walk and one later with the dogs. The morning walk at Quinnish brought me my first Willow Warbler of the year, I also saw pair of Bullfinches and heard a Jay but bid not manage to see it. The afternoon walk with the dogs and I saw 5 more Willow Warblers and a pair of Common Crossbills with 4 young, good to know they managed to breed successfully in spite of the cold winter weather.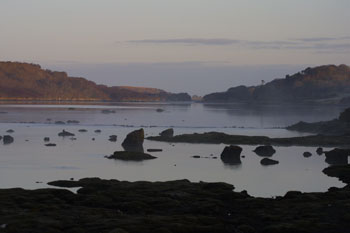 April 14th
Weather the same as yesterday but slightly warmer - What a difference a day makes, yesterday the wildlife was playing hard to get, today 3 Otters, fantastic views of Golden Eagles and White-tailed Eagles, Great Northern Divers, 8 Black Throated Divers, both Grey and Common Seals, Fallow Deer and Red Deer including Stags and the best of the lot our first Dolphins of the year. We had a large family group out with us today the Dawes family celebrating a golden wedding anniversary, unfortunately the star couple were unable to be with us due to illness, we offer them our congratulations and hope Terry makes a speedy recovery.
April 13th
Weather cooler with slightly more cloud but still very nice - I had a very nice French girl out with me today who was keen to see standing stones, I had taken out most of the other guests before and they were great making our foreign guest very welcome and my job very easy despite the wildlife not showing too well on the day. The views however were spectacular today and the standing stones were all in their usual places.
April 12th
Weather another gorgeous day - I went to Cailiach Point today to do some sea watching and saw my first Manx Shearwaters of the year and a lot of Shags in full breeding plumage with spectacular tufts. Fulmar always amazing when in flight, Razorbills, Guillemots and a lot of Black Guillemots but alas no Puffins, but I did see 1 lone Gannet. There were also 3 Gull species present including the impressive Lesser Black-backed Gulls and Meadow Pipits, Rock Pipits, Pied Wagtails, Wheatears and Skylarks were also present.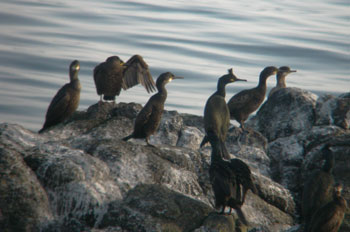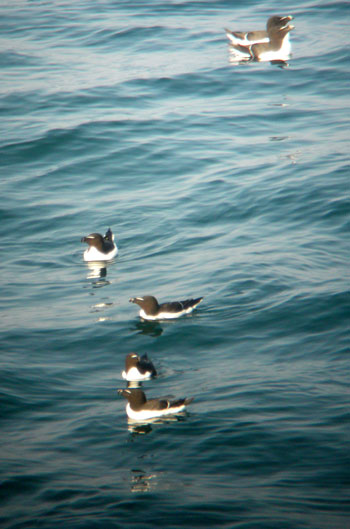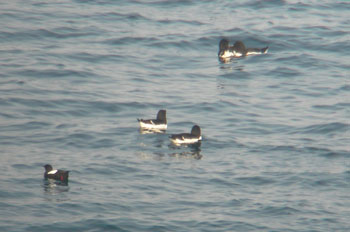 April 11th
Weather another beautiful spring day - We planted some early new potatoes today as the ground has warmed up at last after the cold winter. I managed to start my tractor which has been out of action for some time now and also had another bonfire of some branches we had to prune off over hanging trees. There was very little time for wildlife watching today but I did see a Peacock Butterfly a Buzzard being mobbed by Hooded Crows and a Great Spotted Woodpecker on our peanut feeder as well as our 2 Cock Pheasants which appear to have adopted us.
April 10th
Weather just beautiful and warm a real Spring day - Last night after the tour we went down to a bird club meeting at Craignure to hear a talk by Roy Dennis the man mainly responsible for the re-introduction of Ospreys to Britain, it was a great talk and very enlightening and entertaining. Today I cleaned the van then went out for a short drive round and took a few pictures of some of my favorite birds in particular Lapwings which I can watch for ages.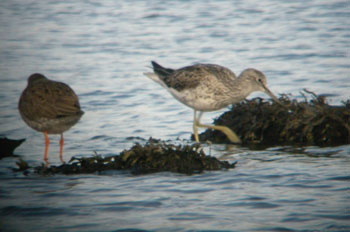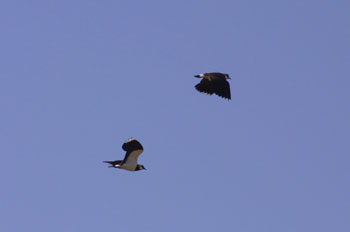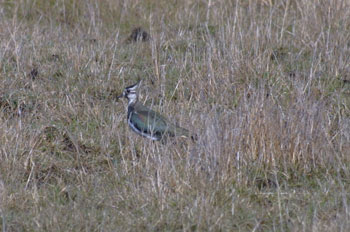 April 9th
Weather the same as yesterday but warmer becoming more sunny as the day went on - A brilliant trip today with the Benson family, the children Harry, Sam and Lizzie were a joy to take out. We saw 54 species in the day including a mother and cub Otter doing all the things Otters do best, very entertaining. A great Golden Eagle flying being mobbed and eventually landing giving us amazing views through the telescopes, another goldie was seen during the day. A juvenile White-tailed Eagle was seen in the morning and we had great views of an adult both flying and perched in the afternoon. Other good bird species seen in the day included Redwings, Razorbills, my first Swallow of the year on Mull, 2 Bar Tailed Godwits, Wheatear a lot of Pied Wagtails and at the end of the day Sam spotted this delightful Bullfinch. Seals, Deer and Rabbits were all seen in the day and we missed nothing due in no small part to Sams amazing spotting, he even found us some Tadpoles . A wonderful day spent with a delightful family, oh and by the way the scamp who put clean me on the van will be delighted to know it was cleaned on Saturday morning.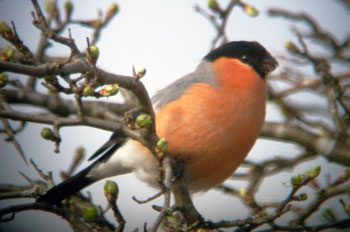 April 8th
Weather cloudy, breezy, cold but dry - The best sighting of the day had to be the White-tailed Eagles, we watched the male bird circling as it came in from over the woods, it eventually went in a direct line for the nest about 50 yards away it was met by the female leaving the nest, as the male took her place she was suddenly attacked by an irate Raven and an aerial duel ensued for a few minutes before the Raven broke off the attack and the female Eagle disappeared from where the male had arrived. My other highlights were of a Whimbrel and Sand Martins the first i have seen on Mull this year.
April 7th
Weather good weather to start the day but becoming colder as the wind level rose in the afternoon - Mull at its majestic best today fantastic views particularly of Beinn Talaidh and Beinn More. We had fantastic views of a Golden Eagle today circling carrying a Rabbit before landing on a hill and starting to tear at it, you felt you could reach out and touch it through the telescope. There were 2 children amongst the guests today so we had afternoon tea at Calgary Bay and a walk on the beach which all the other guests seemed to enjoy as well.
April 6th
Weather a continuation of yesterday in the morning improving in the afternoon - No tour today but this gave me time to look at the birds in the garden. We have lots of Chaffinches, Greenfinches, a few Goldfinches, a resident Cock Pheasant and as I was watching 5 splendid Siskins on the Nyger feeder a male Sparrowhawk dashed in and got the one that was to late leaving, not nice but exciting watching nature in the raw. A trip in the late afternoon to our 2 local estuaries produced some nice regular species, Mallard, Goldeneye and Teal ducks, Redshank and Oystercatchers wading birds, Common and Herring Gulls and of course the ubiquitous Herons. I had a lovely half hour observing these birds, never take for granted the normal for the exotic we would all miss them if they were not there.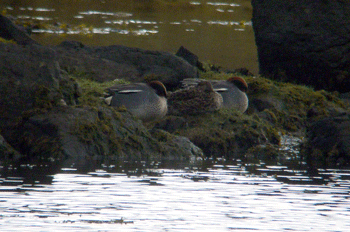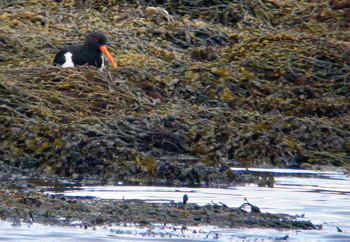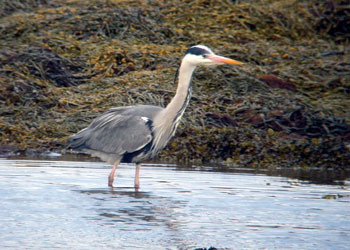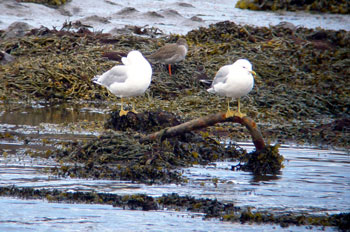 April 5th
Weather wet morning very windy with gale force gusts but not cold - Not a great day to be out wildlife watching as the wind was so strong and the seas so rough but with perseverance and patience we saw 2 Golden Eagles sitting together on a tree branch out of the wind for over an hour as we hoped they might fly, I can't say I blame them for sitting tight. Slavonian Grebe in summer plumage was the next major sighting and of course Great Northern Divers which are in the Lochs in good numbers before returning to their breeding grounds further north, Before lunch a guest spotted some Red Deer Stags almost invisible against the dead bracken, it was a good spot and we had terrific views through the telescope. On to lunch and 2 White-tailed Eagles another hour waiting for a flying display that did not happen, but a flock of Lapwings went through always nice to see and an intrepid Buzzard showed it was not impossible for raptors to fly. After lunch the highlight of the day an Otter my closest of the year and of course as the weather was so bad in the morning I had left my cameras at home, silly me. the beautiful Fallow Deer were seen on our way home and several Common Seals basking (I don't think so) freezing more like on an island, so all in all not a bad day in spite of inclement weather.
April 4th
Weather sunny with slight breeze but very pleasant to be out in - Another tour today with really friendly guests and we had a lot of laughs. John was an inspiration as he suffered from MS and had great difficulty and pain getting in and out of the bus but never complained and never missed seeing any of the birds and mammals which we saw during the day. We saw 4 Golden Eagles, 3 Otters giving great views, 2 White-tailed Eagles and all the other usual suspects. Birds of the day for me were the Snipe, my first Kittiwakes and a first Gannet of the year.
April 3rd
Weather a dry cloudy and calm morning with rain setting in during the afternoon - Another good tour today with sightings of 20 Great Northern Divers in one spot which we saw after watching a big dog Otter which had brought a fish out of the water to eat it within 30 yards of us. Earlier in the day we had seen more Great Northern Divers and 2 Red Throated Divers at a different location. Birds of prey were well in evidence today with a Golden Eagle and Sparrowhawk in the morning, Buzzards everywhere and brilliant views of a male Hen Harrier and a Merlin in the Afternoon. We saw the white Fallow Deer today this is the first time I have seen it this year. Another great day out with splendid guests, some days this seems like the best job in the world.
April 2nd
Weather a beautiful Spring day after overnight frost - No tour today but Pam saw The juvenile White-tailed Eagles that are in and around the Dervaig Calgary area fly over Ardrioch this morning. We had visitors arrive for the selfcatering this afternoon and as they were admiring the view and small birds in our garden before we showed them the cottage a male Sparrowhawk flew round the corner of Inch Hame and was only 3 or 4 yards away before he saw us and veered away over the fields. Our son who is a fully qualified at everything heating engineer, yes I am a proud dad has been up and replaced broken pipe work and pump and refitted the plumbing in the new kitchen which has also been installed in the Shieling, along with double glazing, he leaves on the first boat tomorrow and so a bit of last minute parent bonding today, we will miss his cheery smile and humour.
April 1st

Weather much better than yesterday but still breezy, cold with the occasional squally wintry shower - Another tour today and we looked at all things wild, the highlights for the guests being a Golden Eagle at coffee break and 2 Otters a mother and cub which we watched travelling and fishing until they came out on an island to eat a fish too big to manage in the sea. We had both fallow Deer and Red Deer with good sightings of 7 Red Deer Stags, both types of Seal were seen and we had an exciting encounter between a Raven and Buzzard. Summer plumaged Slavonian Grebes were the waterbird highlight and 3 Lapwings in a field with Starlings on our way home pleased at least one of our guests and me as I love to see this amazing and sadly slowly disappearing bird.
This is the web site of Pam & Arthur Brown, Ardrioch Farm, Dervaig, Isle of Mull. PA75 6QR